Introducing you to one of our favourite ways to spend an epic, super relaxing, summer weekend in our beautiful home country Austria. A way where you can connect with nature, focus on things that truly matter to you, and come back super recharged and ready to take on the world. Spending time in a top wellness resort in Austria – Hotel Edelweiss in Wagrain, Salzburg.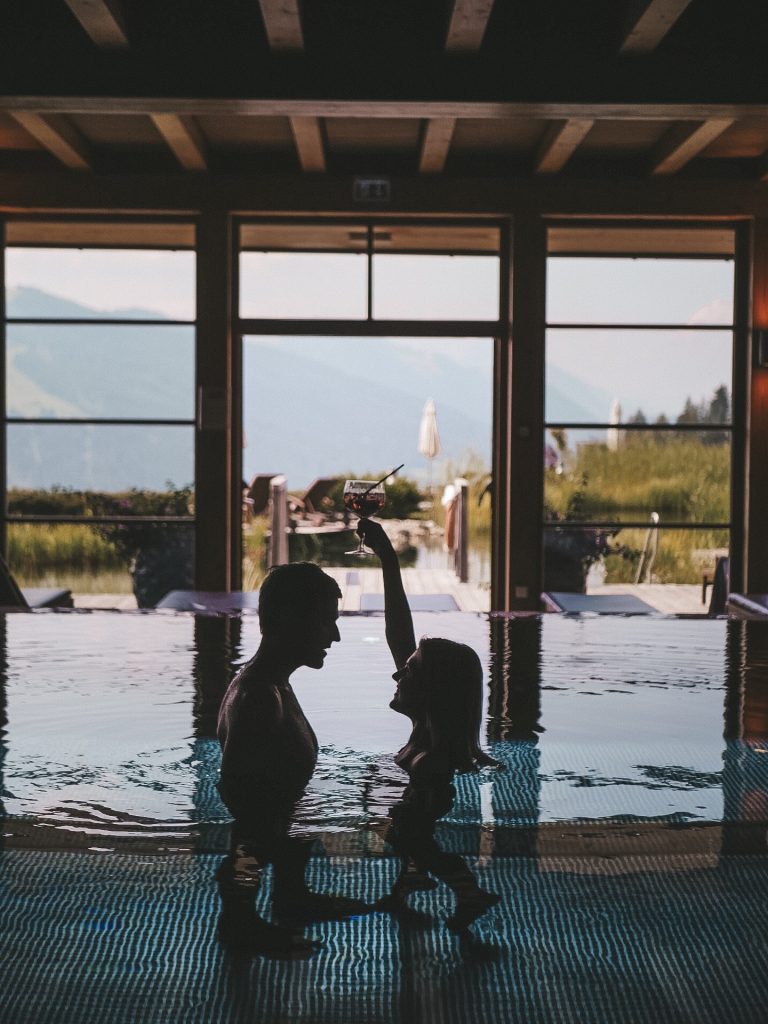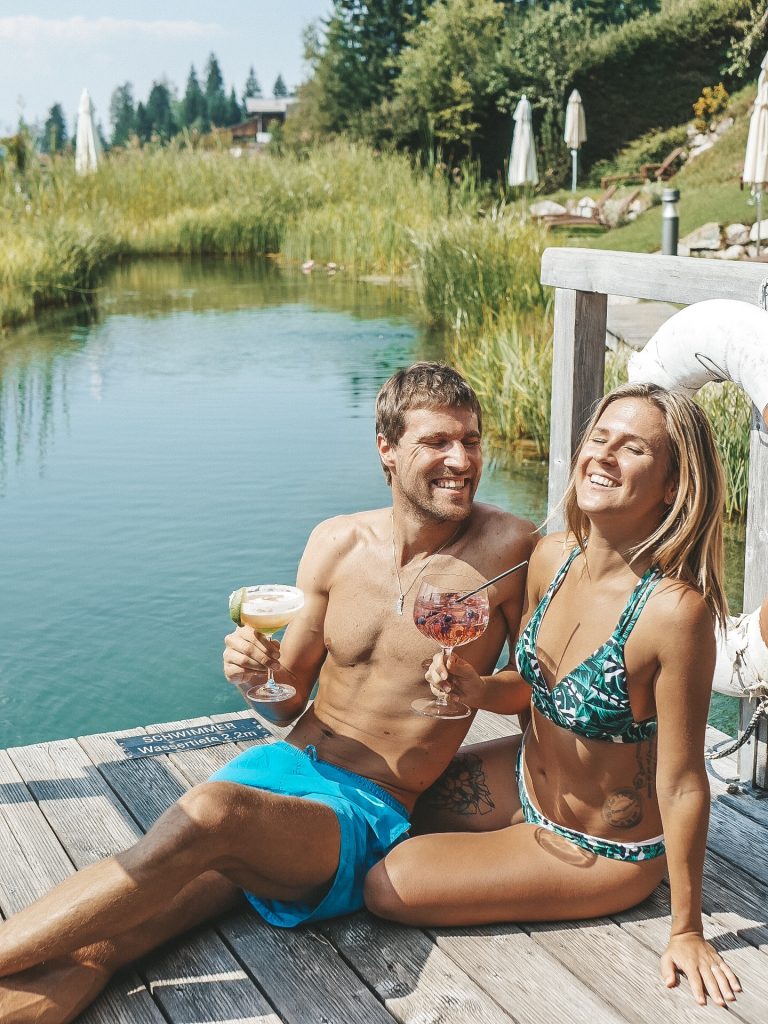 If you live in Austria or Germany, have you ever had this amazing weekend plan, where you plan to drive from Central Europe a few hours either to Croatia or Italy to have a relaxing weekend near the sea? Well, it might turn out, that you find yourself stuck in a massive traffic jam, enjoying a wonderful and hot summer on the blocked highway. And when you finally arrive at your dream destination, you find yourself laying next to hundreds of other tourists in a row at the beach, sleeping in an overpriced hotel. And if you finally realize that this wasn't as relaxing as you have initially wished for, you are already on your way back figuring out that the traffic jam is now even worse.
Since we have been through this scenario a lot, we were looking for another way to spend a relaxing summer weekend. Far away from mass tourism, connecting with beautiful nature, re-aligning and focusing on our inner true values, eating regional delicatessens, taking in breath-taking views of the mountains, while still enjoying the warmth of the summer sun on our skin.
On the edge of the Austrian alps, we have found an oasis for relaxation, and in our view one of top wellness resorts in Austria – Hotel Edelweiss in Wagrain, Salzburg. Here are our top 5 reasons why should choose to spend your summer weekends at this wellness resort in Austria over a beach holiday near the sea.
6 reasons why you should spend a summer weekend at Hotel Edelweiss – a top wellness resort in Austria
#1 Perfect temperatures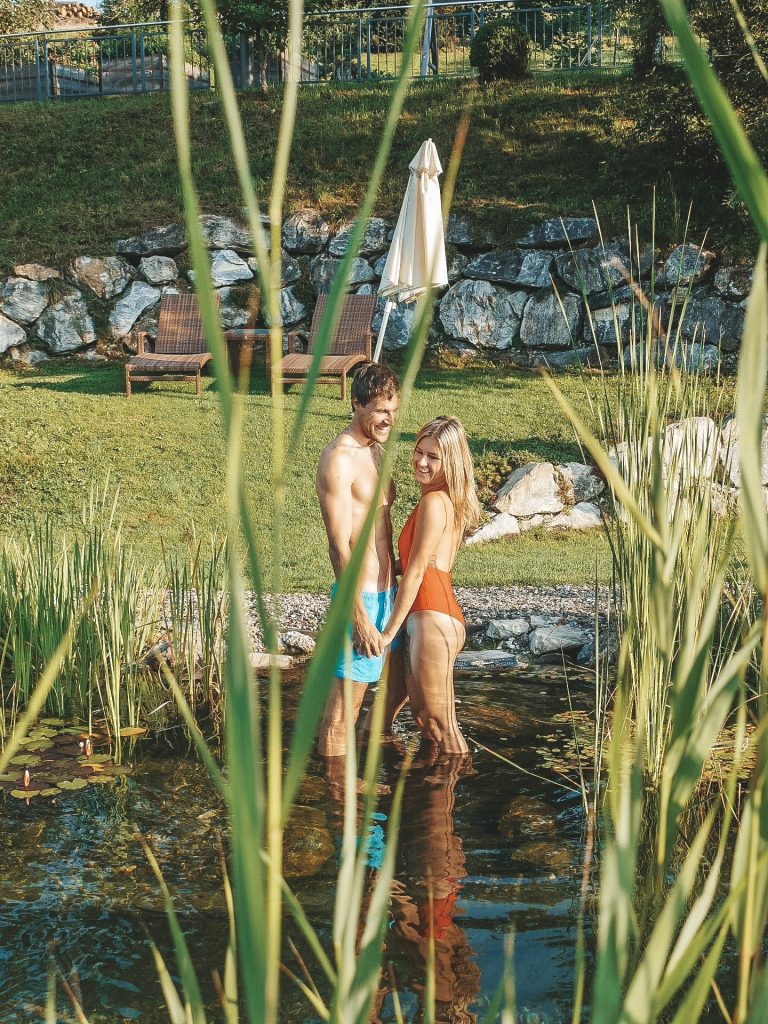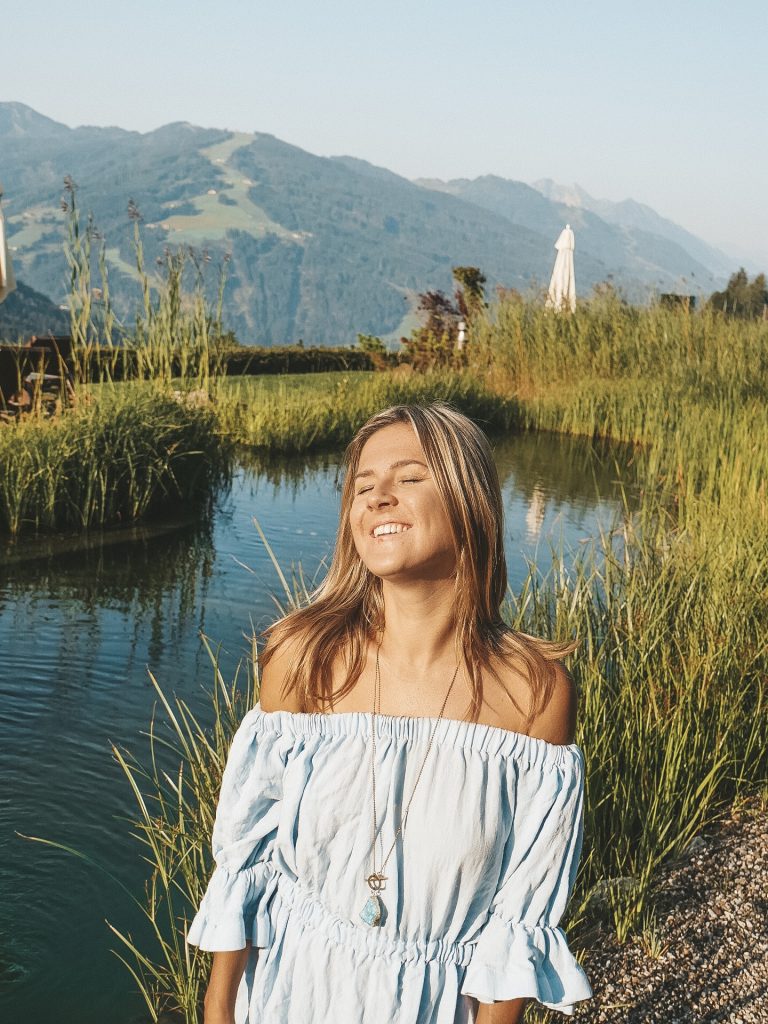 Actually most people rather avoid boiling hot summer sun. The percentage of people worshiping extreme temperatures and sun at the beach without any shade, especially in Central Europe, is fairly low. (Although, Cory is one of those people. ;-)) So one might ask himself the question: why do I drive for so many hours or even flying to the sea to actually find myself hiding from the sun, while in most cases paying a lot for it?

Wagrain in Austria has perfectly warm summer temperatures, so you can enjoy the summer sun without the need of hiding until the evening comes. We have been there in late August and enjoyed the sunrays all day. The sunbeds at Hotel Edelweiss have a mesmerizing view of the mountains and are surrounded by an idyllic natural swimming pond. The area is spacious and open, but still the sun beds are completely private, hiding behind the reed of the swimming pond.
#2 Super relaxing, recharging and cleansing nature around Hotel Edelweiss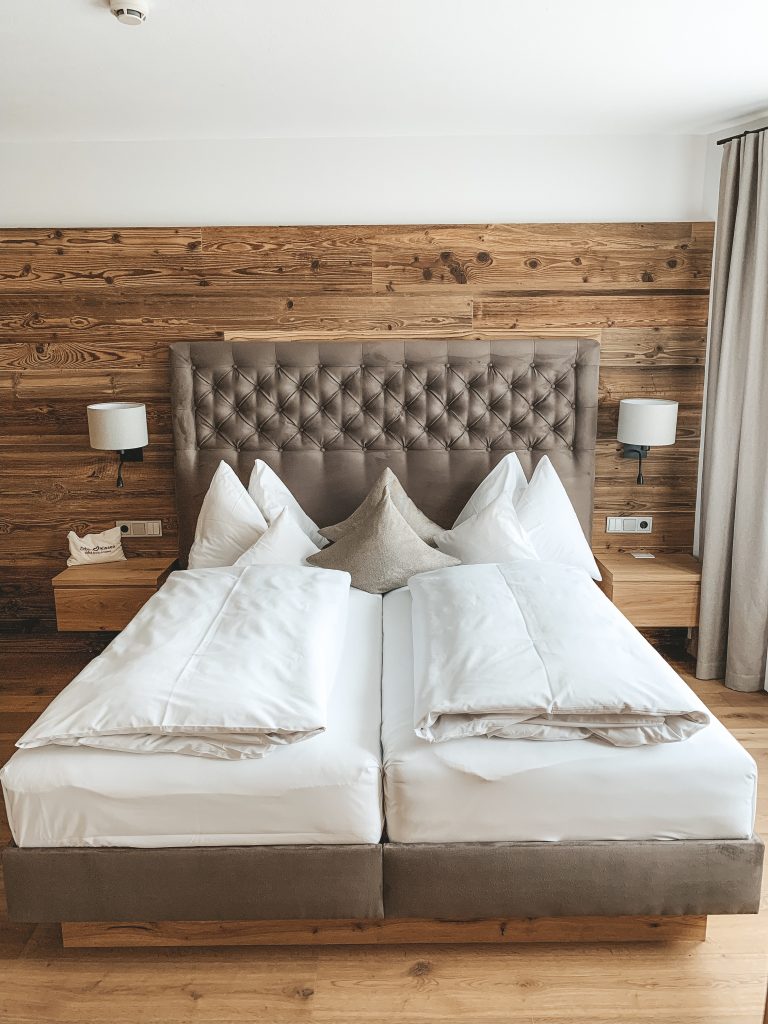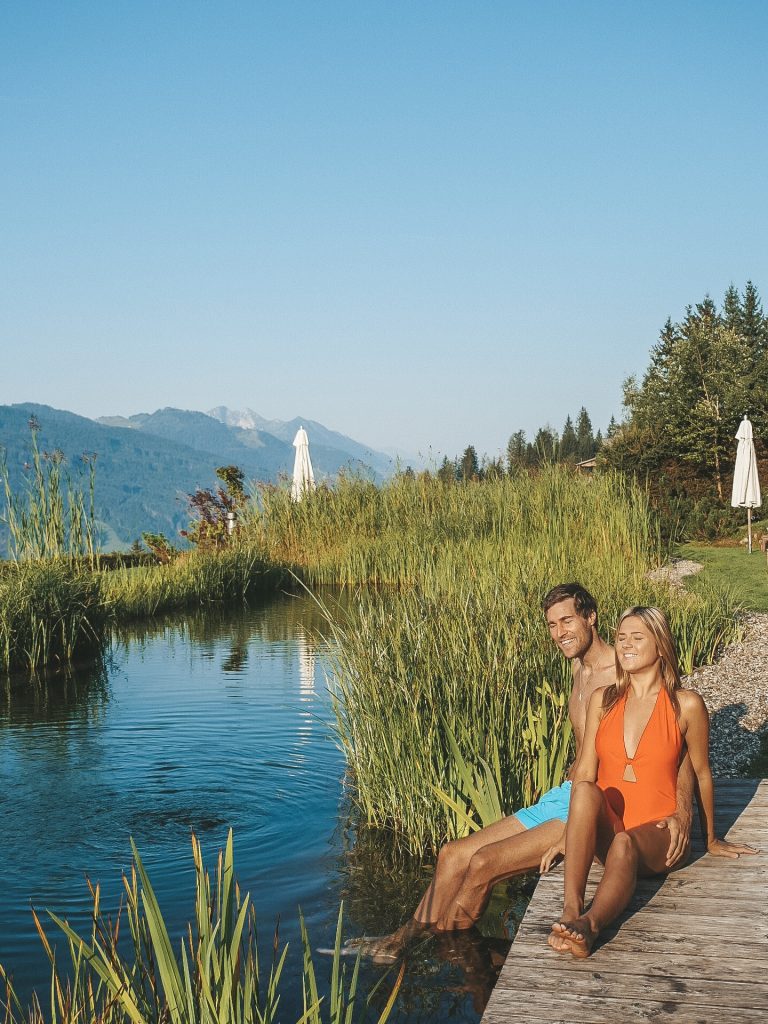 As you make your way up to the wellness resort Hotel Edelweiss in the mountains, you can start to feel its energy. Everything feels super relaxed, calm and cleansing. You immediately feel the energy of this beautiful place on planet earth.
As we are very spiritual people, we are very sensitive to the energy of places we travel to. And from our heart we can tell you that there is a huge difference between the energy you receive on this particular mountain resort and its environment, and the energy you feel when you are on a crowded beach.
Even if you don't have many touchpoints to the energy of places or spiritualism in general, you will be able to tell the difference in a second. The view of the wellness resort Hotel Edelweiss in Austria is also breathtaking, since you can see the beautiful valley of Wagrain and the surrounding mountains from over 1200m of altitude.
#4 Green Spa in the mountains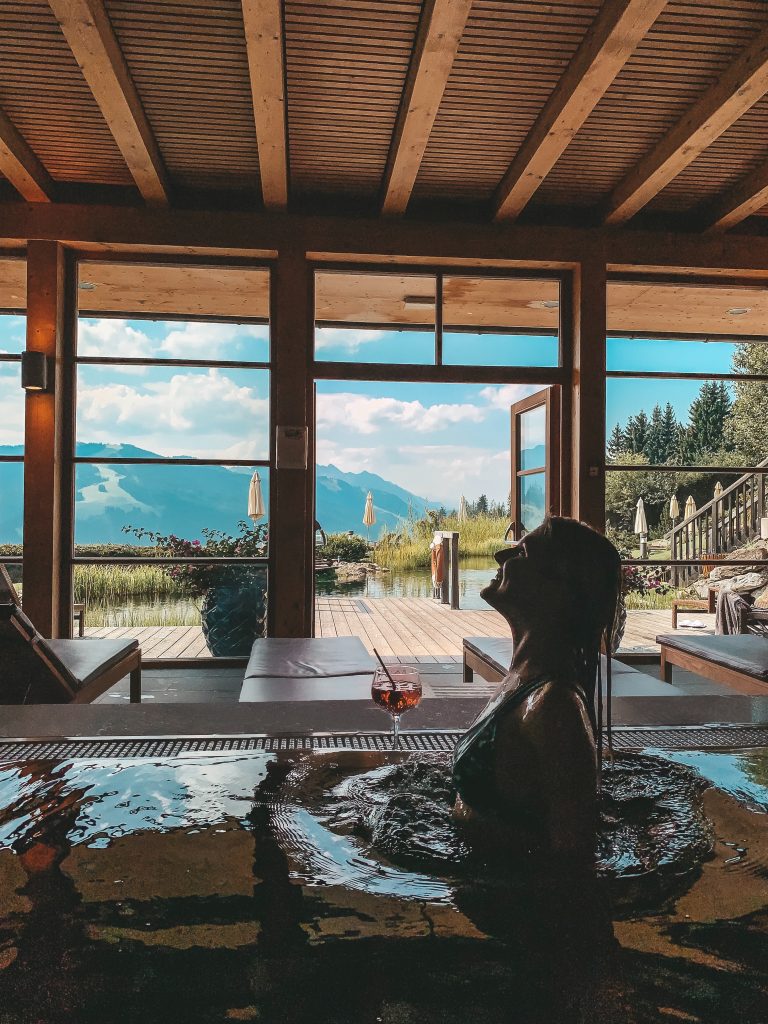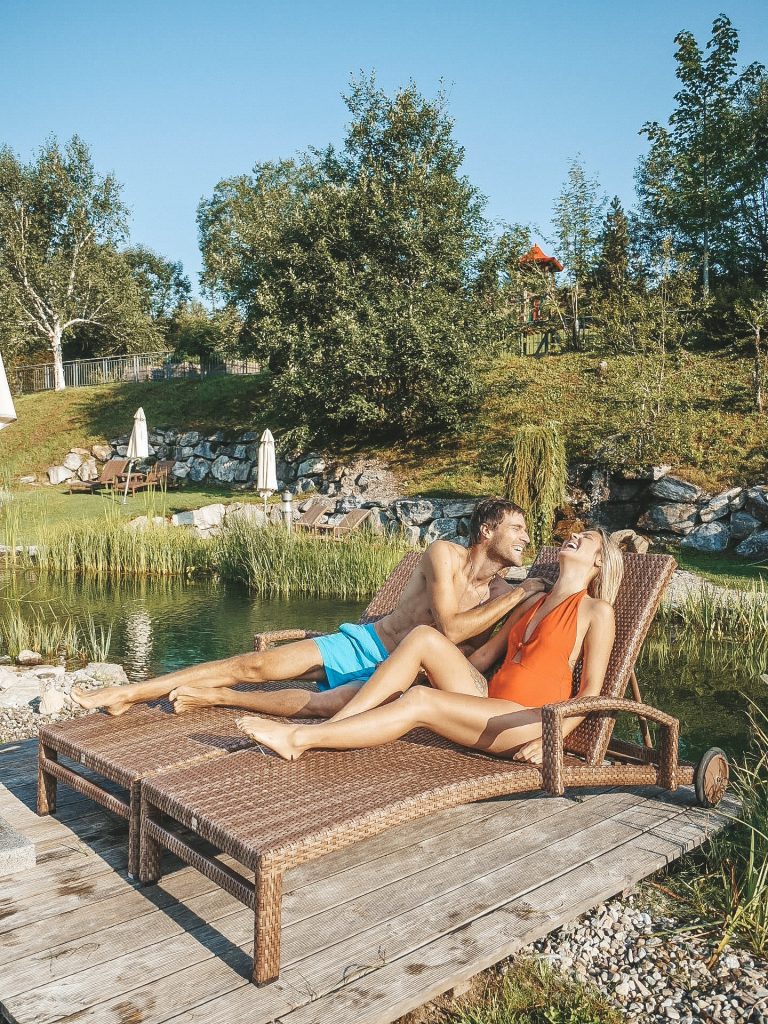 We have to admit, we are absolutely spa lovers. And the best thing about this is that we live in a country that really knows "how to spa". Since we have been in a lot of spa hotels or day spas around the globe, we can really tell from experience, that Hotel Edelweiss offers a truly incredible spa area. They offer different saunas, a steam room, and even a heated, quiet room where you are treated with alpha waves that truly bring your relaxation to a different sphere.

The heated indoor swimming pool offers amazing views of the area, as well as a whirlpool area to get an intense, free back massage as well. In terms of messages and treatments, the hotel offers a lot of holistic treatments and activity for the well-being of your body and soul. Aryuveda Gentle Touch, herbal messages or Qi Qong are only a few examples of the broad offer you get to reconnect with your true self and nature.

Since we both are highly aware and concerned of the resources modern lifestyle consume, we love the fact that Hotel Edelweiss has an incredible low energy consumption due to geothermal heat. It is built with the highest standards of natural materials from the surrounding areas. Frankly spoken, we were blown away as soon as we entered the hotel lobby. Walls, doors, our bed, everything is made with love and covered with natural wood from the region. You can feel it, you can smell it and you will appreciate it even more after your first super relaxing night there. Personally, for us, this is the highest amount of comfort and atmosphere a hotel can offer.
#5 Heaven for food lovers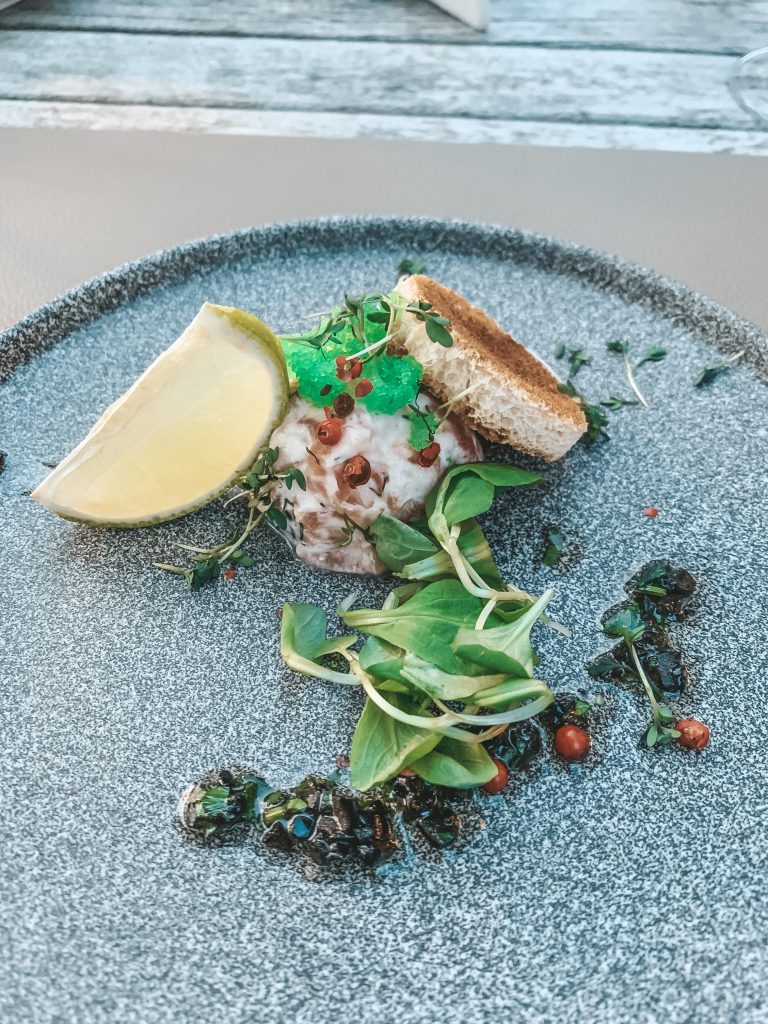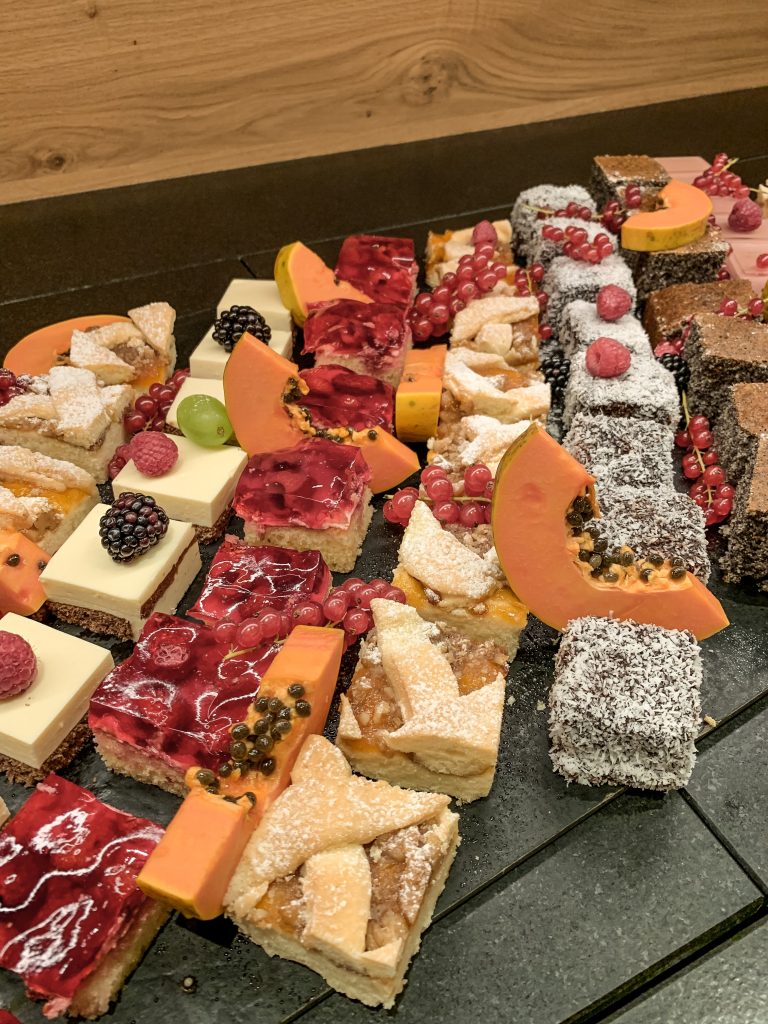 Every booking at Hotel Edelweiss includes a full board. They offer an amazing, high-qualty breakfast with a ton of fresh fruit juices, vegetables and all kinds of biological products from nearby farmers. They also offer gluten-free products and vegan choices. In the afternoon you are treated to a light snack with a soup, a warm dish and a whole variety of desserts and fruits. Dinner is always a five-meal course – all dishes are served except the salad and starter.
#6 Perfect place for an active holiday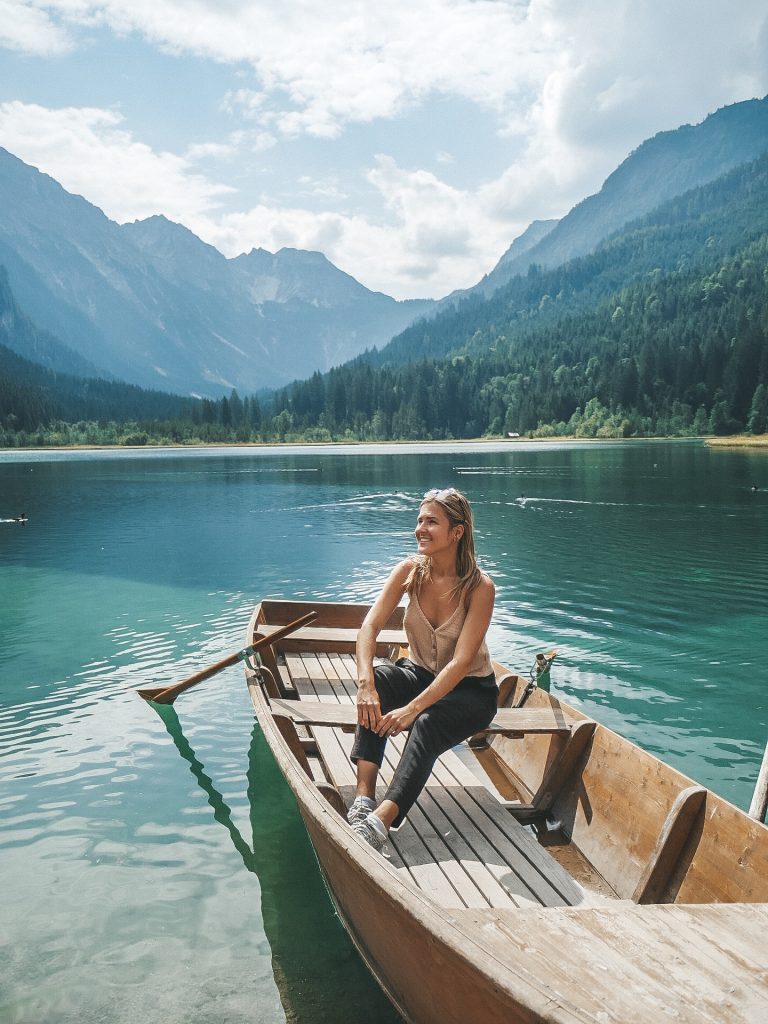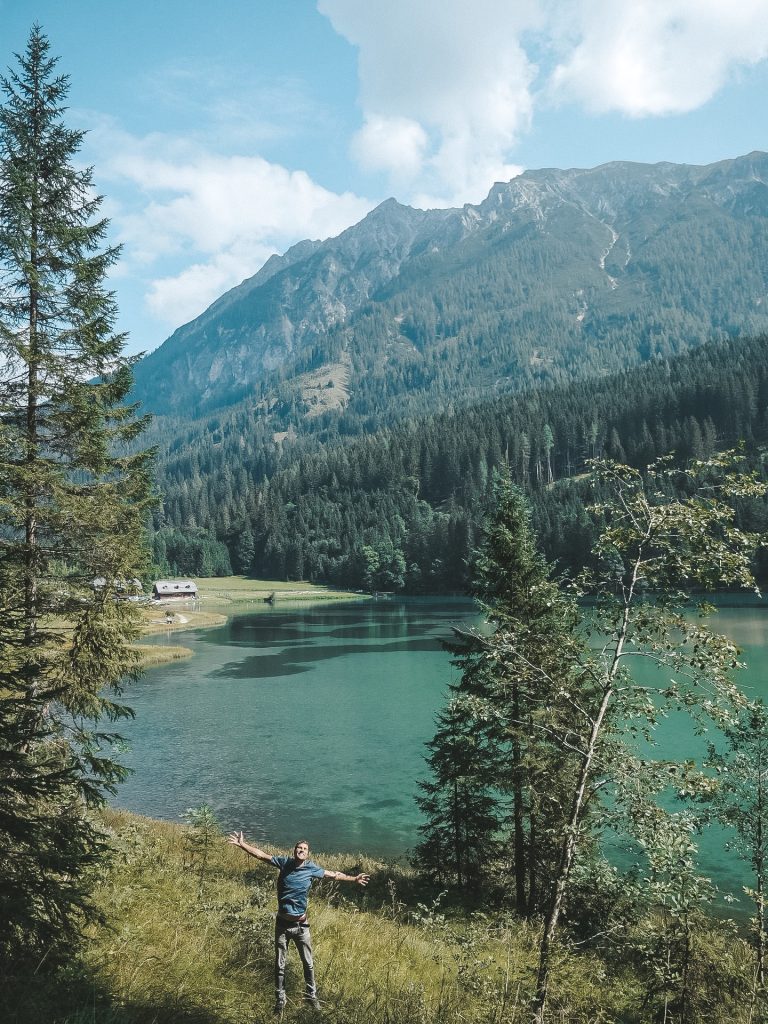 Every person reacts differently to stress and therefore needs their own way to fully recharge after a stressful working period or the routine of everyday's life. Some might just want to do nothing, expect relaxing in the spa or reading a book, others get super bored after a couple of hours doing so and need some activities in between.
The area around Hotel Edelweiss offers so many activities, that it is super hard to choose. Since we only had two full days after a super stressful week at work, we decided to just relax at the hotel and get spoiled by all the offerings. It was super needed by our bodies. The third day we decided to visit a nearby natural beauty – the Jägersee. After a slow-paced walk around the idyllic lake, we made a stop at what we cherish so much about our home country Austria – a real country-side restaurant. Having delicious traditional food and drinks, while watching a whole family of swans and ducks fooling around some meters away.
Since Cory brought a cold from home, we decided to keep it easy that day. Even though we would have loved to do the famous hike from Jägersee to the incredible viewpoint of a second lake 1762m up in the mountains called Tappenkarsee. Check out the route here if you are interested.
Besides amazing hikes, climbing routes and all kinds of adventure sports like canyoning, paragliding or rafting, there is another thing Wagrain is really the perfect place for. They have a really cool bike park and a massive variety of bike trails. Check it out here.
When to visit Wagrain in Salzburg, Austria?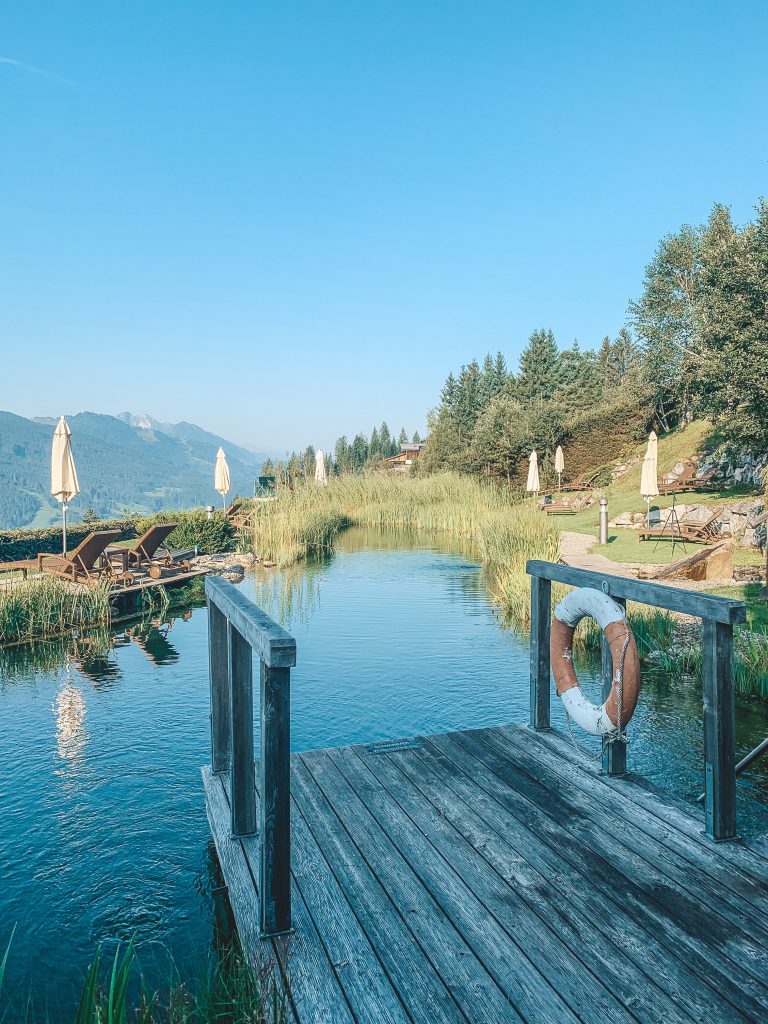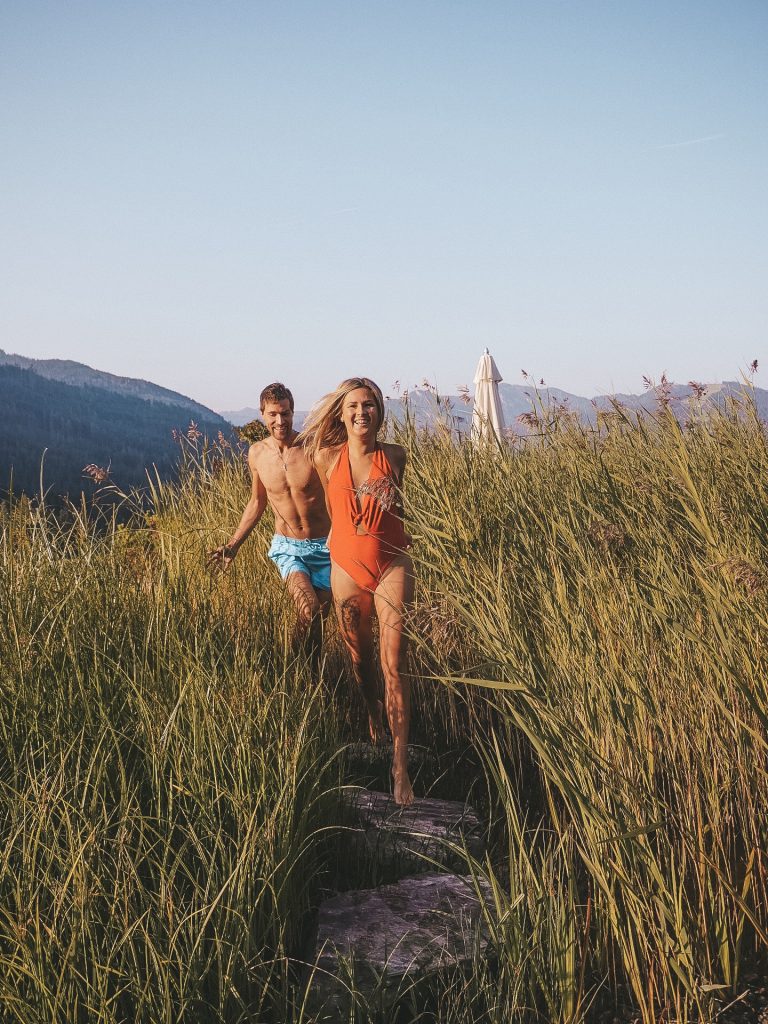 Places like Wagrain in Austria are pretty crowded during winter, since tourism is mainly focused on skiing and other winter sports. However, the best time to visit jewels like the wellness resort Edelweiss is in our opinion from late spring to early autumn. When you are skiing all day long, you are hardly able to make use of the amazing offer of the hotel. Plus during this season it's far less crowded and a bit cheaper too.
We can highly recommend spending your next summer holiday in the mountains of Salzburg. Hence, it is no surprise that this wellness resort in Austria – Hotel Edelweiss in Wagrain – just jumped directly into our favourite short holiday destinations list.
Let us know if you have any questions regarding your next summer holiday in Austria. We are happy to help. Check out our other spa hotel reviews for Austria:
Blog article written as part of a paid collaboration with Hotel Edelweiss