When it comes to diving, there are plenty of reasons that get you hooked. Whether it may be the super bright and plentiful colors of a reef, the vibrant underwater life or its giant creatures. Diving the cavern and cave systems of the Mayan cenotes however is something completely different.
We did our dives with The Cenote Guy. This guy was an ocean diving guide before and used to see massive pots of whale sharks all the time. Still once he experienced cenote diving, he was addicted from the start and couldn't stop anymore. After our experiences, we totally get that and are even thinking about doing the cave diving certification ourselves.
Cenotes are massive underwater caverns and cave systems, that formed naturally within 1000s of years by acidic water washing out the limestones. During this process, not only endless underwater caves and tunnels, but also stalactites formed.
These natural phenomes together with insane lightning effects of the sun, create an unforgettable and mystical experience that no serious diver should ever miss.
Diving in cenotes also means that you will experience the Mayan underworld, the place of the dead and the gods. They were used for communicating with the underground world and doing lots of spiritual ceremonies. If you are open minded and spiritual yourself, we are pretty sure you will feel the special energy of the places. Let yourself be surprised.
So these are our top 3 cenote dives located around Tulum that we will keep in awe forever. Keep in mind, in order to do those, you need to be an advanced OWD diver.
1. Cenote Angelita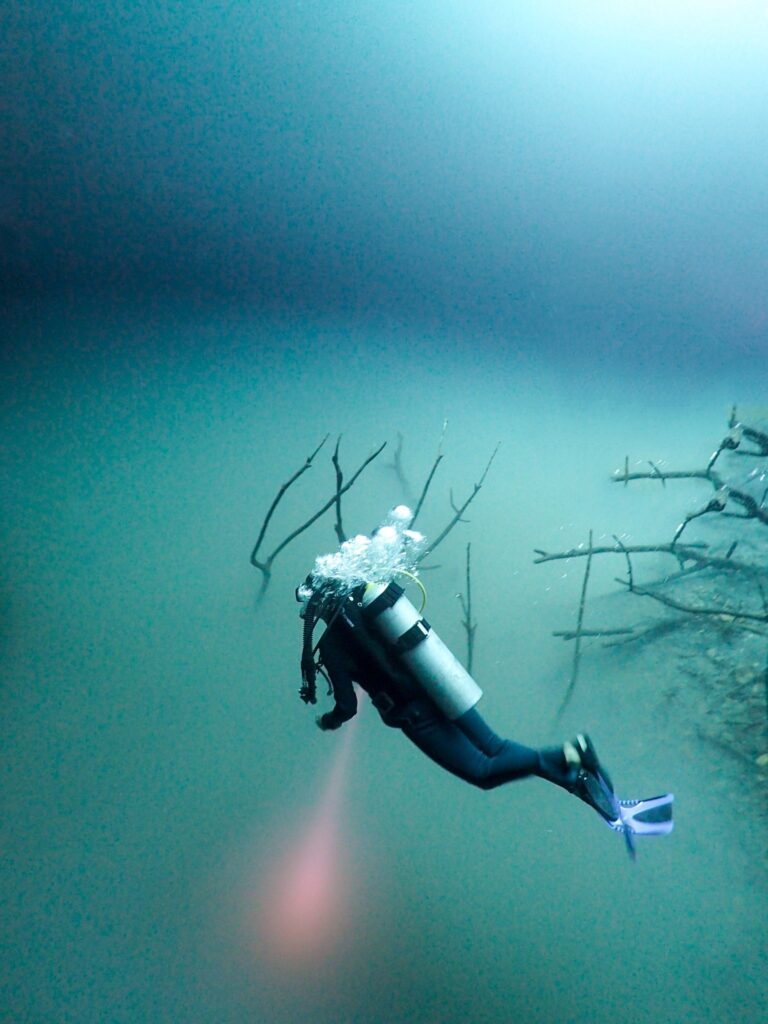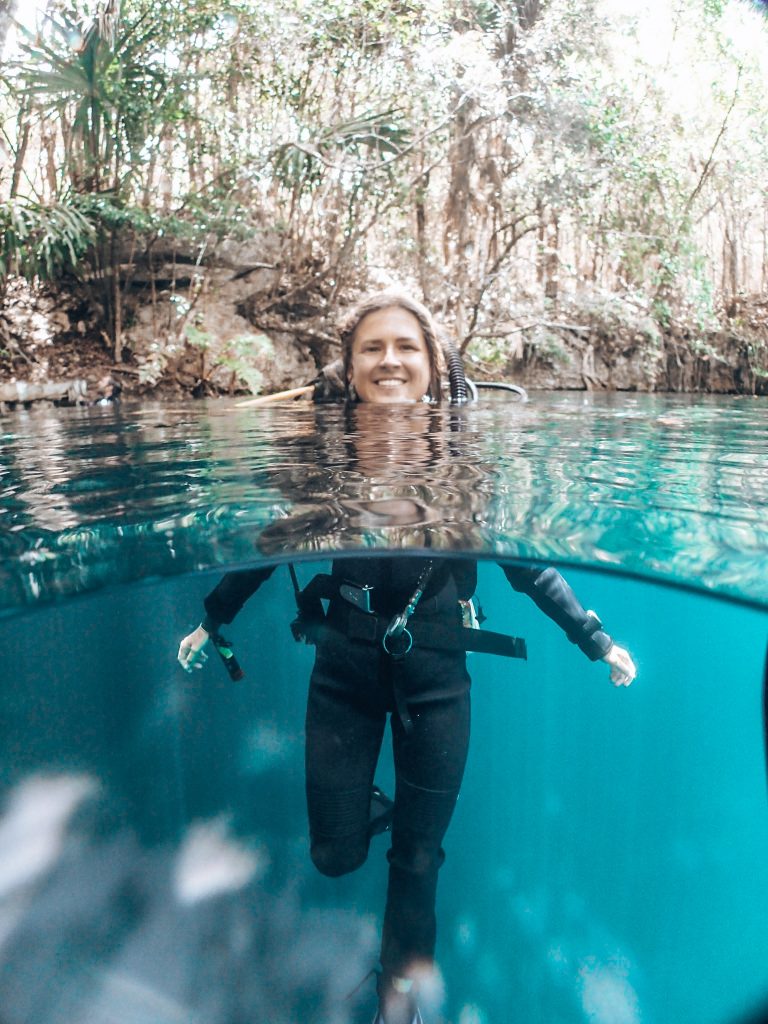 Ready for the most scary dive of your life? We hope you know what you signed up for, when you decided to do this dive. This cenote used to be, or maybe still is, the gate to the underworld in the Mayan culture. It is believed that the spirits and souls are still there.
If that is not creepy enough, the second reason this cave will get your hearts racing, is that the underworld gate is a layer of hydrogen sulphate, located in 28m of depth. This layer is often also referred to as halocline and divides the salt water from the fresh water. This creates an atmosphere that cannot be described in words.
Once passing through the 1m thick and super dense fog layer, you reach "the other side". There is no light, no noise, only the light ray of your torch, making its way through the eternal darkness.
We are both thrill seekers and love a good adventure, but as we are also very spiritual and got sense the meaning of this place, we would have possibly freaked out, if The Cenote Guy wouldn't have made physical contact the entire time while passing through the cloud. He made sure that we felt safe and comfortable all of the time and even calmed Cory down when she had a little panic attack before making the complete descent. Highly recommended!
| | |
| --- | --- |
| Brightness: | 2/5 |
| Depth: | 30m |
| Claustrophobia: | 4/5 |
| Halocline: | yes |
| Level requirement: | Advanced OWD |
2. Cenote The Pit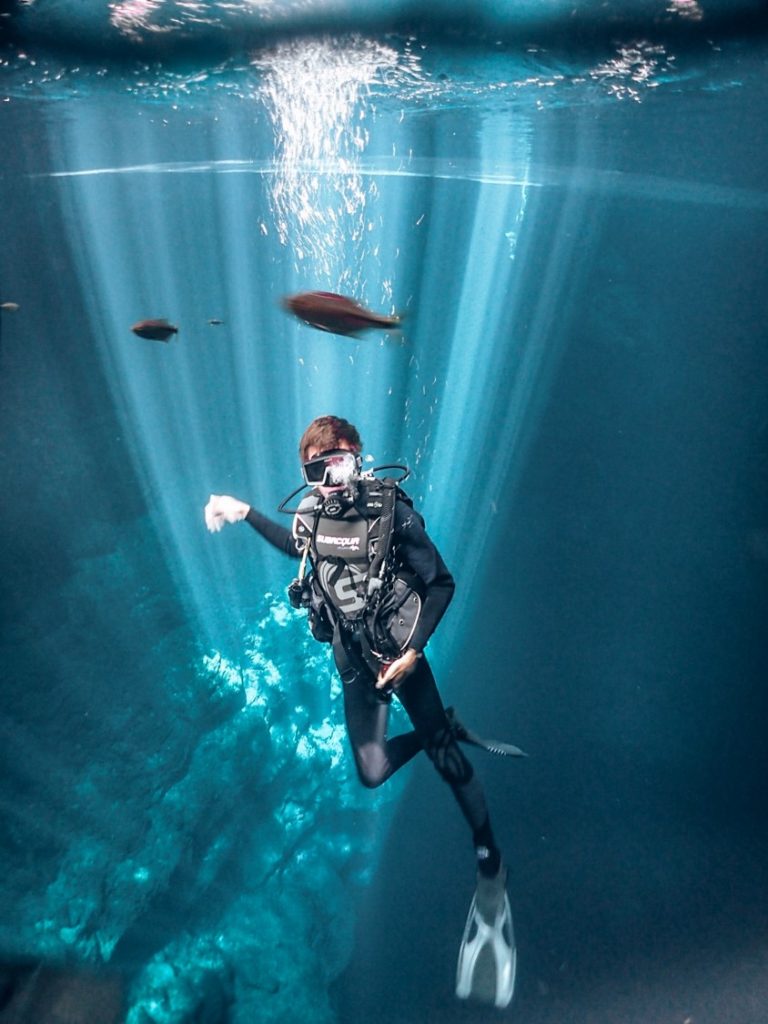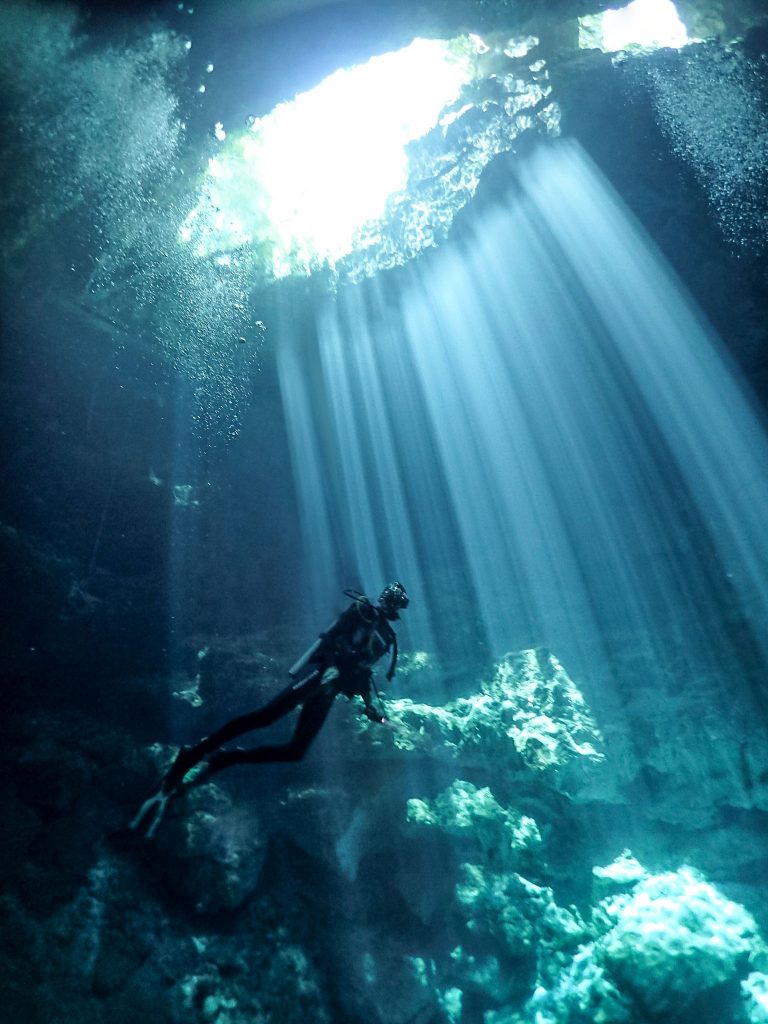 Diving The Pit feels almost like jumping straight into the fairytale Alice in Wonderland. The lightning that comes in creates a shining underwater curtain that looks out of this world. This effect is the most impressive in summer at around soon, when the sun is straight up in the sky and its sunrays reach a depth of 30 meters. The Pit also has a small hydrogen sulphate cloud that divides salt from fresh water. At around 30 meters of depth, you reach a small chamber, filled with massive stalactites, which formed over the course of 1000s of years.
| | |
| --- | --- |
| Brightness: | 3/5 |
| Depth: | 30m |
| Claustrophobia: | 2/5 |
| Halocline: | yes |
| Level requirement: | Advanced OWD |
3. Cenote Calavera – The Temple of Doom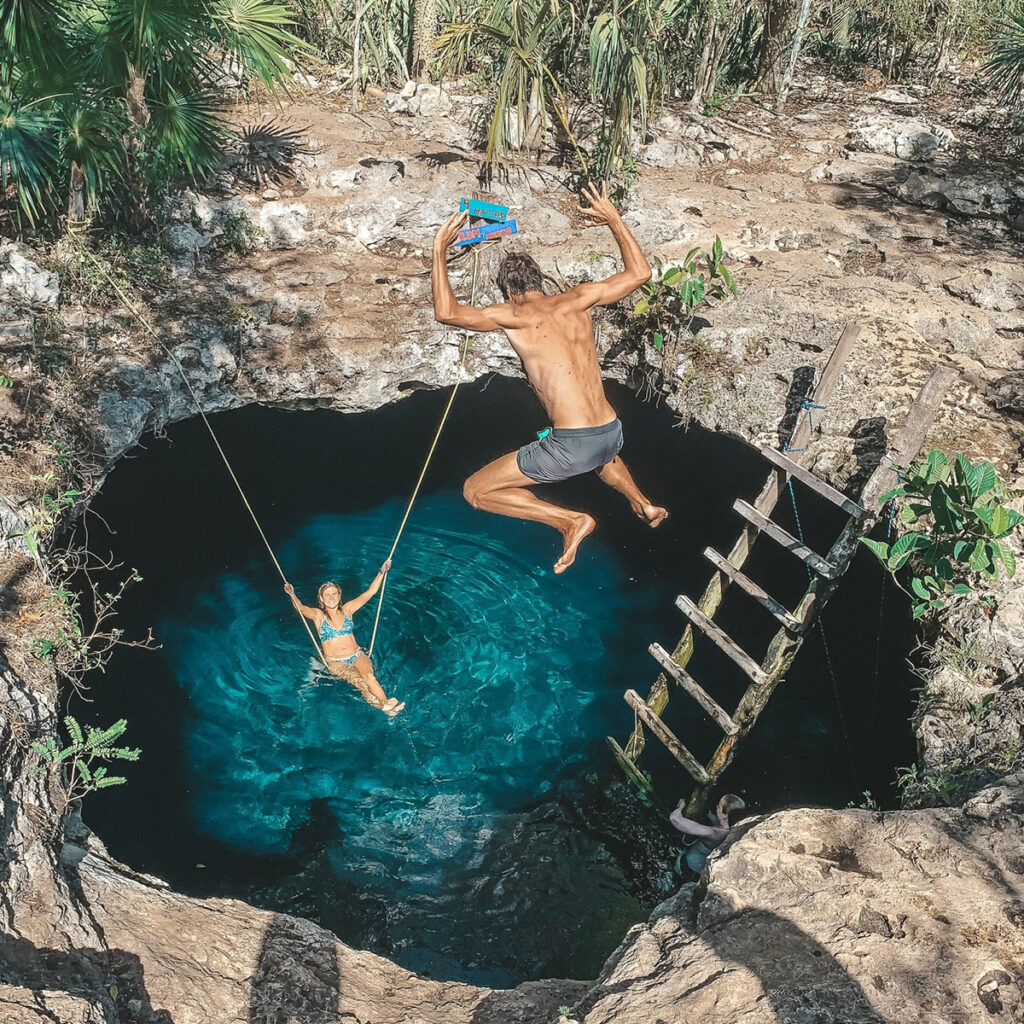 Calavera was named the Temple of Doom, since it has similar characteristics to the Indiana Jones movies and offers and thrilling adventure all the way.
This dive has one of the best lightning effects, that's caused by halocline. Due to different water density of fresh and salt water, the light bends differently when passing through. In that way two different watercolors are created surrounded by a thin line.
The great thing about Cenote Calavera is that you don't necessarily need diving equipment to enjoy its beauty. Snorkeling, but especially free diving, will reward you with an amazing experience as well. The cenote also offers lots of super pretty instagrammable spots and will give you plenty of opportunities to create some epic jump pictures.
| | |
| --- | --- |
| Brightness: | 3/5 |
| Depth: | 15m |
| Claustrophobia: | 1/5 |
| Halocline: | yes |
| Level requirement: | normal OWD |