Austria in February – what better weekend plan than to spend an amazing time with friends in the mountains of Schladming-Dachstein, enjoy some delicious traditional Austrian food, go skiing while having the perfect snow conditions and relax in between with some yoga – for sure including some epic views.
Skiing weekend at Schladming-Dachstein
We spent the last weekend in the region of Schladming-Dachstein. It was already our second time there in this season. This skiing region is located at the Eastern area of the Austrian alps, next to the famous Dachstein glacier.
Schladming-Dachstein is by far the most modern and biggest skiing region within Styria. And as you probably have already guessed it – our favorite one.
We just love it there, as it is the perfect place for ski lovers. Skiing at Schladming-Dachstein gives you amazing panoramic views of the surrounding snowy mountain caps. The region just leaves you speechless.
We were therefore super happy to be invited by Schladming-Dachstein and the ski circus Ski amadé to spend a whole day there filled with a ton of activities.
Ski amadé – made my day
Apart from being a great ski circus, Ski amadé offers various "made my day" packages, which combine skiing with different other activities such as snow shoeing, yoga or food tastings.
We decided to go for the "ski & yoga" package, which includes a full-day ski guide – that tells you everything you want to know and shows you the best areas to ski, a ton of delicious food and as the title already tells you – yoga at the mountain summit.
Every few hours on this tour, a different activity awaits you. The best thing about the tour is that you get to see all the four mountains that are included in the Schladming-Dachstein ski pass: Reiteralm, Hochwurzen, Planai and Hauser Kaibling.
08:00 am: Meeting our ski guide Hans
The day started super early. We already left Graz at around 5:30 am to make it in time to the meeting point. We meet our ski guide at the valley station of Reiteralm. Hans is super motivated to guide us through the day, and we could not be more excited for the day ahead.
We took the first ski lift up to the top of Reiteralm, and are welcomed with a super gorgeous mountain panorama. We are all alone at the top and left in awe. Hans told us a lot about all the surrounding mountain caps, before we went skiing all the way down to our second stop – Schnepfn Alm.
09:00 am: Breakfast buffet with prosecco at Schnepfn Alm (Reiteralm)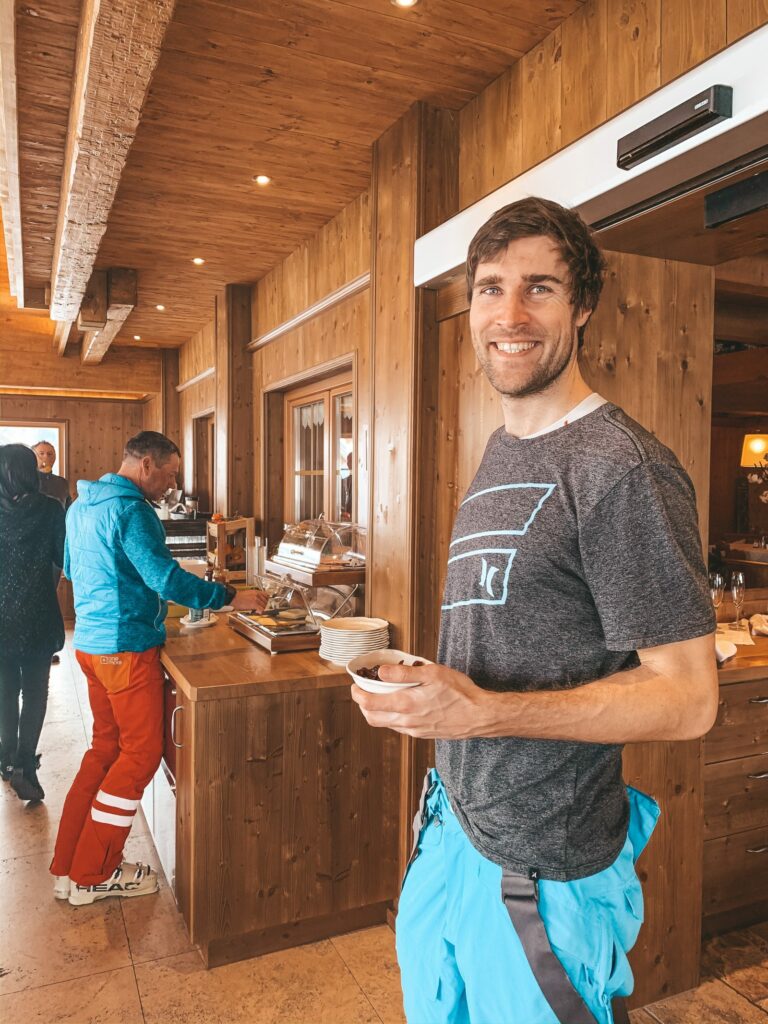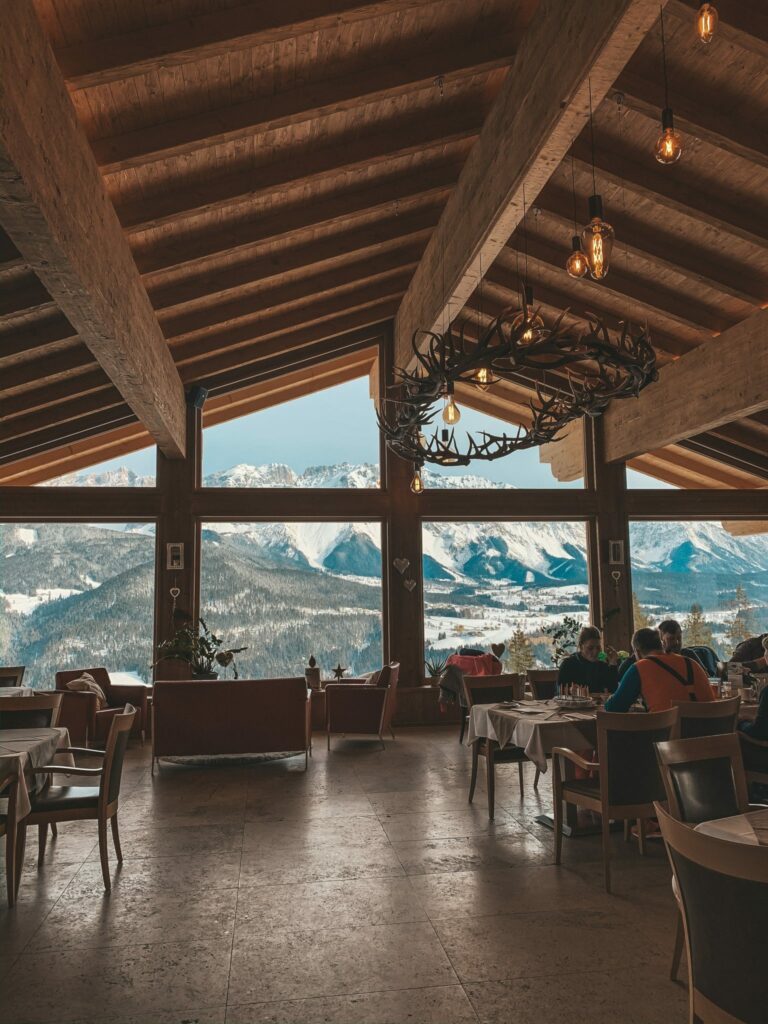 After an hour of skiing (which was super cool, since we had the slopes almost for ourselves), we arrived at Schnepfn Alm for breakfast. This traditional Austrian hut has a stunning view of the Dachstein glacier.
After indulging into the delicious and big breakfast buffet, we spent another hour racing down the skiing slopes. We slowly made our way from Reiteralm to the next mountain Hochwurzen.
11:00 am: Mountain yoga at Hochwurzen
We arrived at Hochwurzen, where our yoga teacher already expected us. We were excited, because we had no idea what would await us. If you for the first time hear that you are supposed to do yoga in skiing shoes, it might sound a bit weird.
In reality, it was really cool. We did some slightly modified positions, which you can easily do with the skiing shoes on. Some positions we even did with our skis still on. It was relaxing to take in the mountain panorama, breathe deeply and just take it all in. Exactly what we needed.
13:00 pm: Lunch break at Kessleralm (Planai)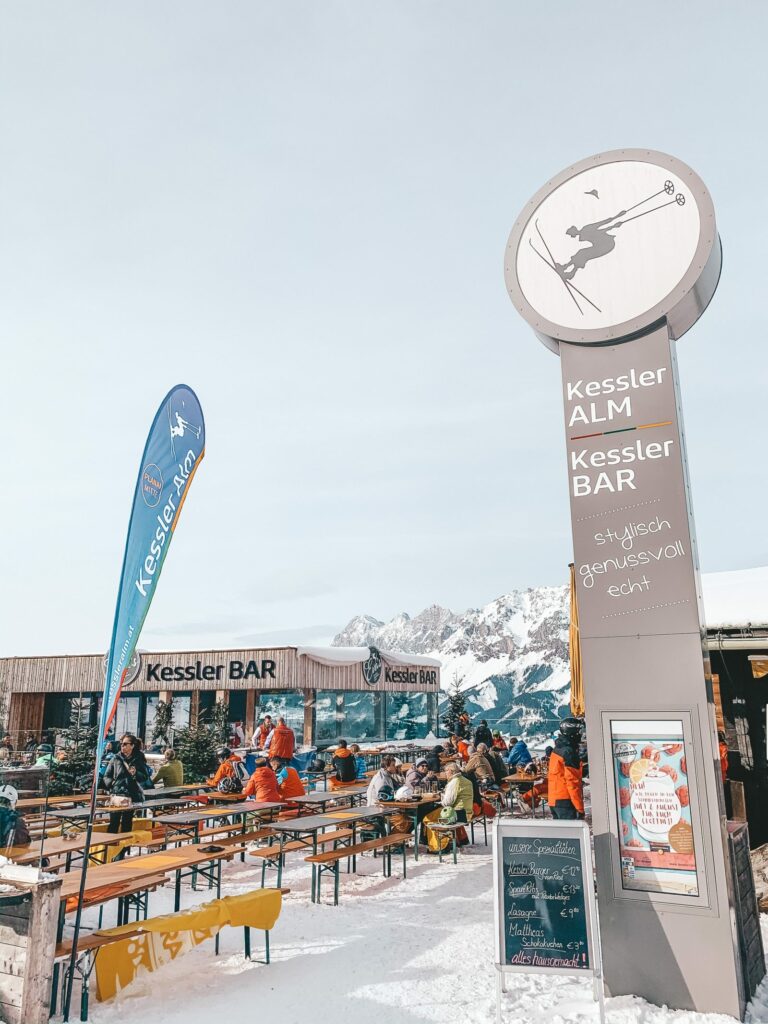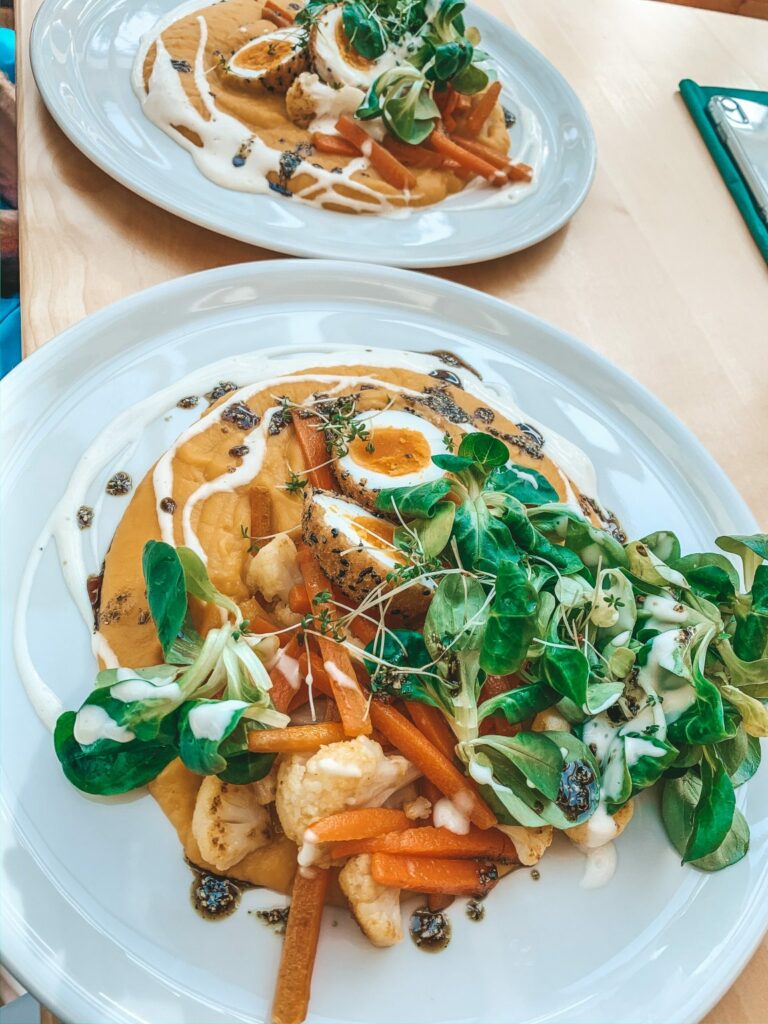 After yoga, we again had some time to explore the skiing slopes of Hochwurzen, but also Planai. We spent around 90 minutes racing downwards and stopping in between to get some guidance from Hans.
We then arrived at the mountain hut Kessleralm, where a delicious vegetarian lunch waited for us. YUM! It was – hands down – the best food we have ever had on a skiing hut. As a vegetarian it is sometimes hard to find something besides the obligatory spaghetti with tomato sauce, so we were surprised when they served us the most delicious and healthy meal.
16:00 pm: Après ski at AlmArenA (Hauser Kaibling)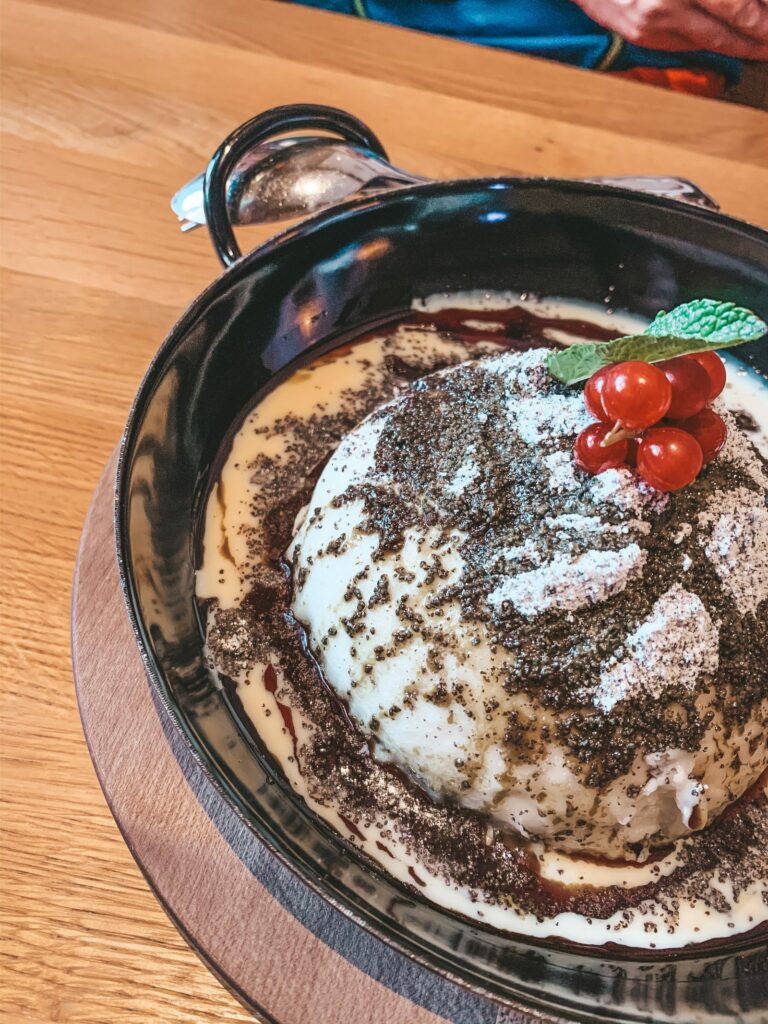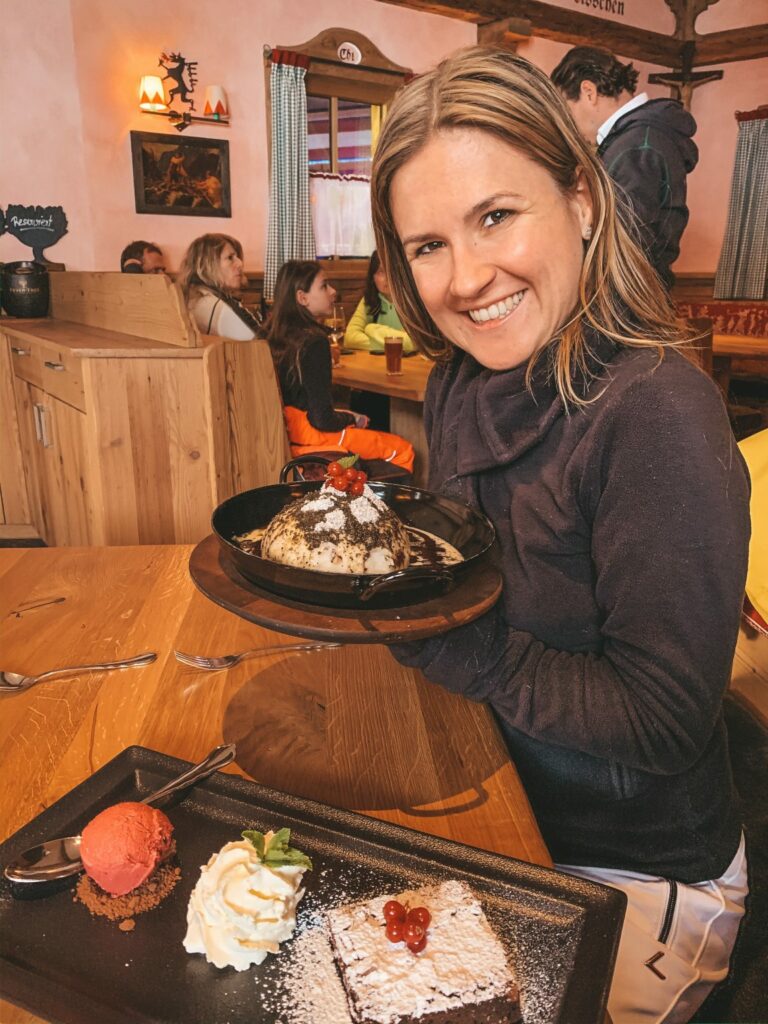 Already a bit tired from all the skiing and fun, we arrived at the valley of Hauser Kaibling. There we made our way to the famous après ski bar and restaurant AlmArenA. Besides having a lot of fun with our skiing guide there, we ended the day with the most famous Austrian dessert, which is typical for all the skiing regions: Germknödel.
Fully stuffed and super happy, we later took the skiing bus back to Reiteralm, where we parked our car. As you can imagine, after such an exciting day, we were also happy to make it to our hotel, where we feel asleep very early.
Thank you Ski amadé, thank you Schladming-Dachstein – you really made our day. We can highly recommend this package to any ski and food lovers. It's also the perfect idea for any present.
Collaboration with Ski amadé (sponsored trip)