Austria – our home – and a country which is super multifarious and beautiful. Introducing you to one of the best luxury spa hotels in Austria – Hotel Nesslerhof.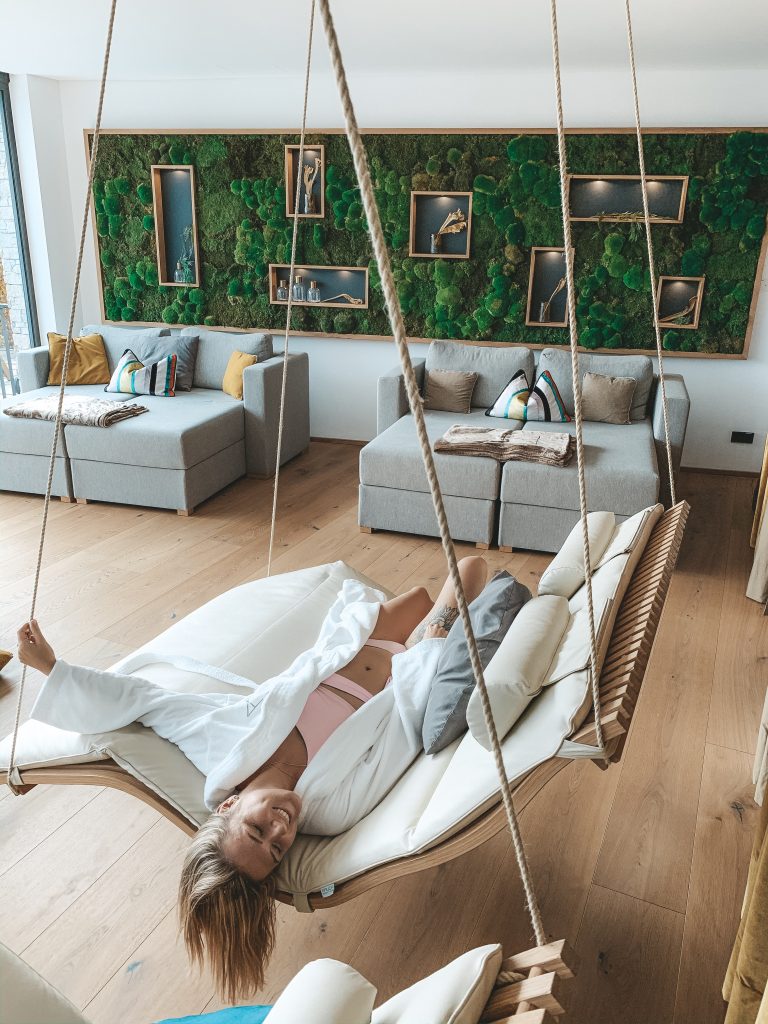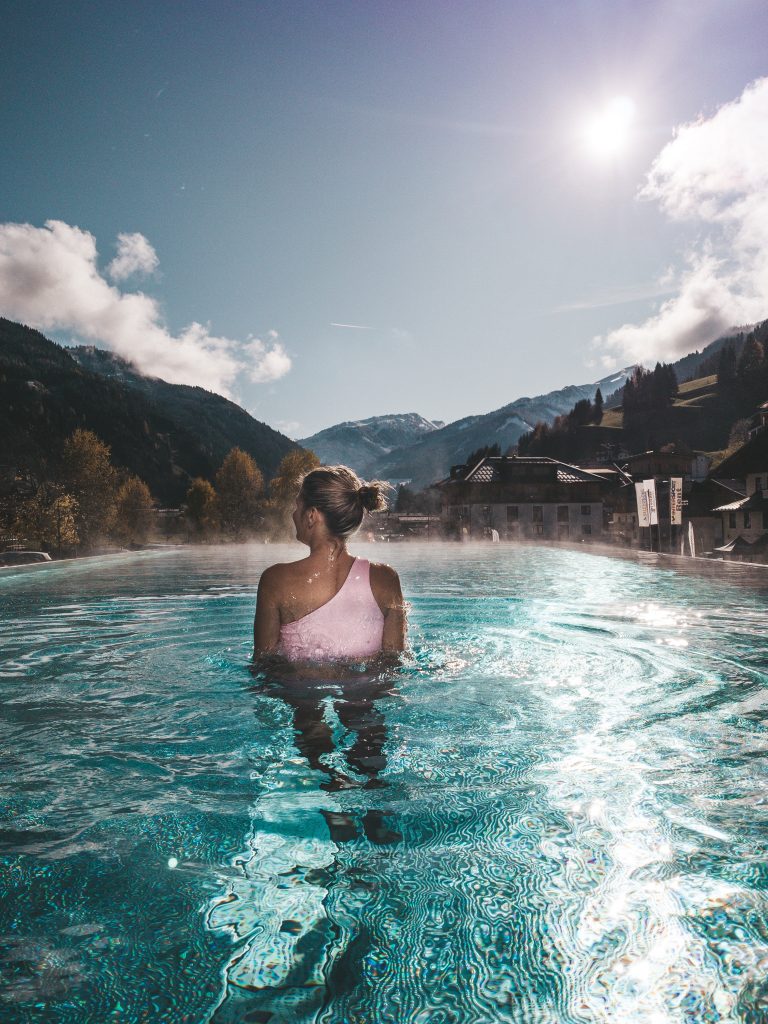 We have to confess: We are absolute spa lovers. And we have been to a lot of spa resorts all over the world already. We have seen affordable luxury hotels and we have seen day spas for pretty cheap prices. How does this fit together with being adventure travel lovers as well?
For us it's the perfect match. Going on a multiday hike while sleeping in a tent to fill the thirst for adventure and the next trip going for a spa hotel and fully recover and chill out. Sounds like our dream weekend.
Speaking of Spa hotels: There are several things Austria is famous for. Such as the incredible Alps, skiing, classical music and all the clichés you might know from the movie Sound of Music.
But speaking of the incredibly beautiful Alps… one thing the world should finally draw attention to is the following:
Austria is THE PARADISE for spa lovers. From resorts next to hot springs to luxury mountain resorts – Austria has it all. The awesome thing about Austria: Luxury in Austria almost every time means affordable luxury, meaning that you get an incredible amount of value for what you pay.
The luxury spa hotel Nesslerhof in Großarl, Salzburg suits this description perfectly. Thanks again to the family Neudegger and their team; we had an amazing time.
Here are our top 5 reasons why hotel Nesslerhof is one of the best Luxury Spa Hotels we have ever been to:
1. Luxury Spa Hotel – 1.800m² of pure enjoyment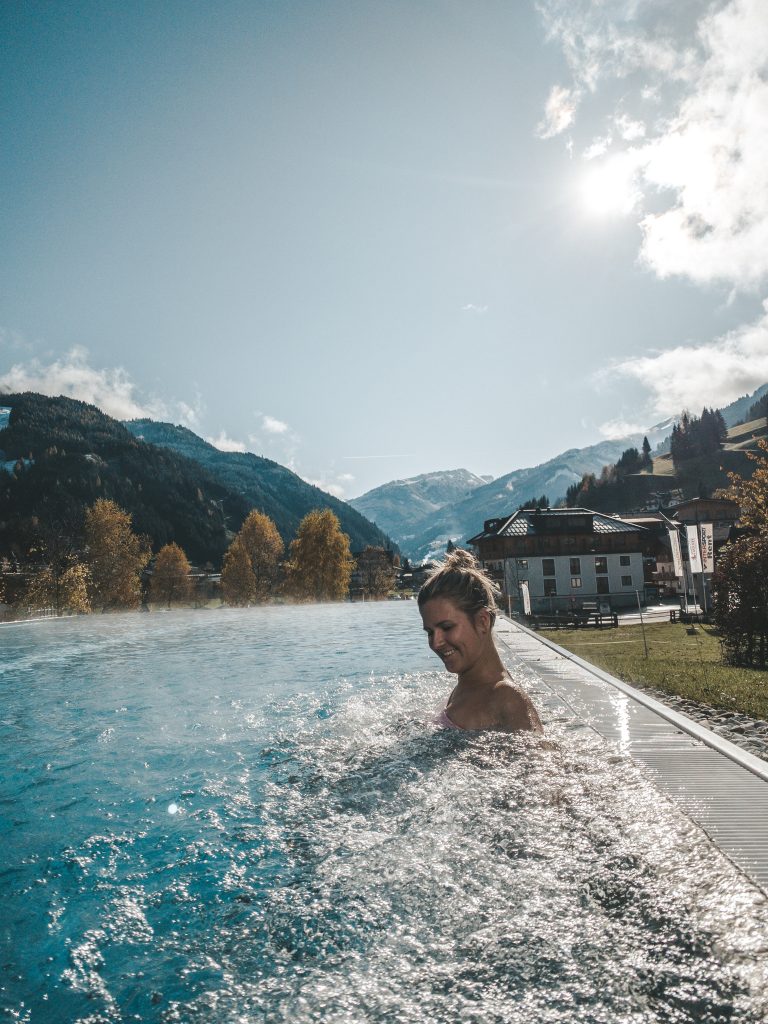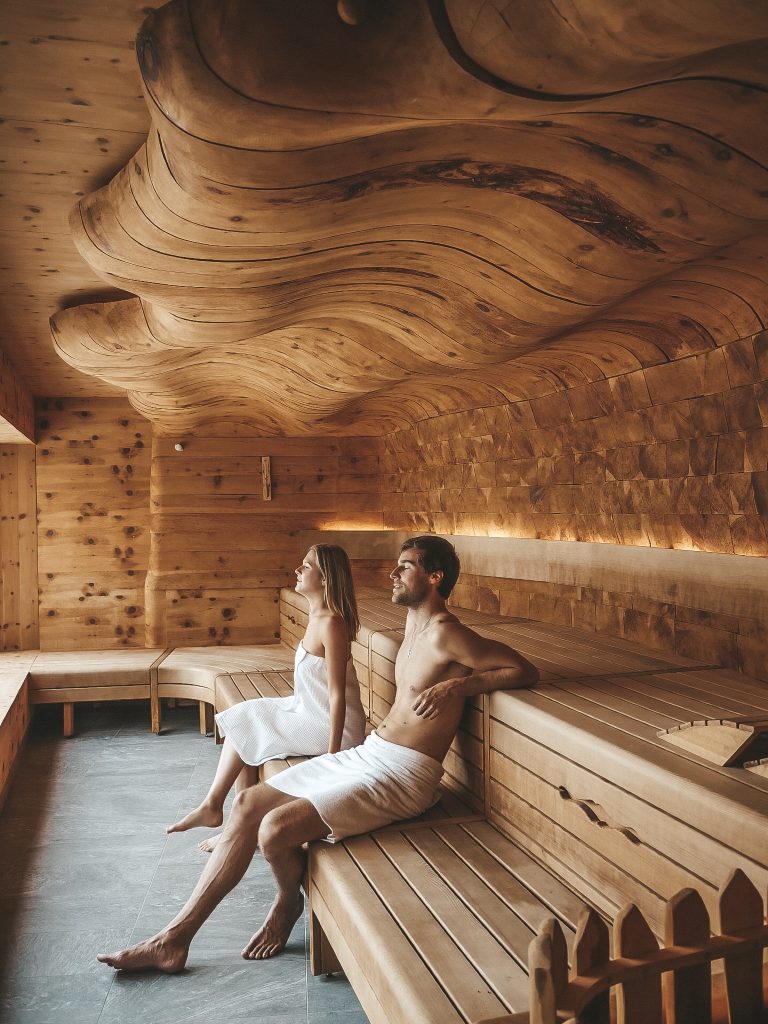 Whether it's the infinity pool, the indoor swimming pool or sole outdoor pool. Every single one is equipped with massage jets and has a nice warm temperature.
Outdoors there is beautiful natural swimming pond as well as a cold-water pond. Depending on the season and weather you just walk out of one of the amazing saunas – it's the perfect way to get refreshed. We haven't felt more alive, while being fully present in the here and now, than after a nice cold water "shock".
The great thing if you just come out of one of the two steam rooms or plenty of saunas, your body is so overheated that cold water feels like a blessing.
If that's still not enough wellbeing there is also vast offer of spa treatments and complementary fitness or yoga sessions.
2. The most epic suites and mountain views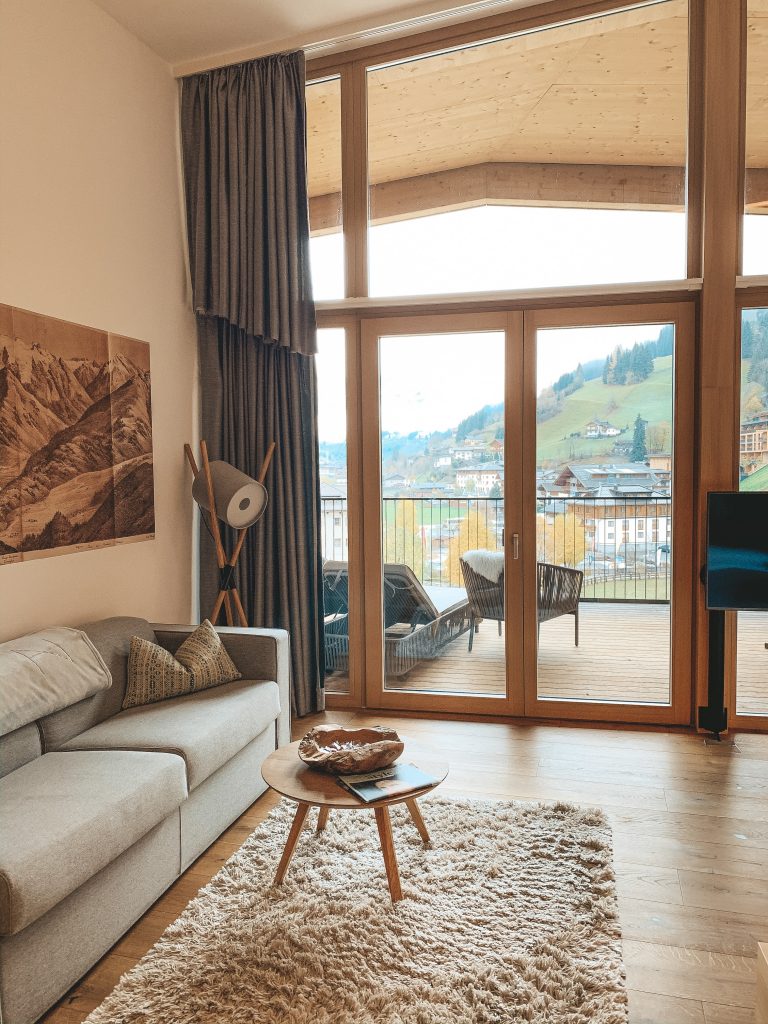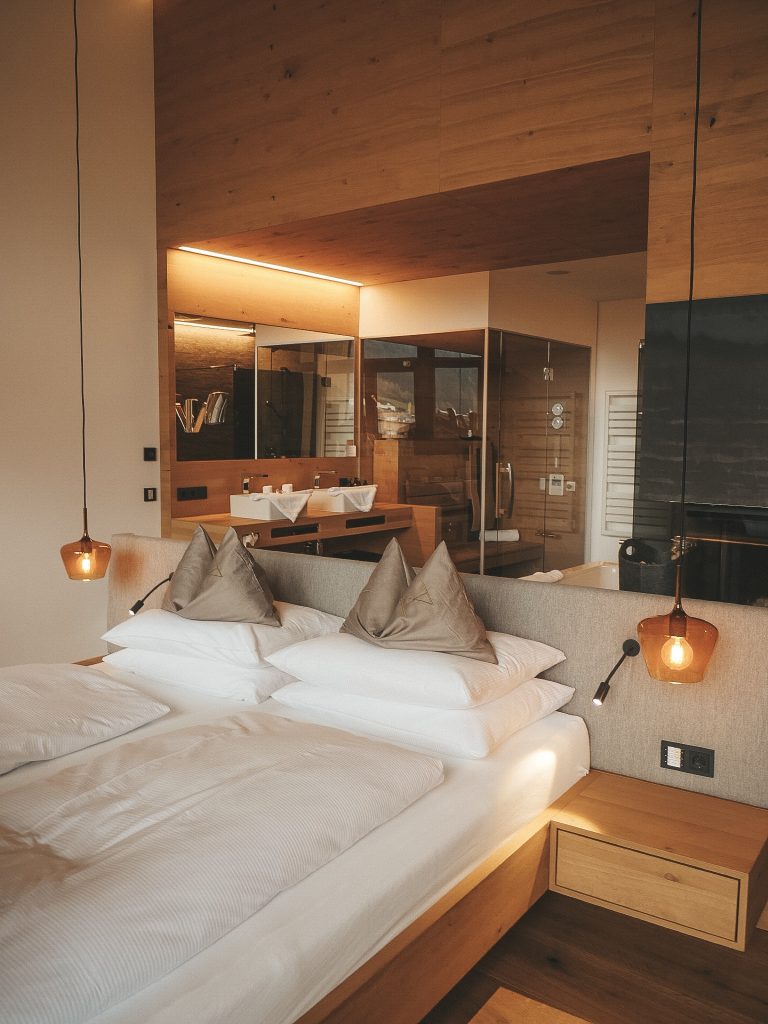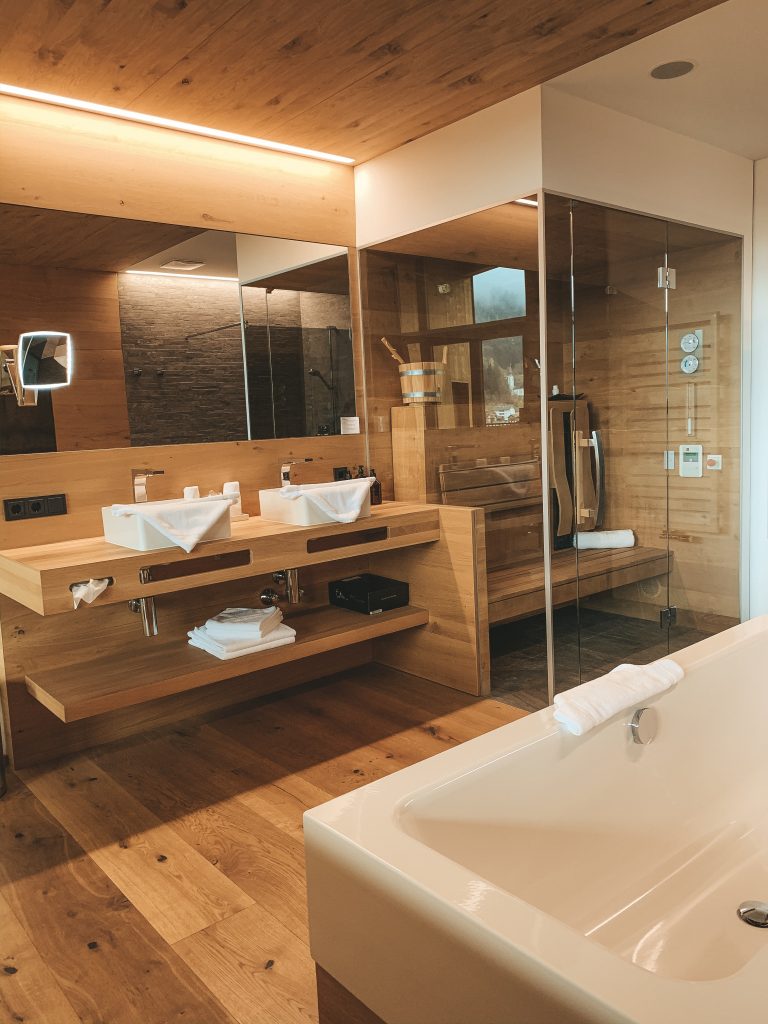 Usually when you stay at a nice spa resorts you stay in a a fancy room. Nevertheless, you basically only use it for sleeping, active night time and getting ready for breakfast and dinner.
But at hotel Nesslerhof we were blessed with the most epic room we have ever stayed in. So leaving the room was not even needed since our spa experience already started here.
The first day we loved to try out our very private sauna and infrared cabin. The coolest part was definitely jumping into the role of a sauna master, who usually pours water over the heated rocks.
The second day we decided to heat up the wood-fired oven and to having a romantic night together. We watched the flames and enjoyed a nice bath. Of course, followed by another private sauna session.
And what could have been a better refreshment afterwards, than walking out of our suite onto our massive private terrace, lay on the sunbeds and watching the mountains turning all kinds of colours during sunset. This is what we could call the perfect honeymoon suite.
3. Heaven for foodies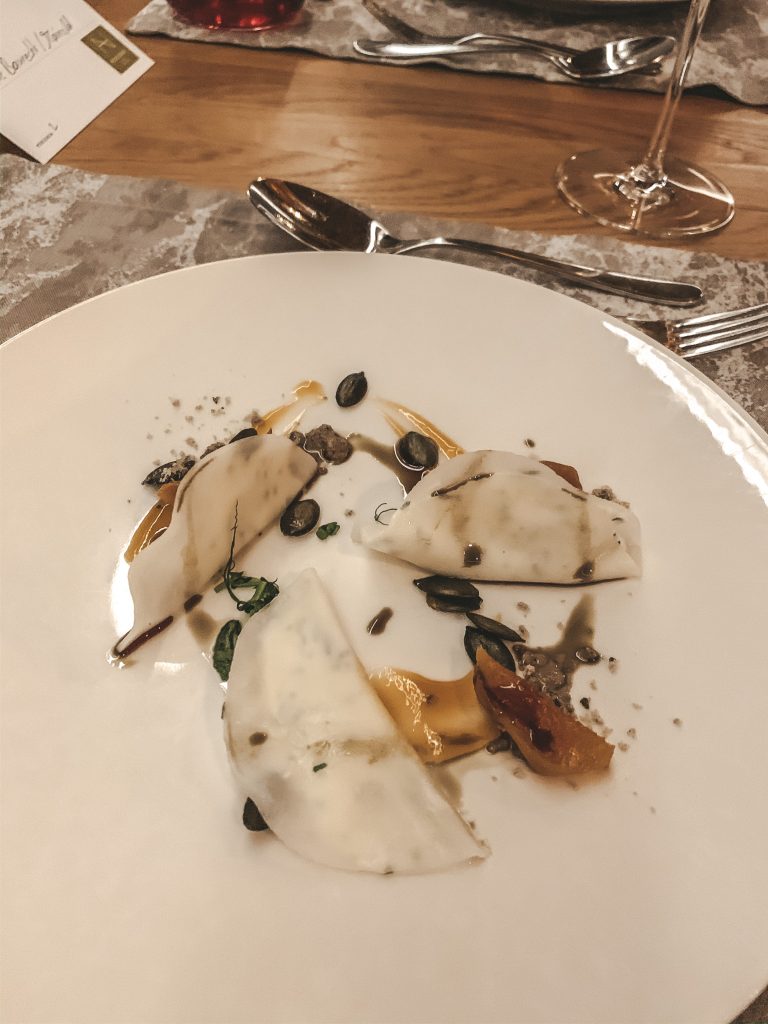 Well isn't the perfect holiday a lot about enjoying the most amazing food? Let's just say it's a pretty important part of it.
At hotel Nesslerhof there isn't any culinary expectation that is not met on the highest level. The breakfast buffet is equipped with several fresh smoothies and pretty everything Austria's finest breakfast selection has to offer. Everything you will find is biological and offered as naturally as possible.
Not that it would be necessary after mostly overeating at breakfast, simply since you just can't stop. But there is a lunch snack starting at 2:30pm, offering a salad and cake buffet as well as a soup and one main warm dish. Soft drinks, coffee and tea is included during lunch, which is usually not the case at other spa resorts we have been to. Truly the lunch is far more than a snack, it's a complete meal and it's just ready when you feel like having an afternoon snack & coffee break.
The 4-course evening dinner is just another stunning highlight for food lovers. All courses are served to the table and there are several options to choose from, including vegetarian options. Additionally, there is a big salad buffet as well as an ice cream and cheese buffet to take from. Overall, it´s a 7-course high-class dinner that is offered, but frankly spoken we never made it to the ice cream, even though it looked delicious.
4. Major interior design inspiration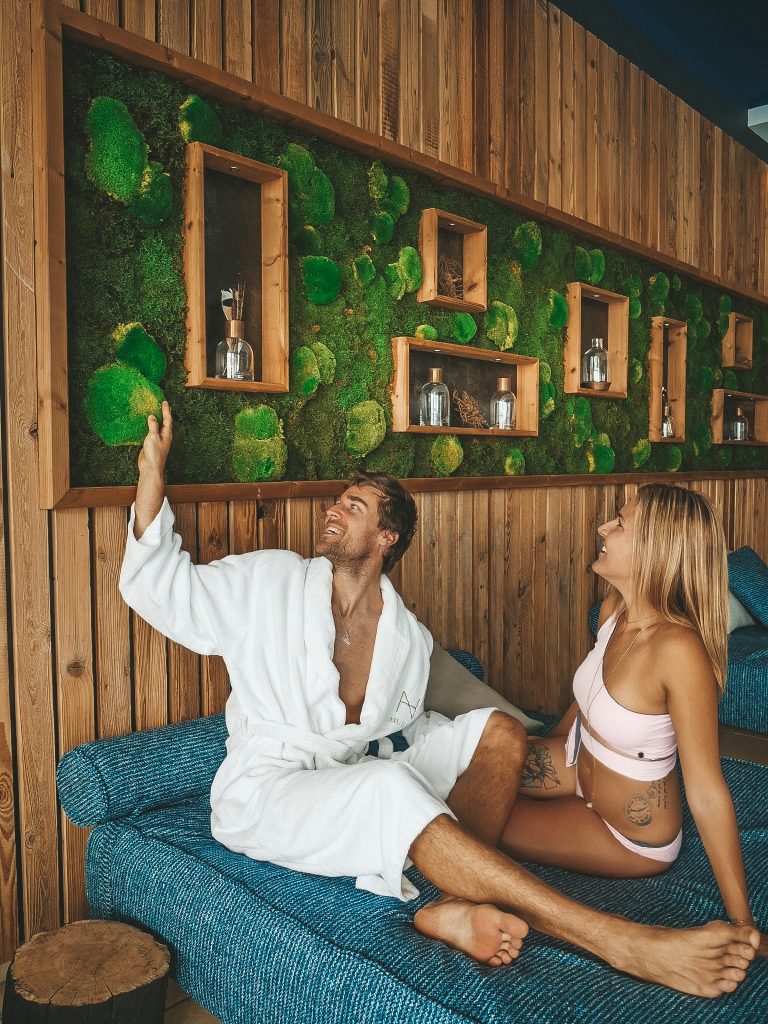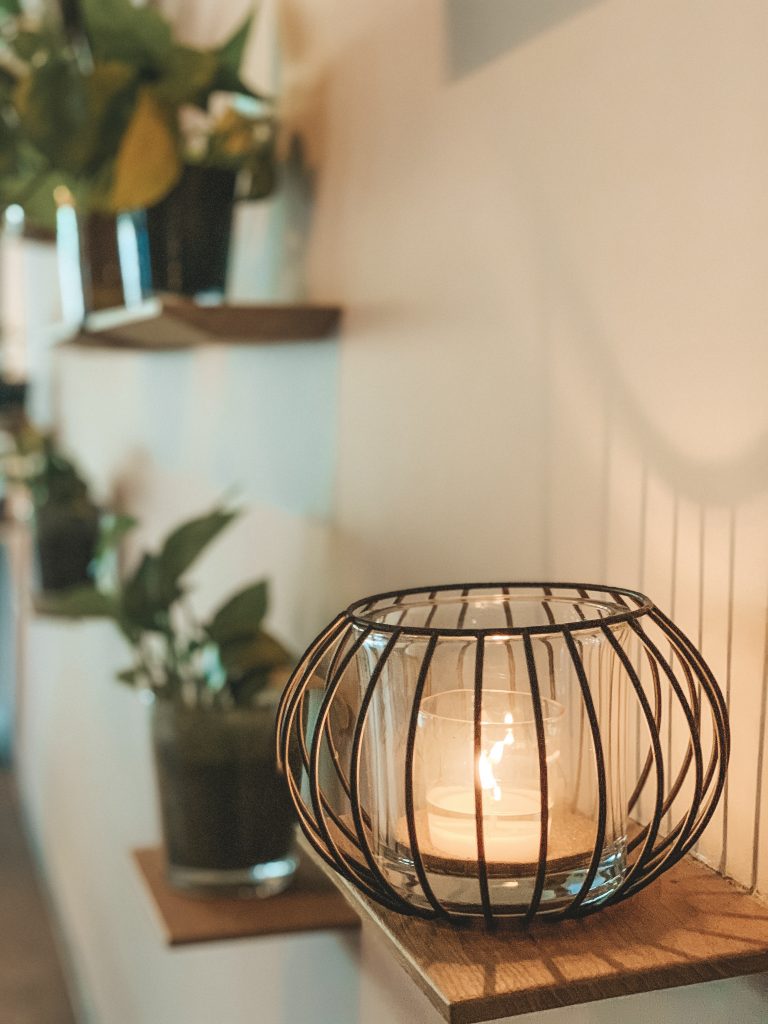 Seriously we haven't been to a place which inspired us the way hotel Nesslerhof did. The combination of wood, plants and natural elements did really blow our mind. The moss pictures, natural wood walls and wooden tables just won our personal price for the most amazing design.
And since it's all natural elements the design is one part of the exceptional feeling of well-being. Since we haven't seen this perfect mixture of nature and design anywhere else, it's no surprise that parts of hotel Nesslerhof where just newly build in 2016. After our stay we came home with lots of ideas how to style our own flat to just get a slice of the hotel Nesslerhof feeling.
5. One of Austria's top ski resorts is just around the corner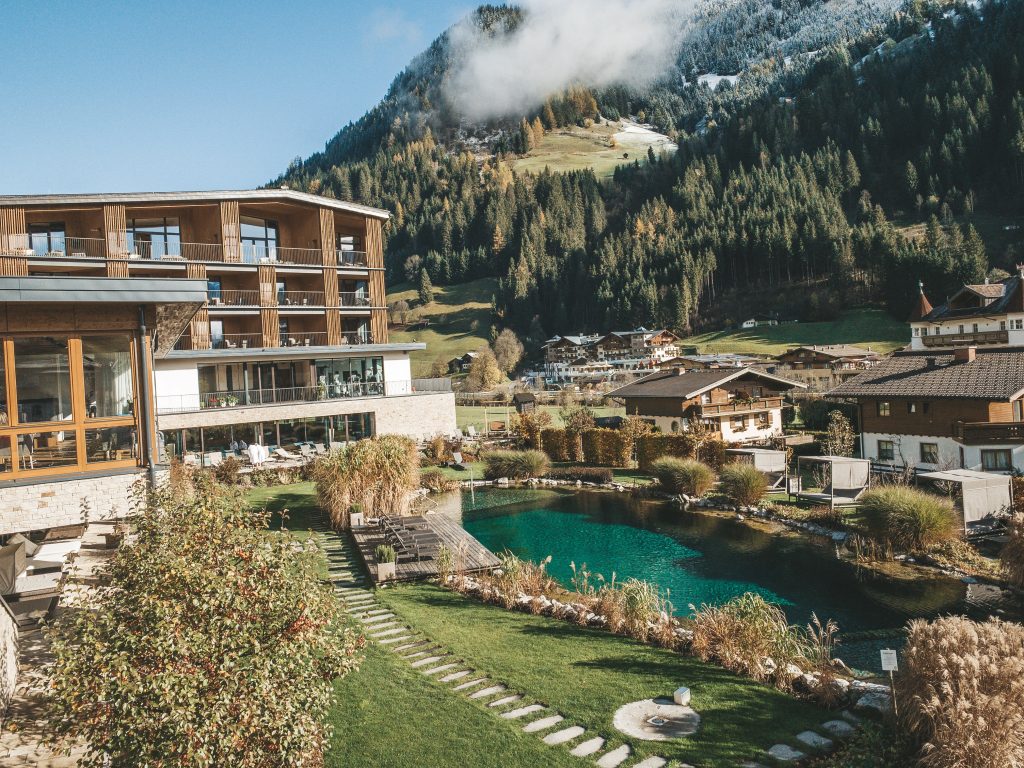 Well no matter where this hotel would be, it would definitely pay off to make the effort and come for a spa holiday. But it's not located in the nowhere. It's actually just on the foot of one of Austria's top ski regions. Literally the cable car is just a few meters away.
The skiing region Dorfgastein – Großarl offers 68 km of ski slopes for all experience levels. But even if you are not a skier or snowboarder, there are plenty of activities in the mountains such as snowshoe walking or cross country skiing. If you visit the hotel Nesslerhof outside the skiing season, there are all kind of activities around the beautiful mountains of Hohe Tauern. Besides there is the city of Salzburg as well as famous Hallstatt just about an hour away from the resort.
Anyways it will be hard to leave such a place for any kind of activity outside the hotel. Hence we were not particularly sad about the fact that winter season hasn't started yet, when we visited the place.
Thanks to family Neudegger and their team to making this an unforgettable trip. We will be back. 🙂
Blog article written as part of a paid collaboration with Hotel Nesslerhof
If you want to get a deeper understanding why Austria is paradise for Spa lovers, take a look at one of our other recent luxury spa hotel reviews: