Winter in Central Europe has its upsides when you are a skiing and mountain lover. But unfortunately, this is usually a considerably minor benefit. Most of the time it's freezing cold and sunshine is exceedingly rare in most areas. And moreover, daylight is limited to 4 or 5 pm, which is for us probably the hardest to deal with.
Since we both are in desperate need for sunshine and warm temperatures, we found a fantastic option for us. Escaping cold winter days in exchange for beautiful sunshine and warm temperatures in one of the most amazing islands we have ever been to – Madeira.
But special occasions ask for special environments and so Cory surprised me to spend my birthday weekend at the 5 star luxury spa hotel Savoy Palace in Funchal, the capital of Madeira island.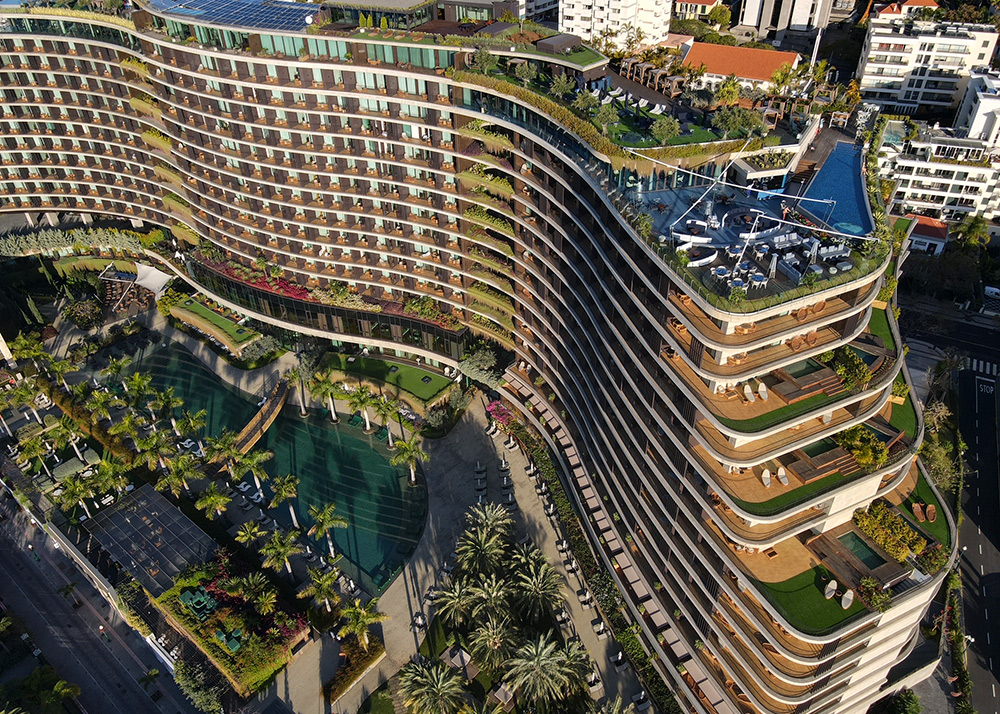 High class service and luxury everywhere you look
The first experience that already made a huge impression on us was entering the hotel. Usually you try to find the parking garage or a space next to the hotel. At Savoy Palaceyou just drive your car in front of the huge entrance and get out. All the rest is taken care of by the concierge service. So, while having the most amazing check in experience already, we were super excited to see our hotel room for the weekend.
In the room the next big surprise was already awaiting us. Besides being wow-ed by our suite on the 15th floor with a gorgeous view and luxurious room amenities, we were greeted by a little birthday cake and sparkling wine by Savoy Palace.
Of course, first thing we did, was to enjoy the chocolate cake on our spacious balcony and having a complimentary cup of Nespresso coffee. Saving the sparkling wine for sunset.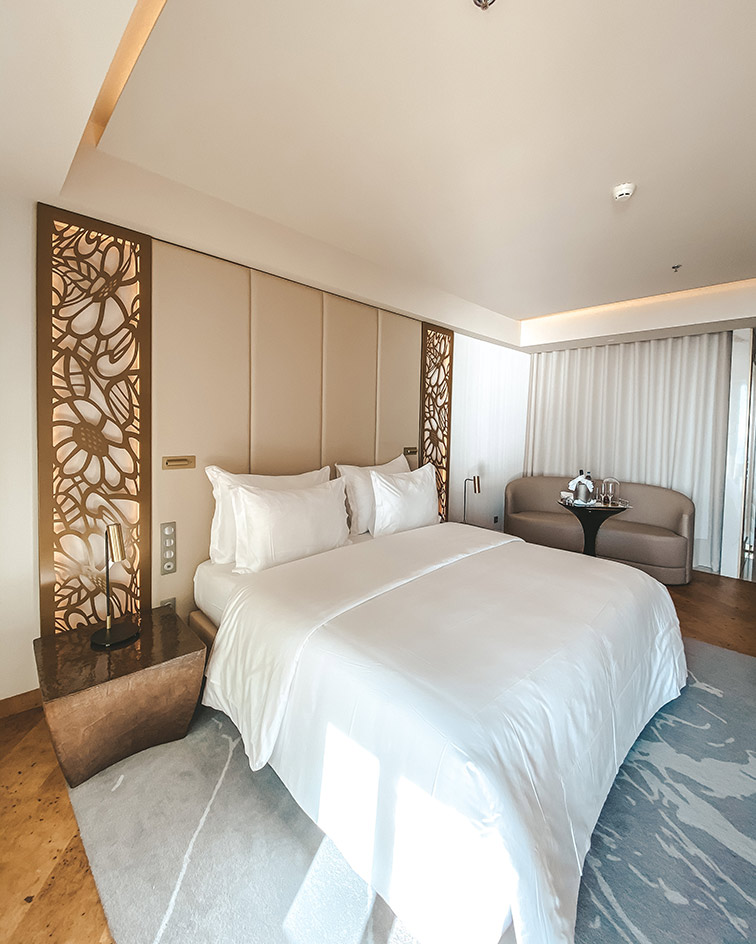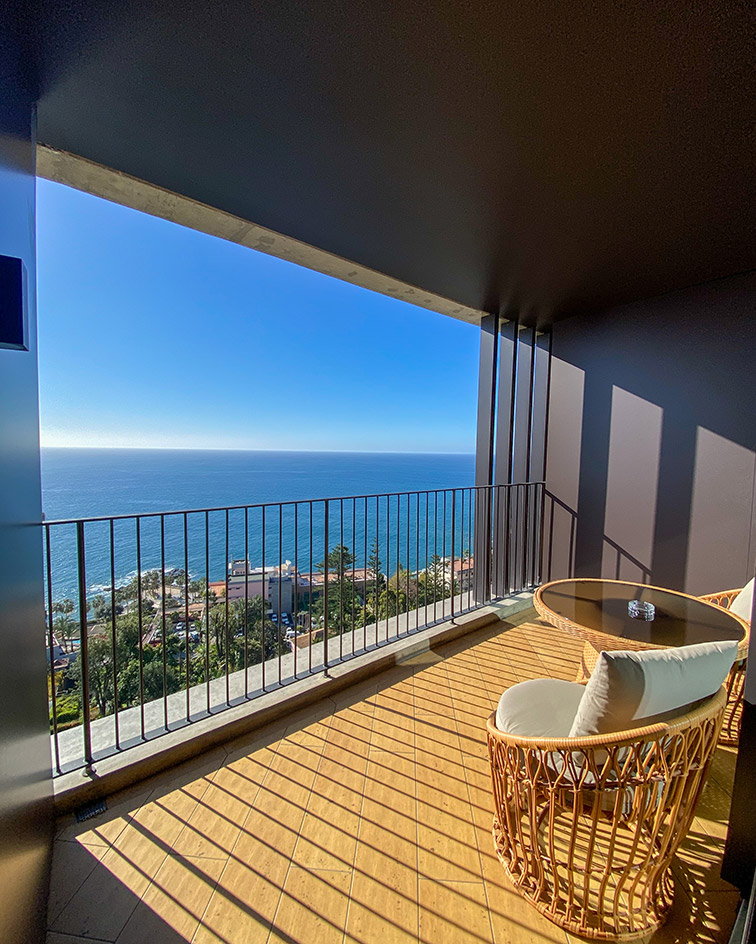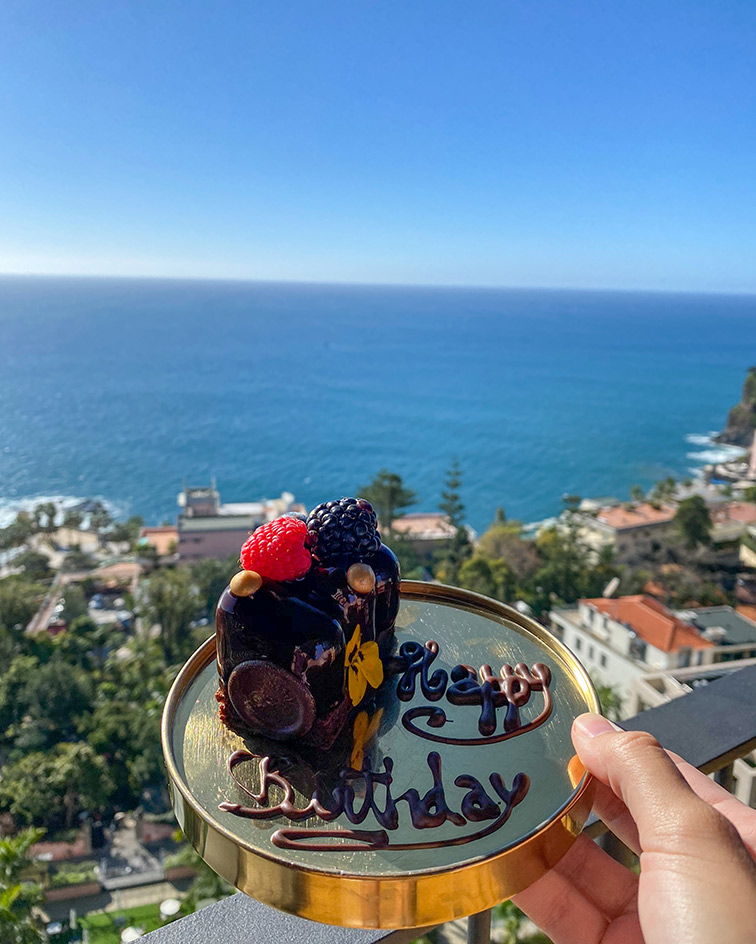 Amazing views at the rooftop pool
The rooftop pool area at Savoy Palace is truly one of the most amazing pool areas we have ever been to. And since it was February and temperatures are not constantly as warm as during this weekend, most hotel pools in Madeira are pretty cold, so you would only find very brave swimmers there. At Savoy Palace all pools are heated, hence no matter what time of the year you might come, you will always find perfect temperate water around 24°C.
Next to the infinity pool you can also find a nice bar area as well as many sunbeds – all coming with an incredible view.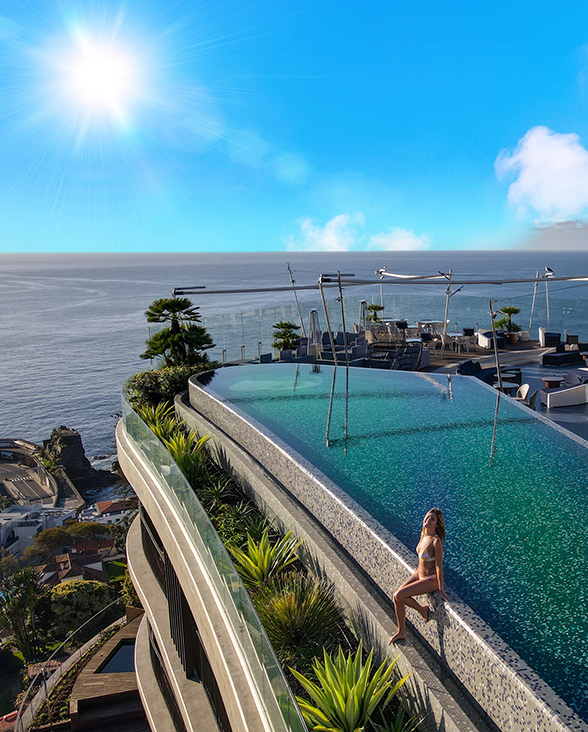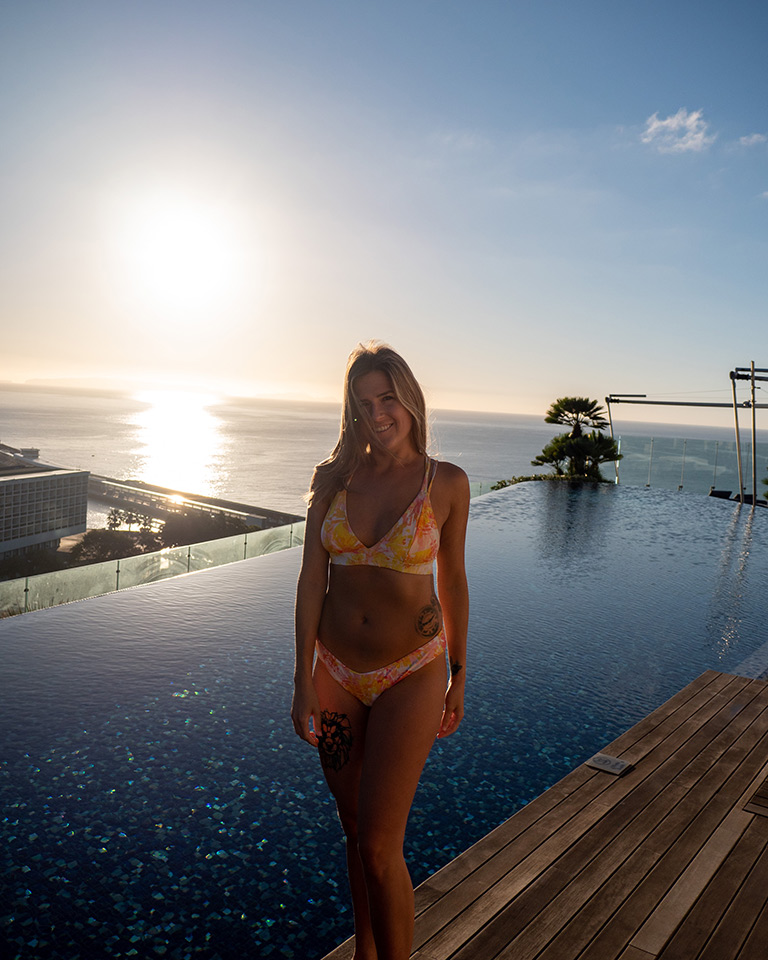 Super relaxing Spa area
When you feel like enjoying yourself even a little more, the spa area of the hotel is probably just right for you. It comes with a little extra fee, which is quite usual for hotels on Madeira. This has the huge benefit that this area never gets crowded and you can have a quiet and relaxing time there.
On our arrival day during the week we were almost alone in the whole area. Since there was still an increased Covid-19 infection risk during our stay, we highly appreciated that the hotel took a lot of safety measurements, so we could feel safe during our whole stay.
The spa area is equipped with a wonderful swimming pool, a jacuzzi as well as a sauna and a steam room. Moreover, you will find cozy beds to relax and even some quiet rooms with a salty atmosphere to truly calm down your mind.
After having a dip in the jacuzzi and heating up in the sauna, we just had to go outside the door, where the next huge highlight of the Savoy Palace was waiting.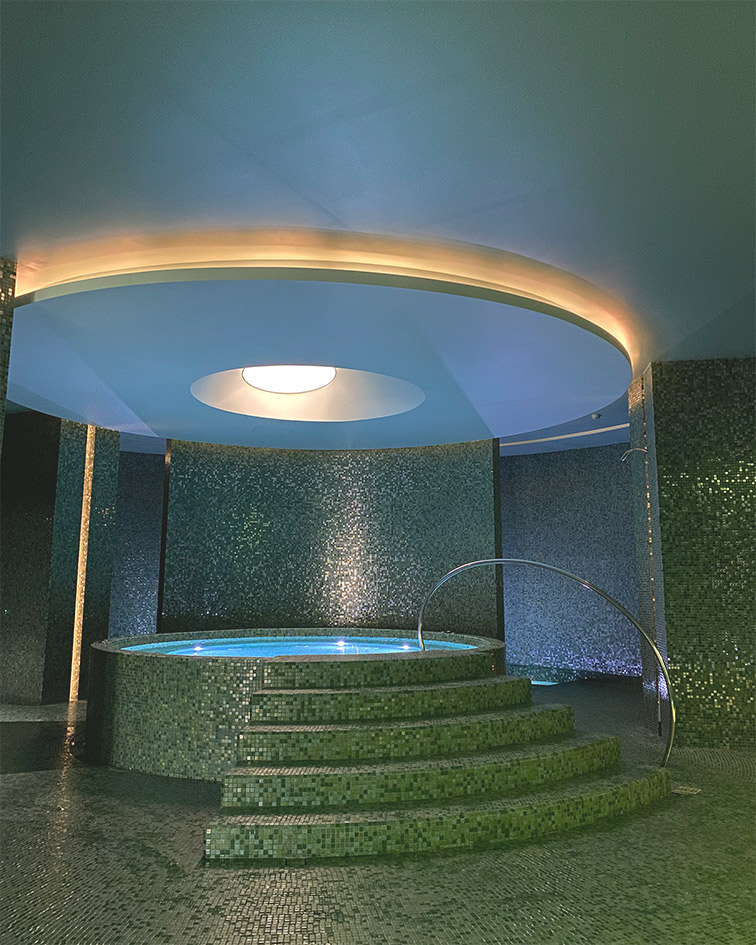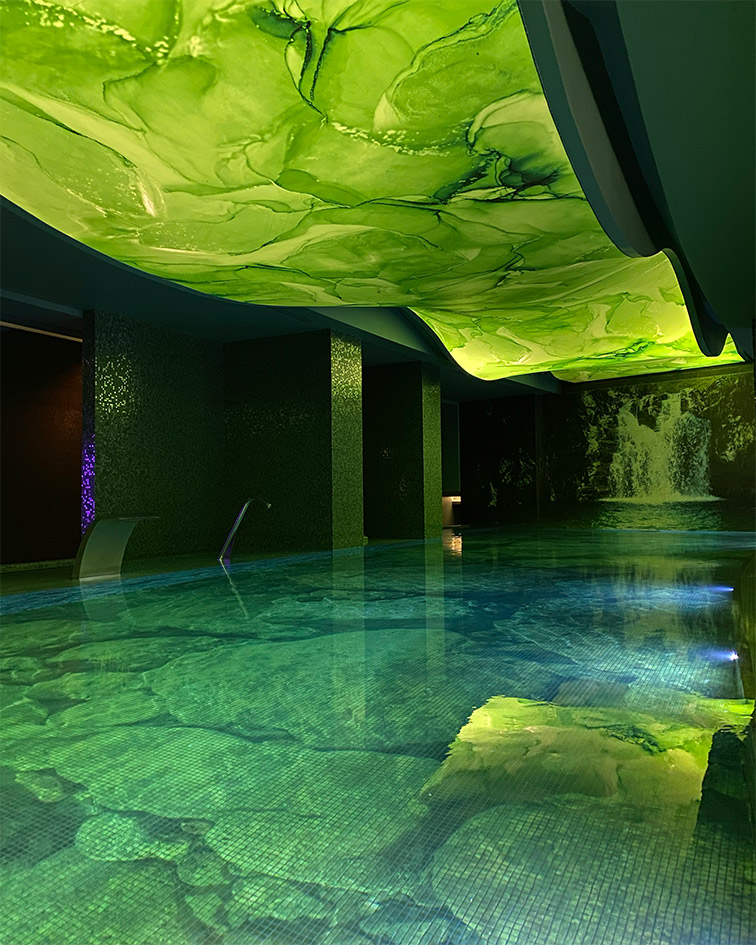 Huge outdoor swimming pool surrounded by palm trees
Even though it is hard to tell, in our opinion, this is truly the centerpiece of the Savoy Palace. The swimming pool is so massive that there is even a small bridge in the middle, in order not having to walk for 5 minutes to get to the other side. What we really didn't expect was that even this massive pool is heated to ensure it is also used for swimming and not only for decoration during winter.
This is the place where we spend most time during our stay and we really had to take care not to get sunburned. We loved the whole area around the pool and being surrounded by all these great amenities and palm trees makes the walk to the nearby sea truly superfluous.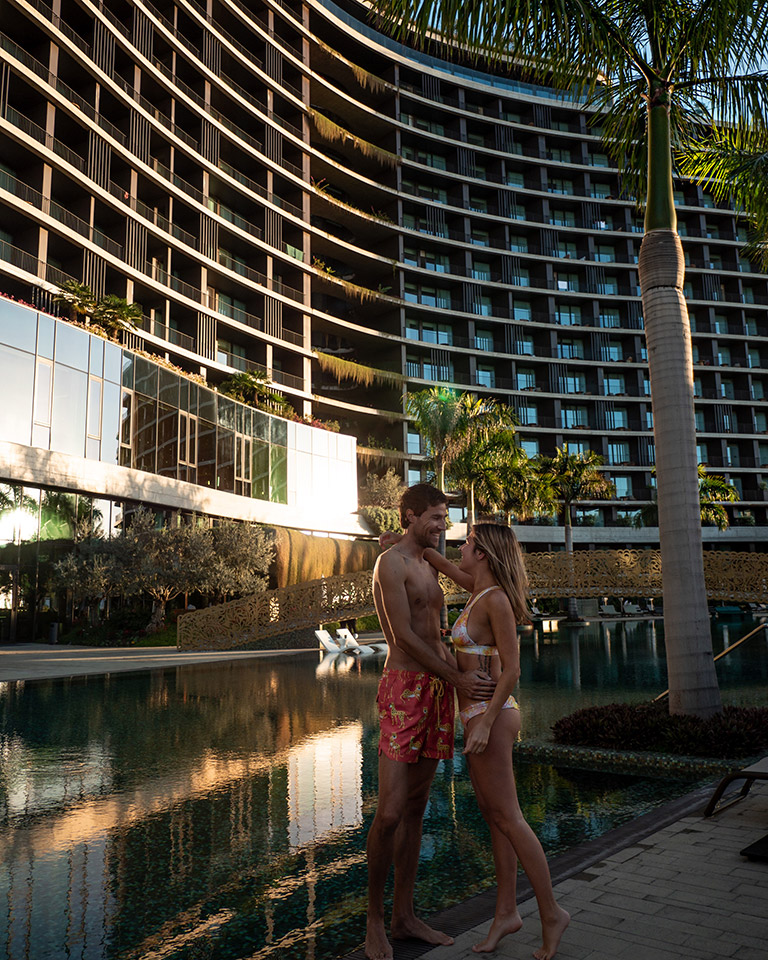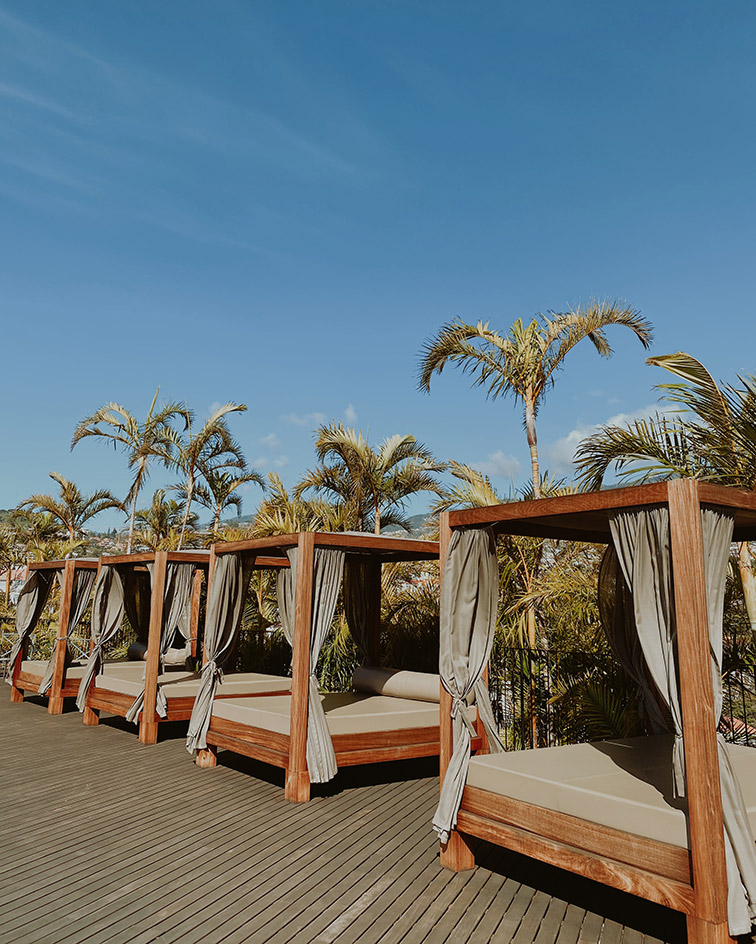 Next to the pool there are two breakfast and dining restaurants as well as one restaurant bar directly at the pool area. Here we enjoyed a late afternoon lunch with many vegetarian options available for moderate prices.
Not only the bar area but the whole hotel is designed with many plants that you feel like staying in a huge green garden. As plant lovers this natural design was one of the most beautiful we have ever seen for such a big hotel.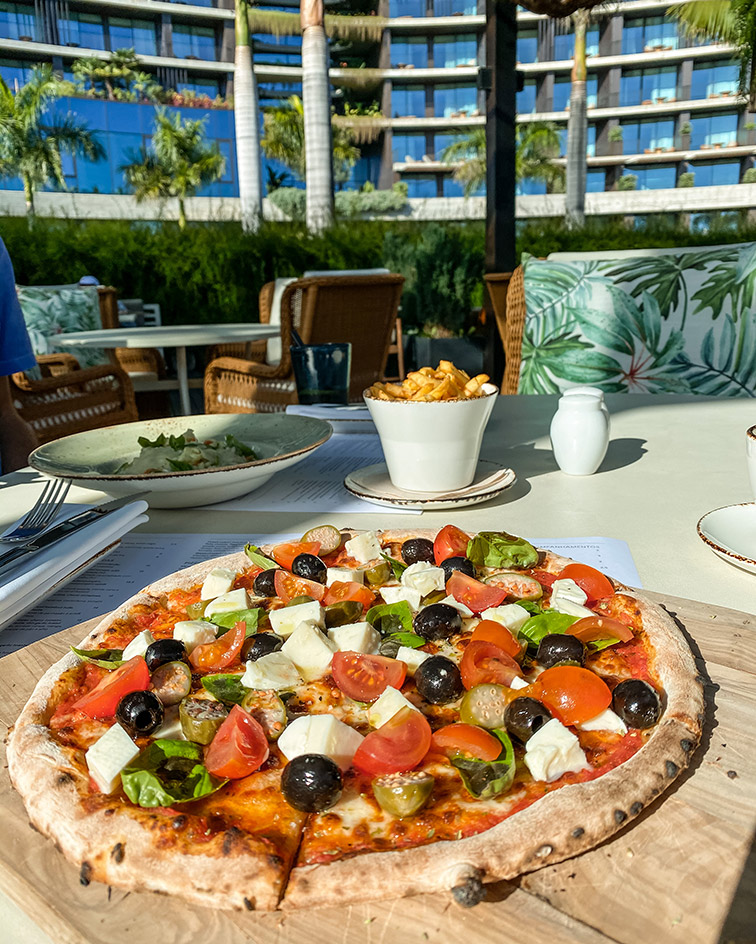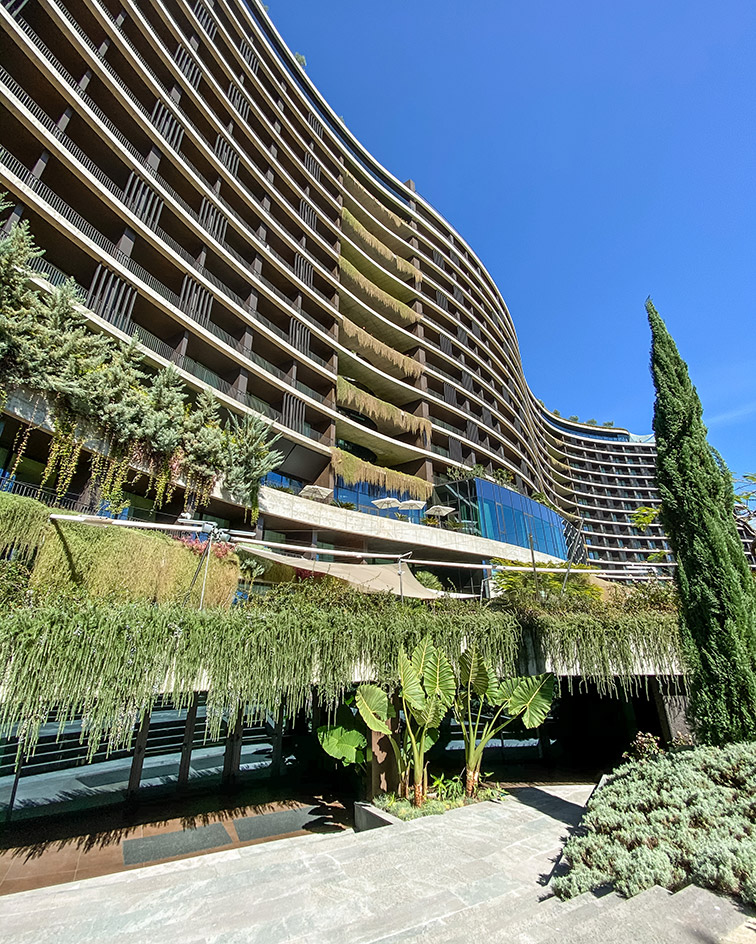 Breakfast at Savoy Palace
At around 8 am the most amazing sunrise awaits you when you look the window. What a view to start into each day. Breakfast is available in a buffet style, but was prepared by the hotel staff on demand to ensure maximum safety during Covid-19. Already in the morning it was warm enough to eat at the outside terrace, where coffee and fresh juices are served as well.
The buffet was more than plentiful where you can also find exotic fruits, many warm dishes as well as fresh prepared egg variations, crepes and pancakes.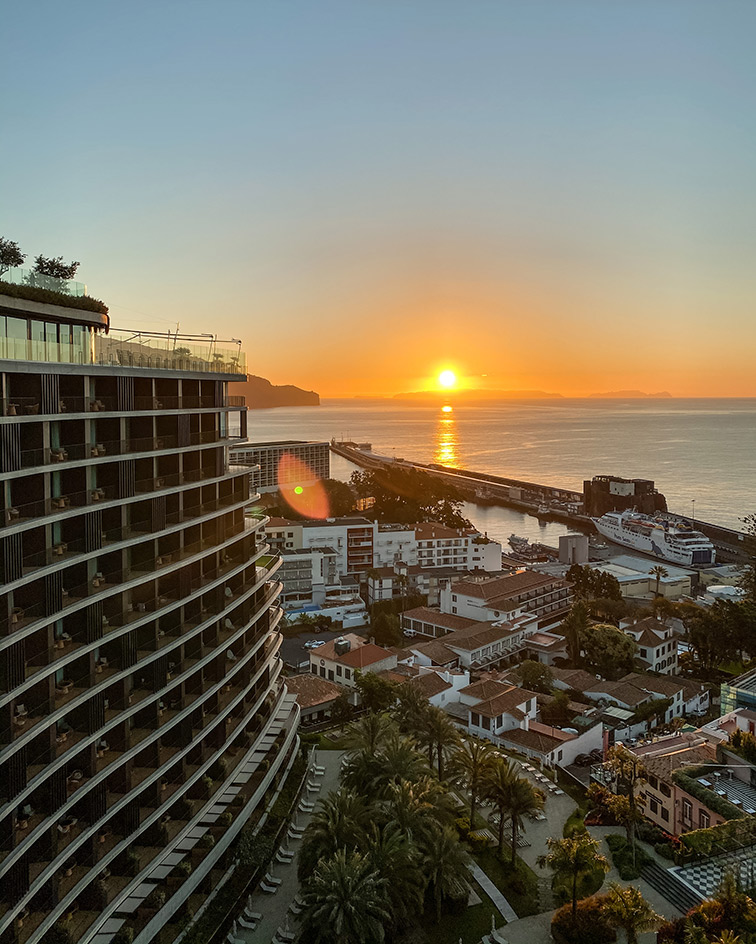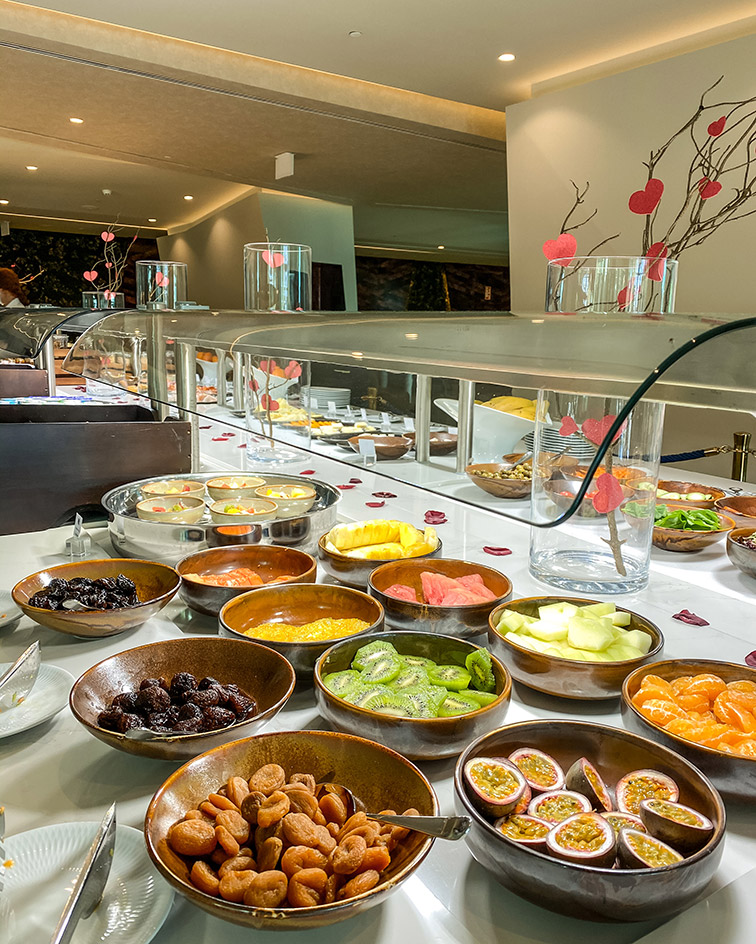 The hotel also has a lot more to offer such as a fitness center, a huge library, a top-nudge dining restaurant and even a bar with a pianist to have a nice evening.
Unfortunately, we couldn't make it to all the offers from Savoy Palace. But we feel like there are more than enough reasons to come back here again.
What also surprised us a lot was that you can book a room in this high class 5 star hotel with rates lower than 150 EUR per person including breakfast during winter season on many dates.
So, in terms of value for money, Savoy Palace is truly one of a kind. We had a fantastic weekend and can only recommend checking this hotel out if you ever make it to Madeira island and are up for a truly luxurious escape.