Naturhotel Höflehner – if you have ever considered going for a luxury mountain spa holiday while having the opportunity to jump into your alpine skis directly from the hotel door, you have found the place to go.
The wellness Hotel Höflehner is located directly on the east end of the four mountain ski circuit Schladming-Dachstein in Styria. This region is by the way the biggest and most marvellous skiing region of the eastern end of the Austrian Alps.
To reach the hotel you have to drive up the first section of the mountain Hauser Kaibling until you reach the ski slope. The drive is definitely worth it since from the hotel you will have a spectacular view over the region of Ennstal and it's surrounding mountains.
But if you plan to visit the 4 star superior wellness Hotel Höflehner in winter, you still should make enough time for what the hotel is most famous and even rewarded for.
Luxury wellness and Spa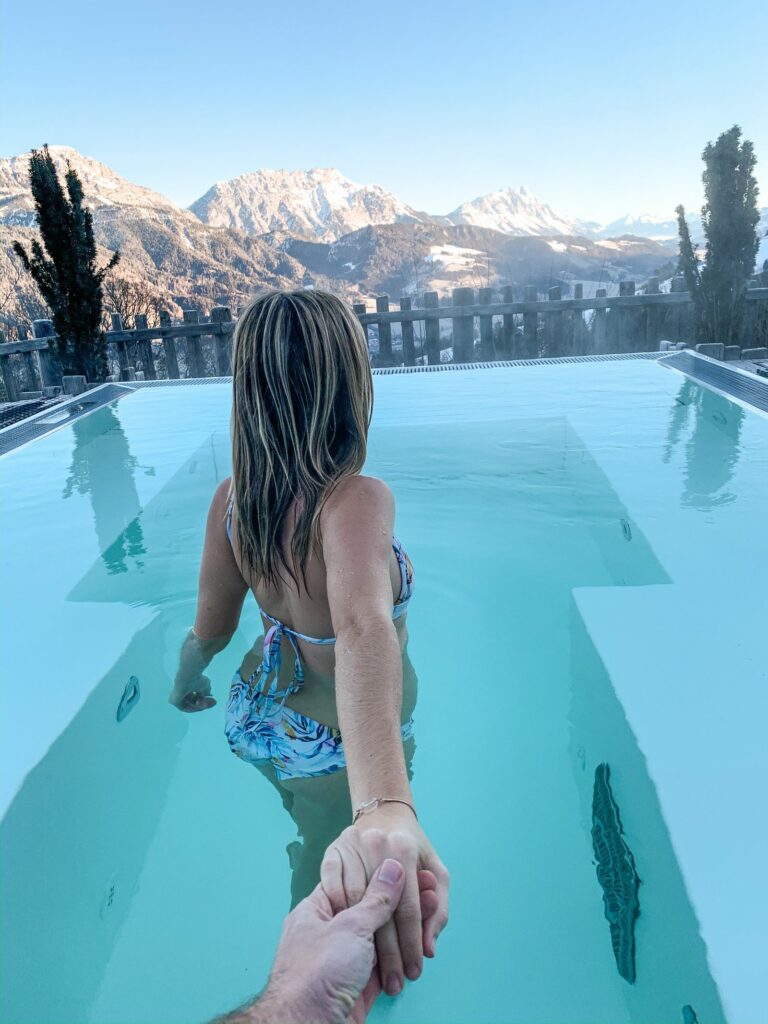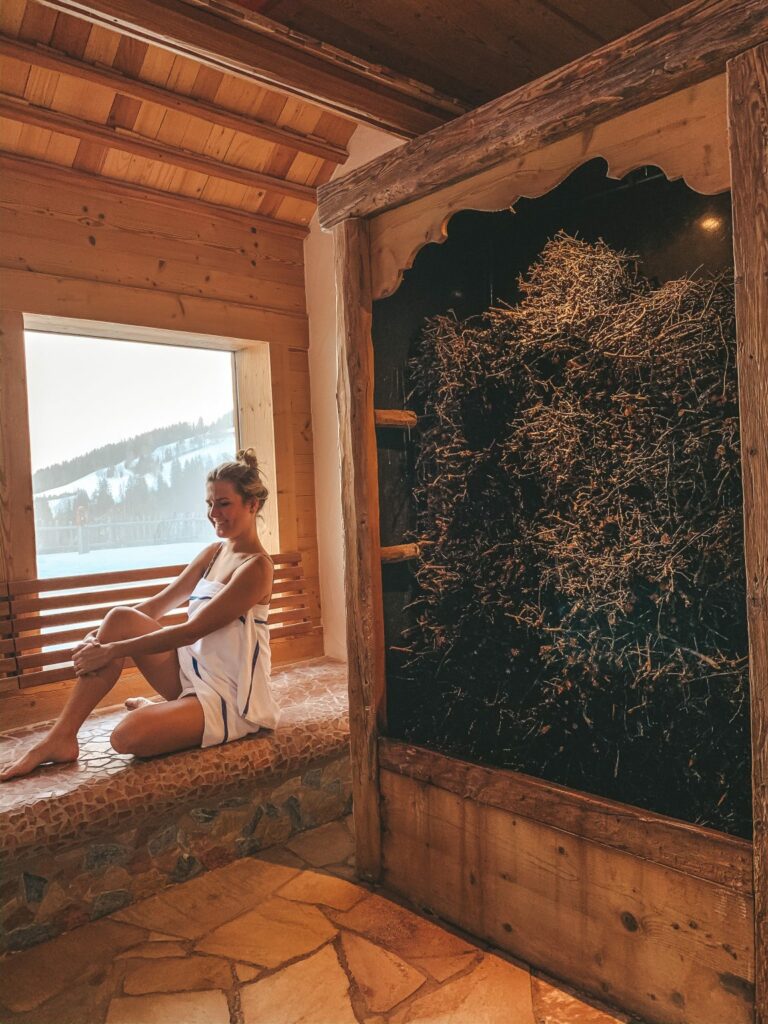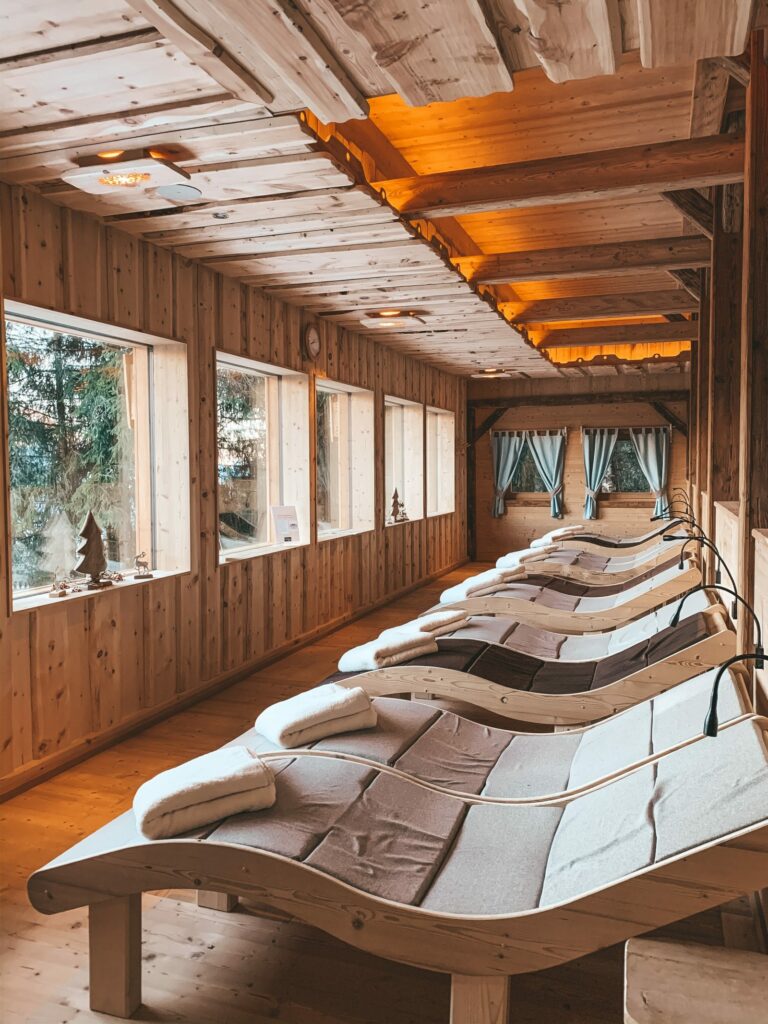 The wellness and spa area is 3700 m² big and separated between a few luxurious mountain huts. The main spa hut is directly connected to the hotel and encompasses most of the saunas and steam rooms. Directly in front of this area you can find a whirlpool as well as the regions first Olympic sport pool with 25 meters length.
The great thing about Höflehner's spa area is that not everything is directly at one place. The hotel has built many new unique spa huts, which all-together now almost seem like a small wellness and spa village.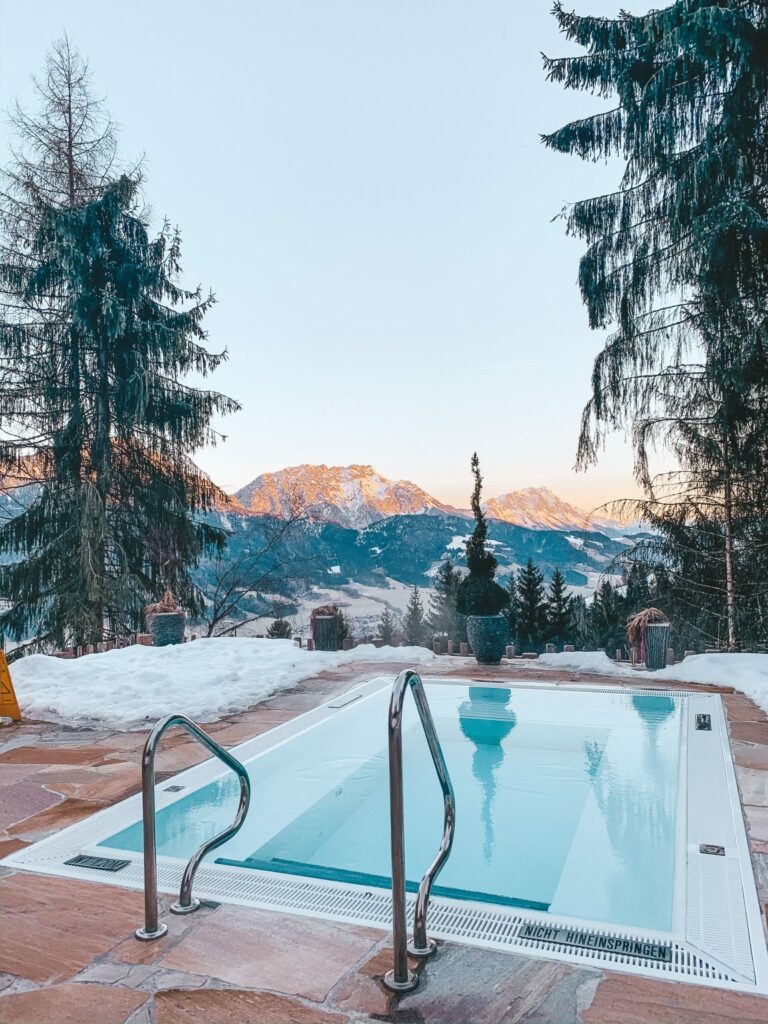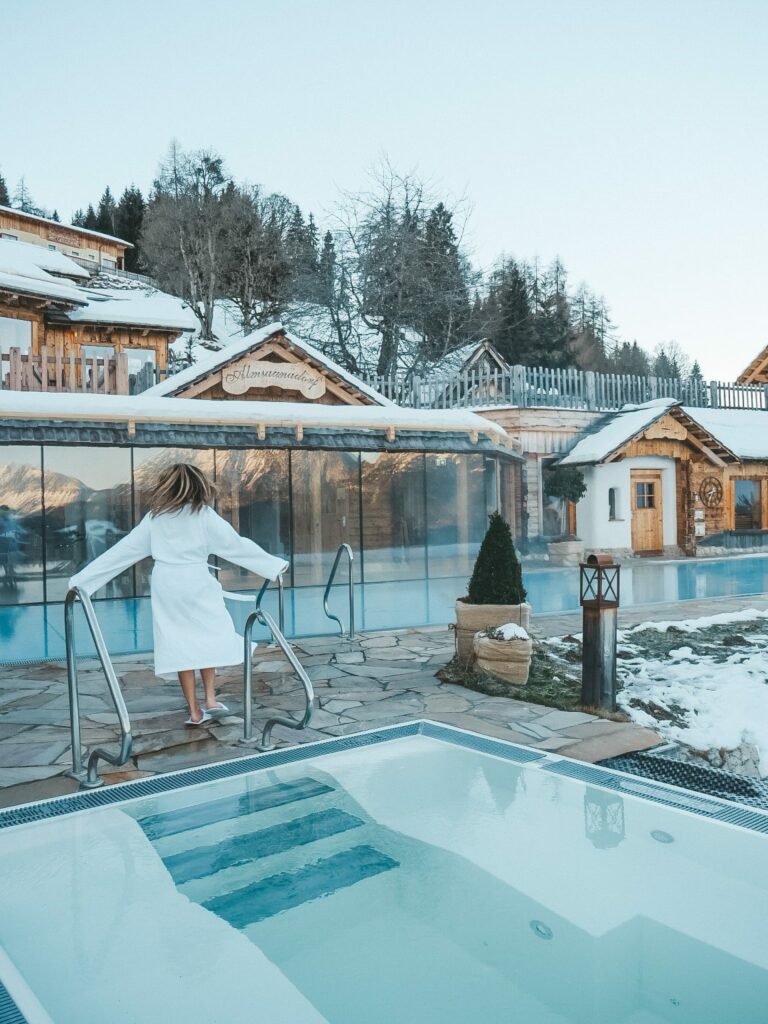 Some of the huts are purely for relaxation where you can find really cosy and relaxing beds. At one big hut, directly next to the main spa hut, you will find the event sauna. Twice a day there is a guided sauna infusion that is a must-do when staying at the Hotel Höflehner. It's a really unique experience when sauna master "Kurt" sings with an almost mediative voice locally known songs. Magical moments.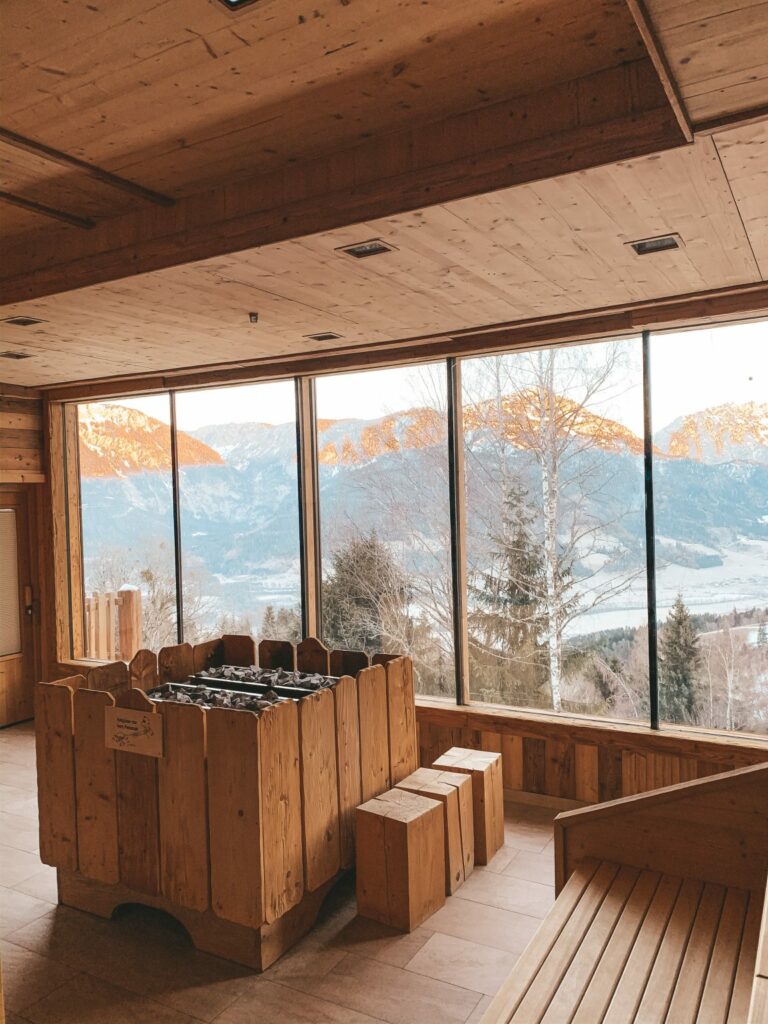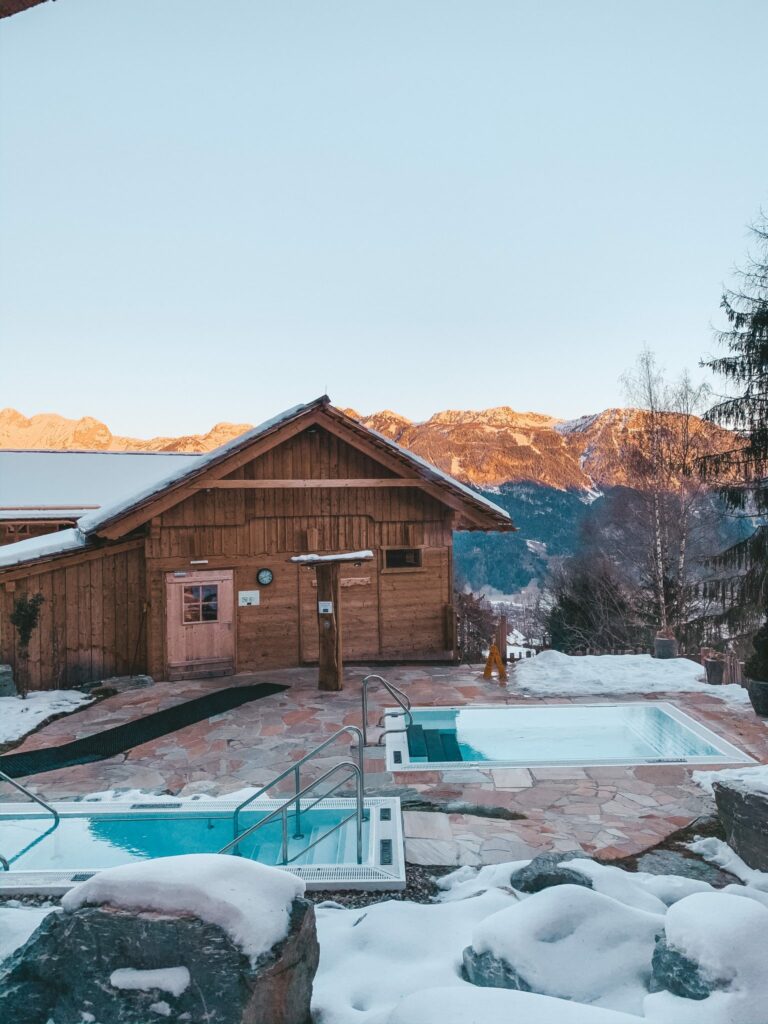 Straight after visiting this special sauna infusion, we loved to check out the second whirlpool which is almost a bit hidden behind the event sauna and therefore much more private. Another great sauna is located in a hut more up the hill, and therefore called the panorama sauna. Obviously due to its magnific view over the region. But see for yourself.
Nature as a key element for well being and sleeping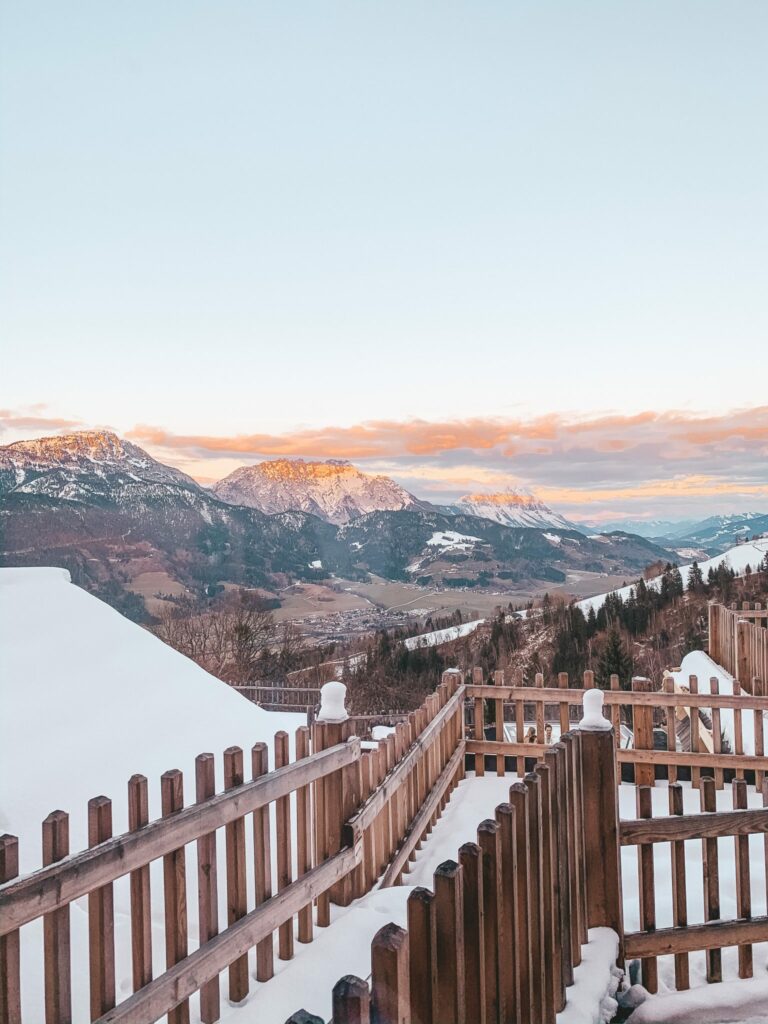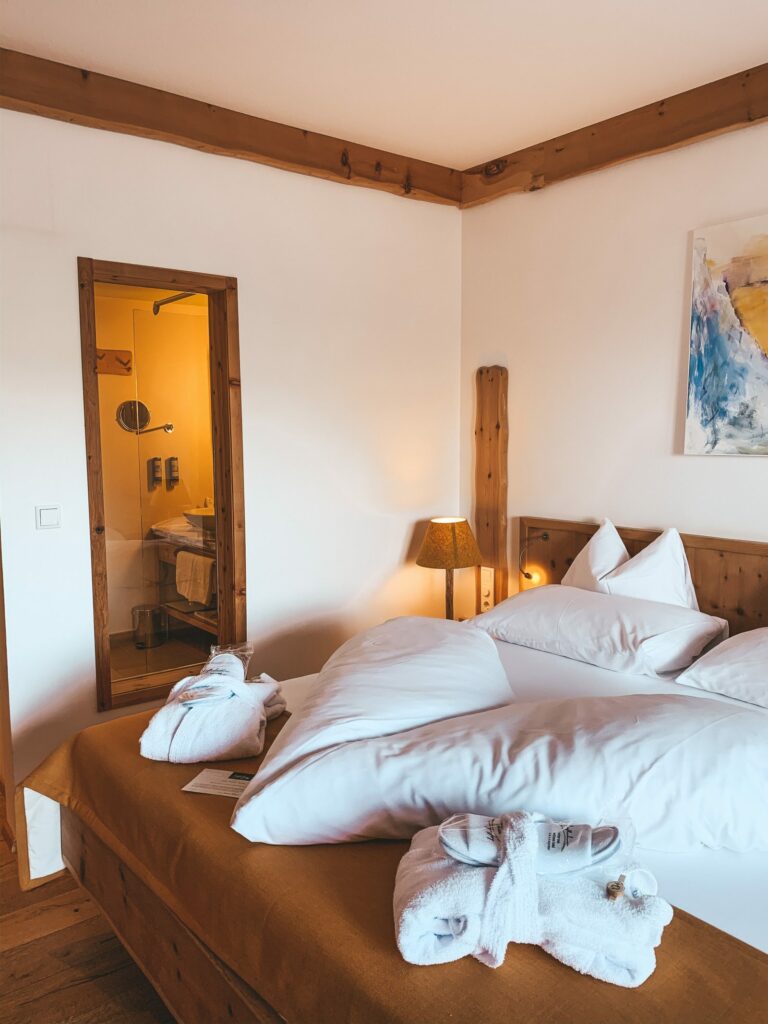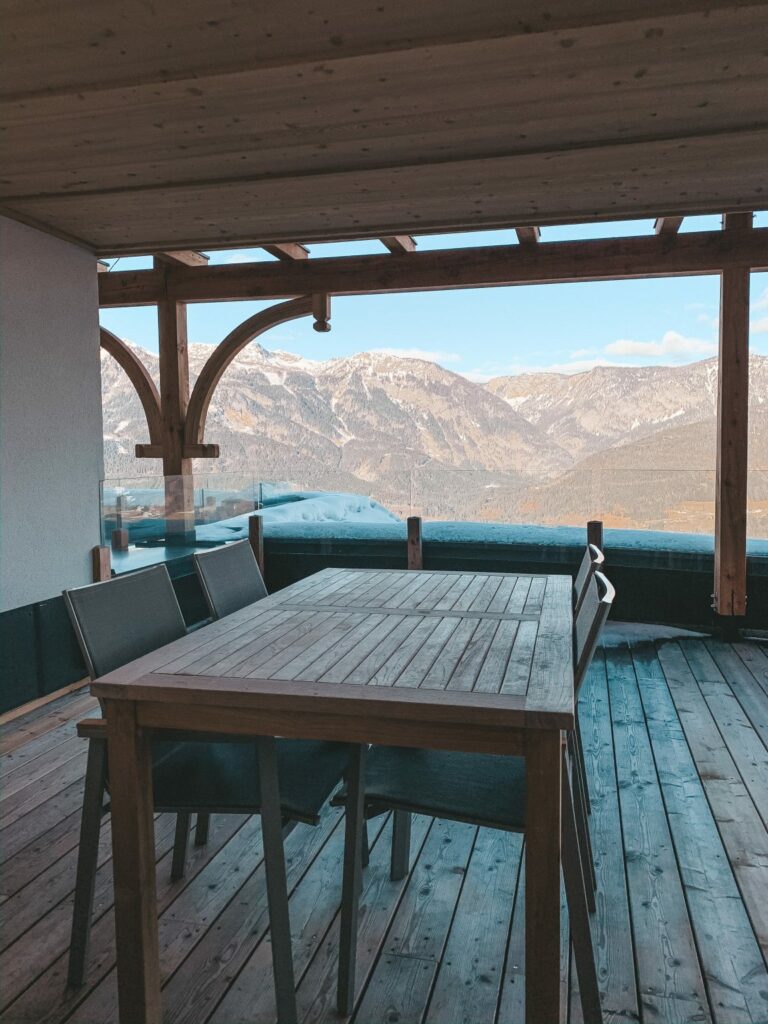 One of the hotels core statements is that nature itself offers everything that you need for recovery and relaxation. As soon as you arrive, you recognise that nature is the inspiration for numerous wellness offers and its essence is captured in all areas and in the luxurious rooms.
The Hotel Höflehner offers a big variety of rooms and suites as well as serval romantic chalets. The chalets are purely made of wood and have terraces to the north and south. We stayed in a family suite, which has two separate bedrooms with two big terraces. Wonderful view included.
The main theme of every room is luxury combined with wood, whereas Zirbe (Swiss StonePine) and cicada are mostly used. The wood is natural and untreated, so its scent fills the whole chamber. This creates an atmosphere of relaxation that stimulates your mind and senses.
What we enjoyed most besides a deep relaxing sleep was the stunning terrace. Every morning we walked out while breathing in fresh cold air with an amazing view of the mountains.
(Organic) food heaven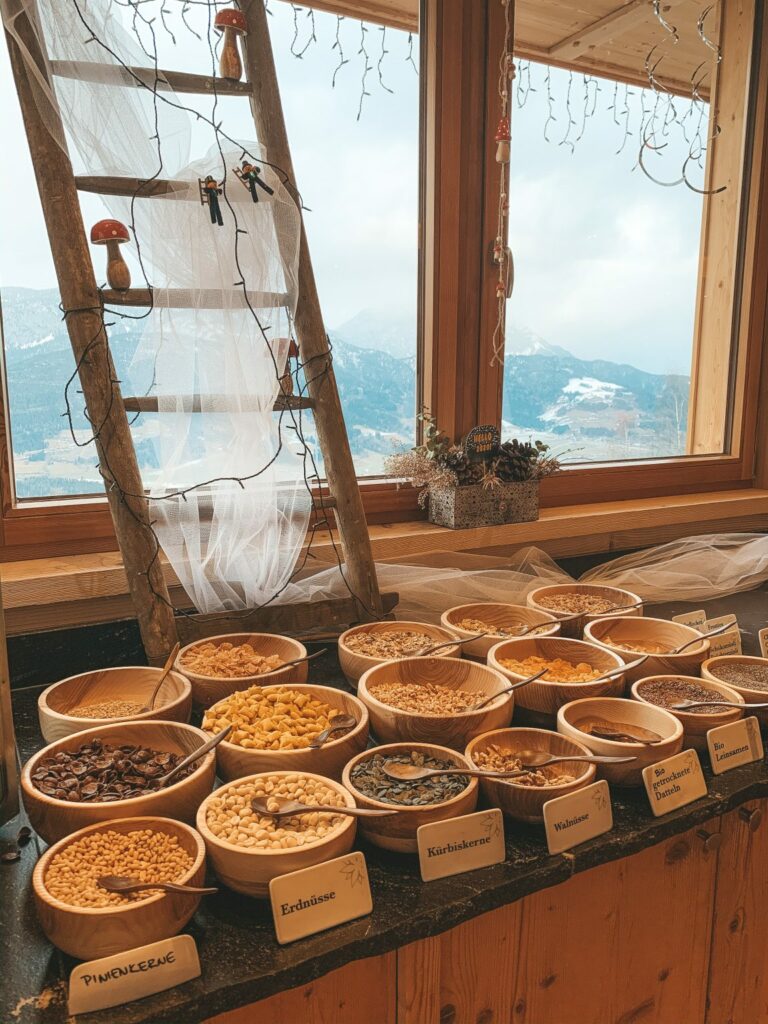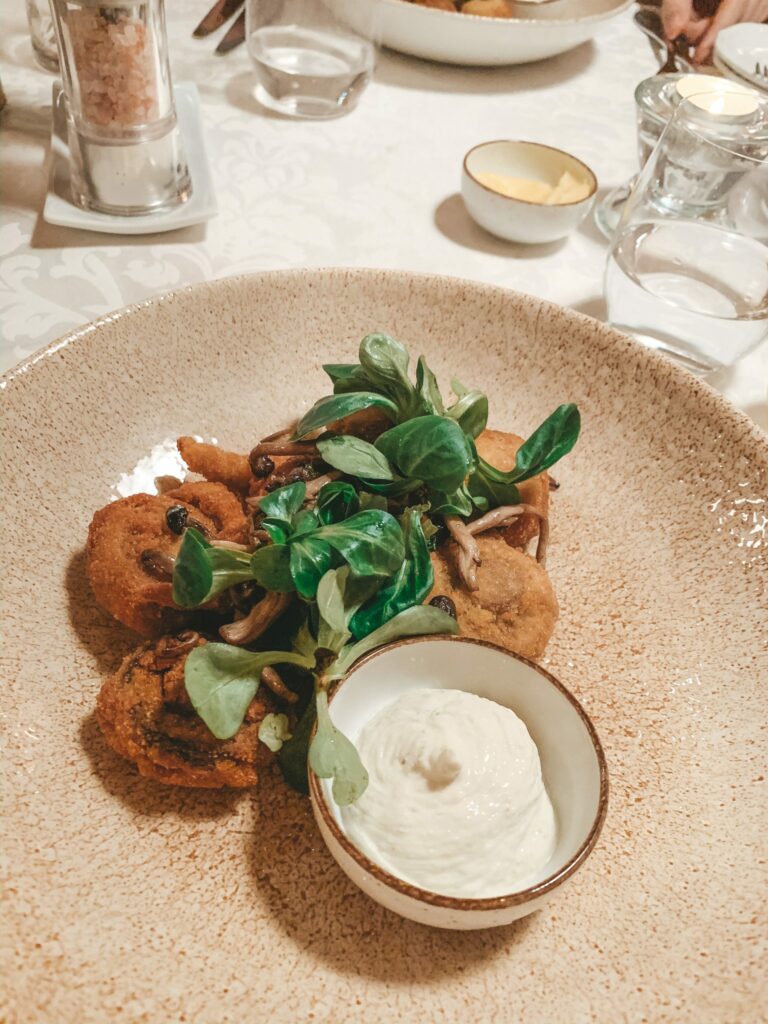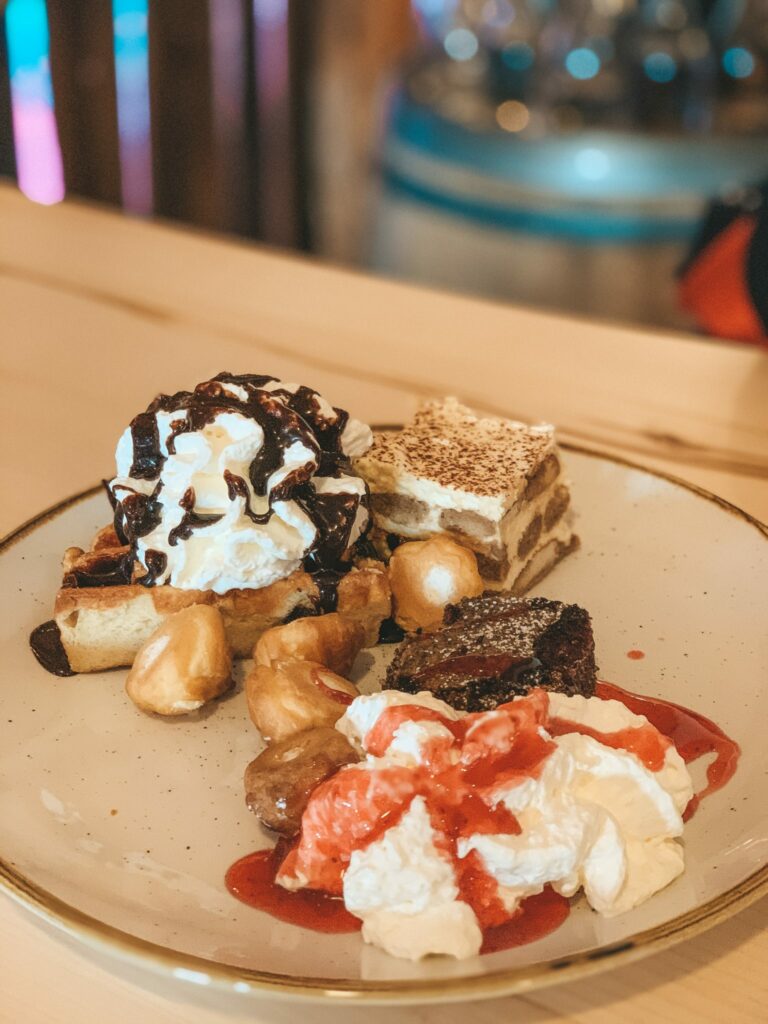 Since nature plays the key role in all aspects, it's no surprise that also the food is organic. Hotel Höflehner solely serves organic, pure food from biological producers that live nearby. Mountain farmers of the region directly supply produces like herbs and milk.
The breakfast buffet was plentiful and offered a great variety from all sorts of products. We also loved creating our own smoothie from fresh fruits and greens.
From 3 pm to 5 pm, just when you think about something sweet and you might come back from skiing, a really awesome cake buffet is awaiting you. One day they offered even sweet dumplings, which of course we couldn't resist.
The evening dinner starts from 6:30 pm to 8:30 pm and is a four-course dinner with big salat buffet. Depending on the day, either the first course or the dessert is also available on the buffet. Especially when this was the case for the dessert, we found ourselves in paradise made out of chocolate fountains and a ton of desserts inspired from all around the world.
The main menu and the soup was always served and you could choose between several options. The vegetarian choice, which we always went for, was excellent and always a dish we have never tried before.
Activities and offers besides Wellness & Skiing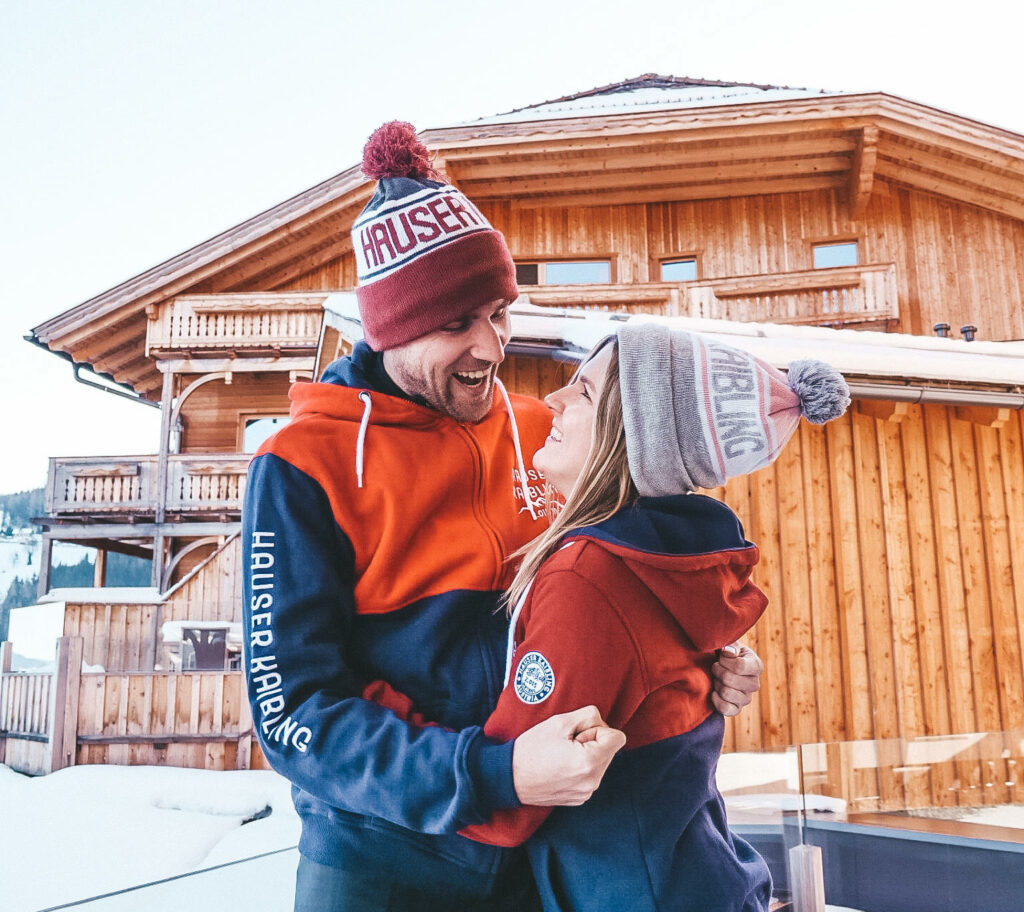 There are several guided activities such as snowshoe hiking. One activity you should not miss out is yoga since there is probably no better place to practice it than on a mountain view a great view.
The hotel has built its own yoga hut with views over the whole region. Hotel Höflehner offers a lot of activities in summer as well, so it hasn't necessarily to be winter when you visit this place. The region is perfect for mountain biking and hiking which is both offered by the hotel as well.
For families there is even a nanny who takes care of children between 3 and 12 years at the Bambi Club and the new Kids Fun Park. There are also a lot of offerings for a romantic time with your loved one such as a private hot tube outside.
We have seen and experienced a lot of the hotel, but it still kind of feels that it was only a glimpse of what it could offer. We would really love to come back once in summer, when there are so many other great things to do and enjoy in the region.
Sometimes when you stay in such an amazing hotel it is even hard to decide whether to go skiing or staying at the amazing spa area, but fortunately, the days were long enough to enjoy both.
Paid collaboration with Hotel Höflehner