If you ask somebody in Maria Alm about the famous "sea view" they will probably direct you to look to the north. Maybe you wonder, since when you can see the ocean in Austria, but when you take your first look at this huge epic mountain face, you know why we call it "Steinernes Meer", which translates to "stony sea".
Although we have been at many amazing places around the Austria, Maria Alm with its surrounding mountains is one of Austria's most beautiful and authentic mountain villages you will find.
At the 4-star superior mountain resort "die Hochkönigin" we had this incredible first row mountain and village view spot which definitely blew our mind.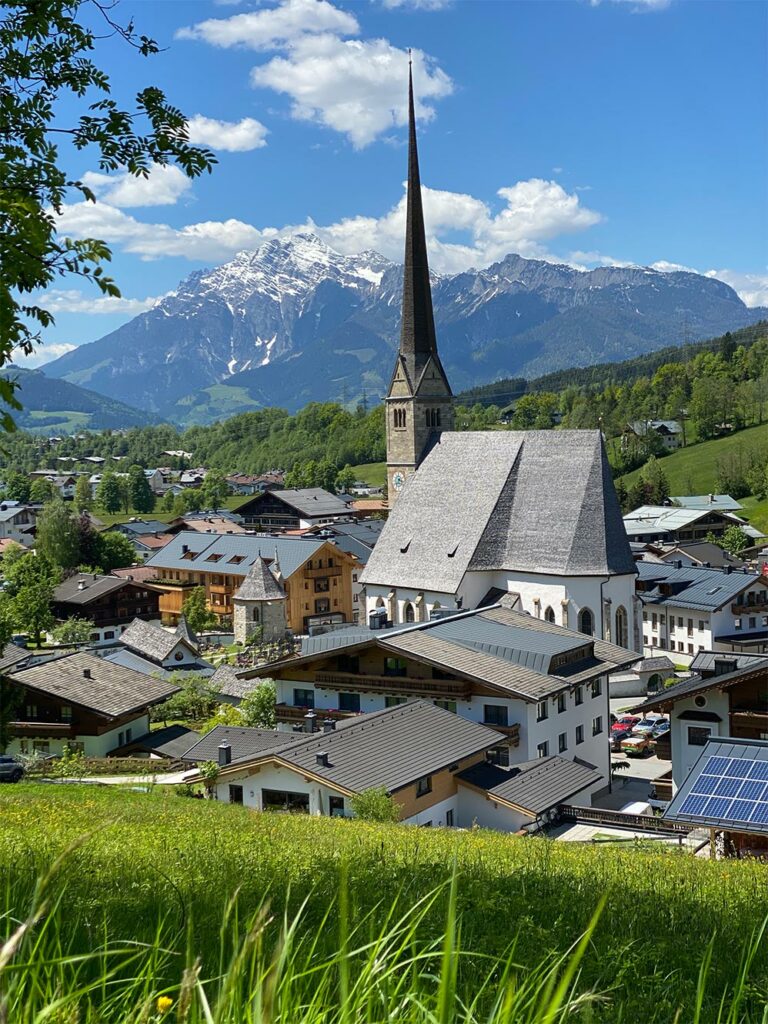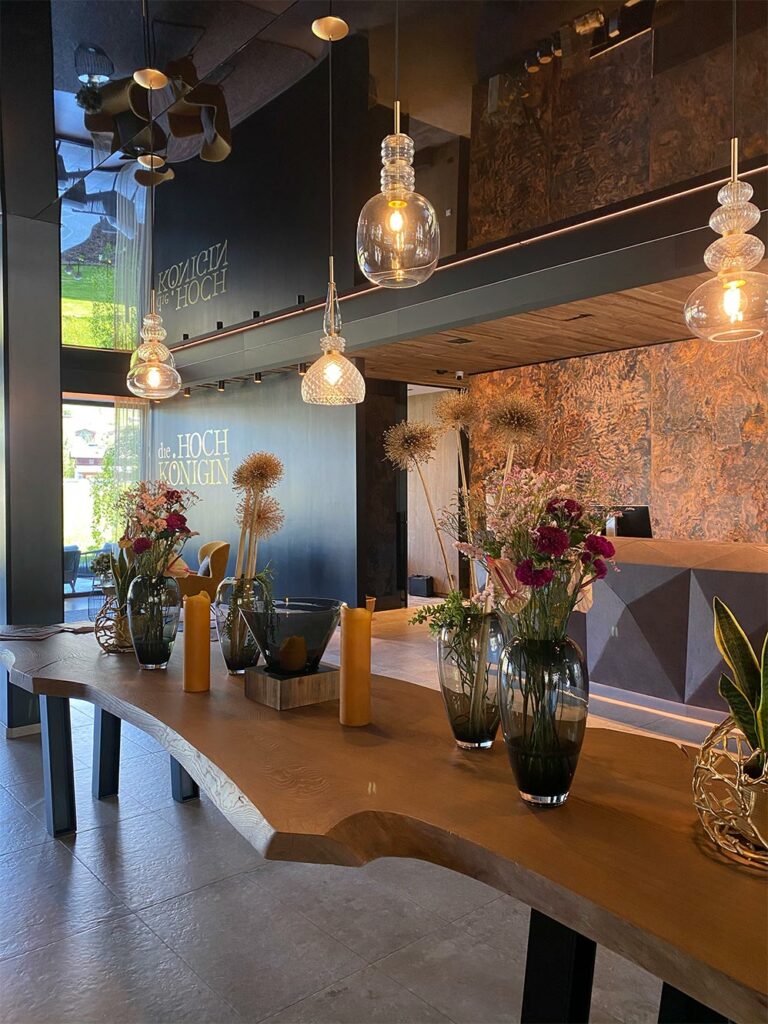 Epic panorama views from the high-end spa area
It is not only the epic view why people – within and around Austria – come to relax here. The hotel resort Die Hochkönigin is one of the top mountain resorts in Austria, which not only invites premium spa and food lovers, but is also a true paradise for hikers and ski lovers.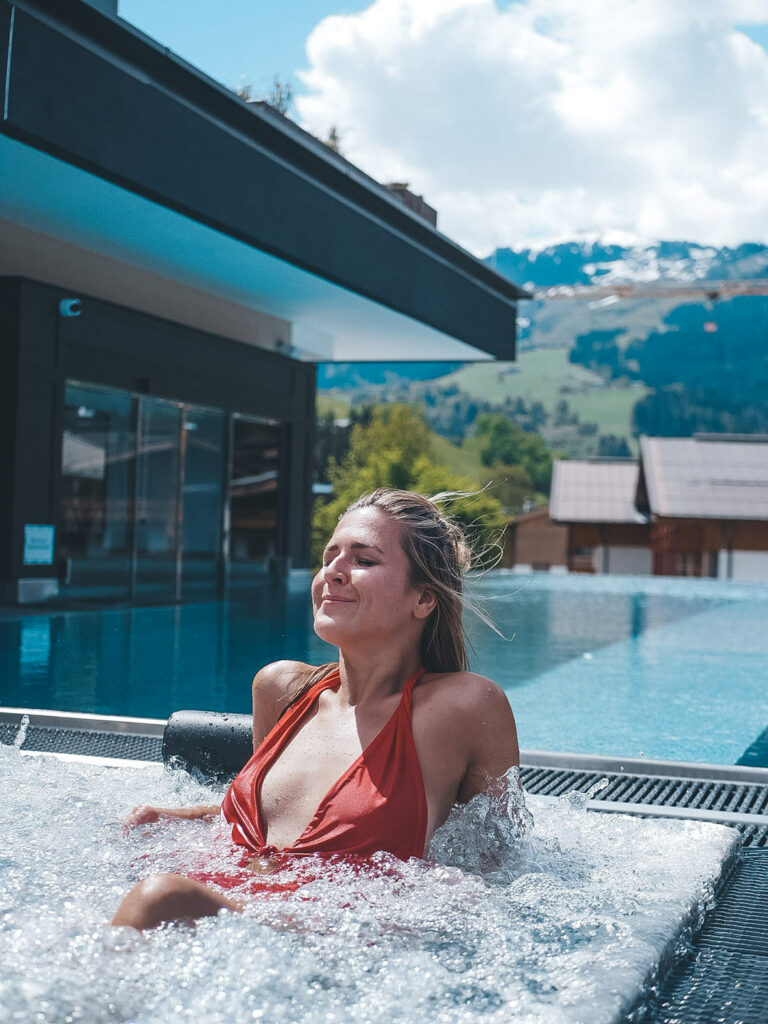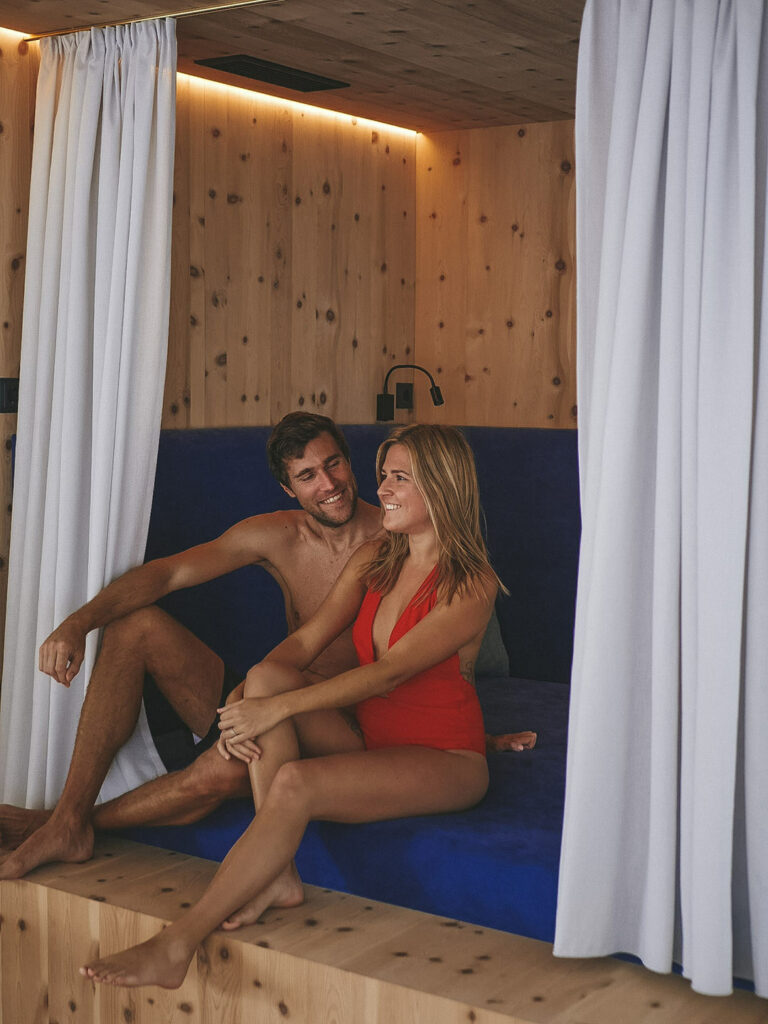 The 2000 m² spa area is equipped with 4 different pools – so you will definitely find your favourite spot in the water. On the top floor of the hotel, you will find the adult area – including the outdoor infinity pool and the hot whirlpool coming with the most epic view.
The adult spa area includes two big panoramic saunas as well as a steam room. We loved to cool down at the amazing outside terrace, overlooking the beautiful garden around the hotel.
If you save your spot at the right time, you can also participate at a special natural essential oil sauna ceremony, which allows you to truly relax your body, mind and soul. Definitely worth a try.
If you are visiting Die Hochkönigin with your family, you will also find a dedicated family spa area – offering an indoor pool, two saunas and a steam room.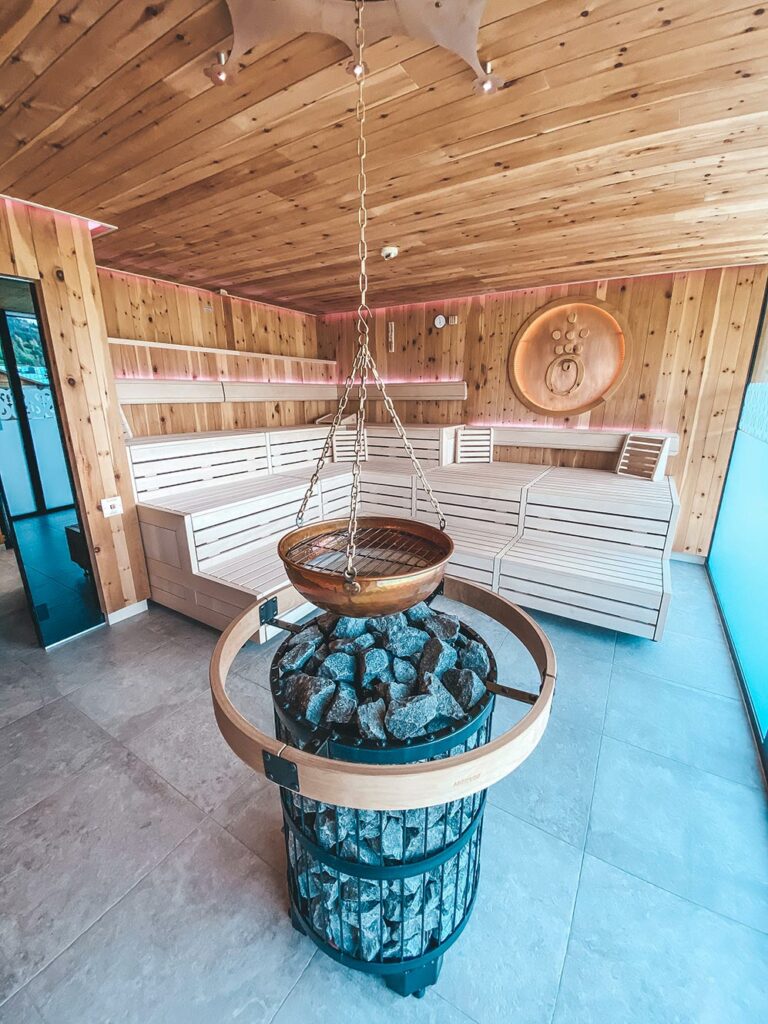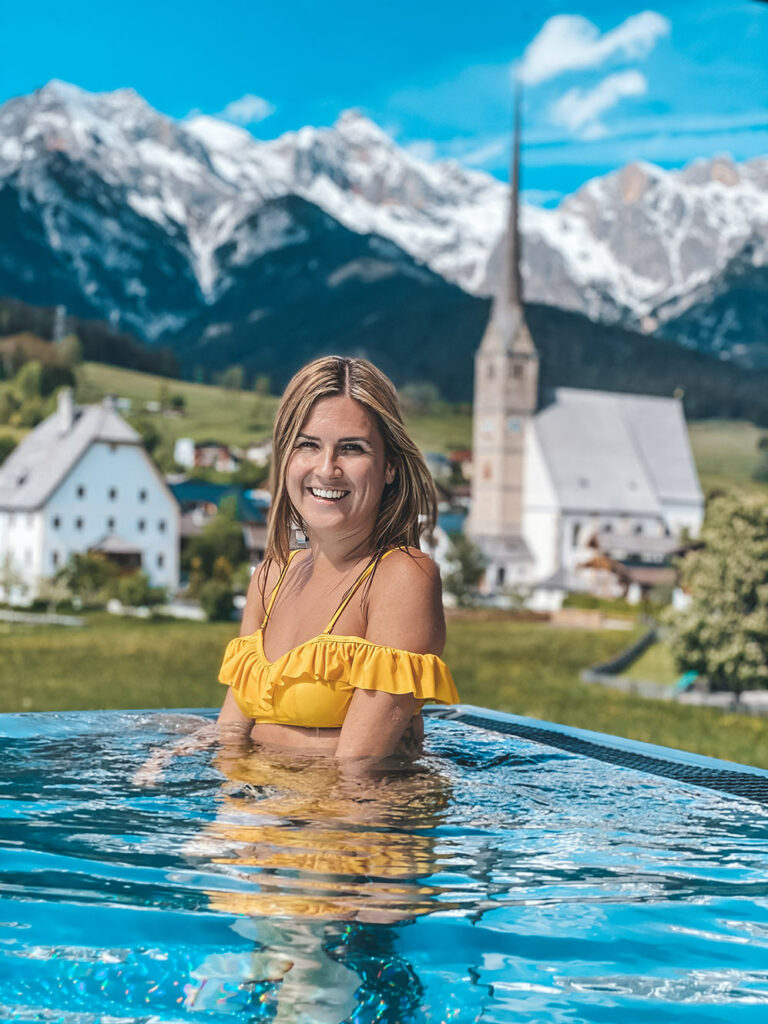 Luxury hotel suite with cosy pine wood style
We have to admit, that even though we travel a lot and like a lot of different room styles, there is no place in the world, who makes hotel rooms so cosy and beautiful like the luxury mountain resorts in Austria.
The hotel rooms at Die Höchkonigin are no exception. Some walls were covered with pine wood, which creates an immediate atmosphere and feeling of pure relaxation.
The king size bed was super cosy and the additional living room offered lots of comfort. Each room comes with its own balcony, where the morning sun rays softly kiss you awake.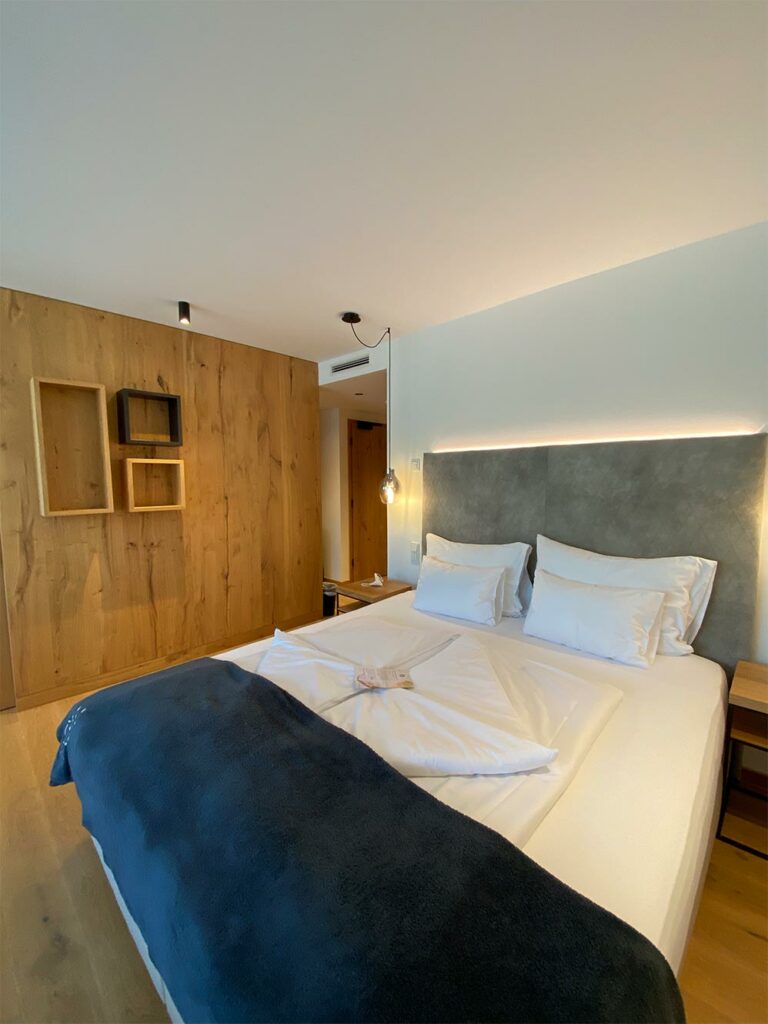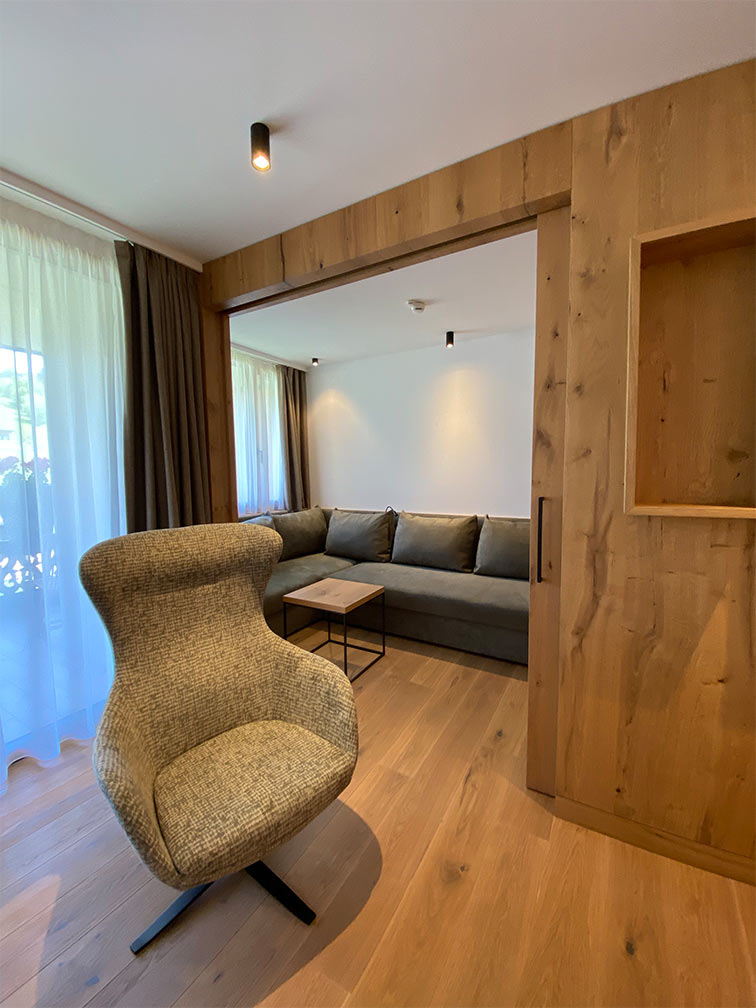 Breakfast and Lunch
The hotel Die Hochkönigin is really known for its incredible kitchen. Even friends from us name this as one big reason why they come here regularly to spend their holidays.
We enjoyed a wonderful breakfast daily – with a fast variety of cold and warm dishes to choose from.
In case you get hungry after your morning spa or outdoor sport activities, the hotel provides an amazing late lunch, starting at 2pm. This includes several warm dishes, soups, salads and desserts. Basically you have a 3-course menu included.
We loved the amazing design at the hotel bar, where we had our daily afternoon coffee with a variety of amazing desserts from the lunch buffet.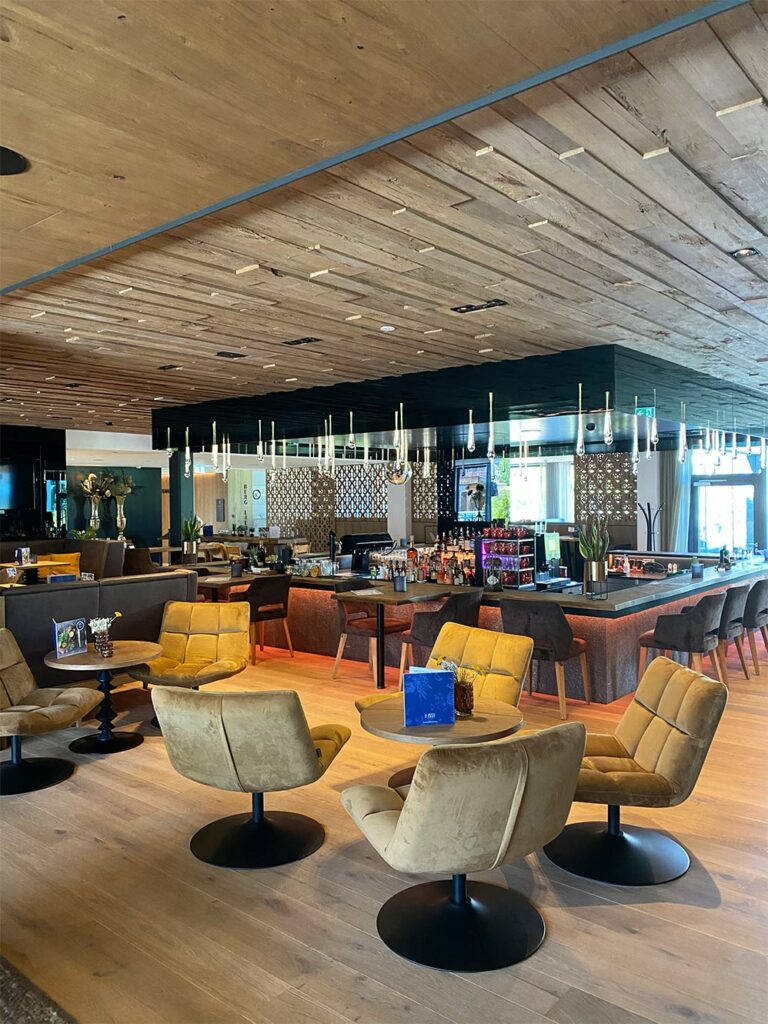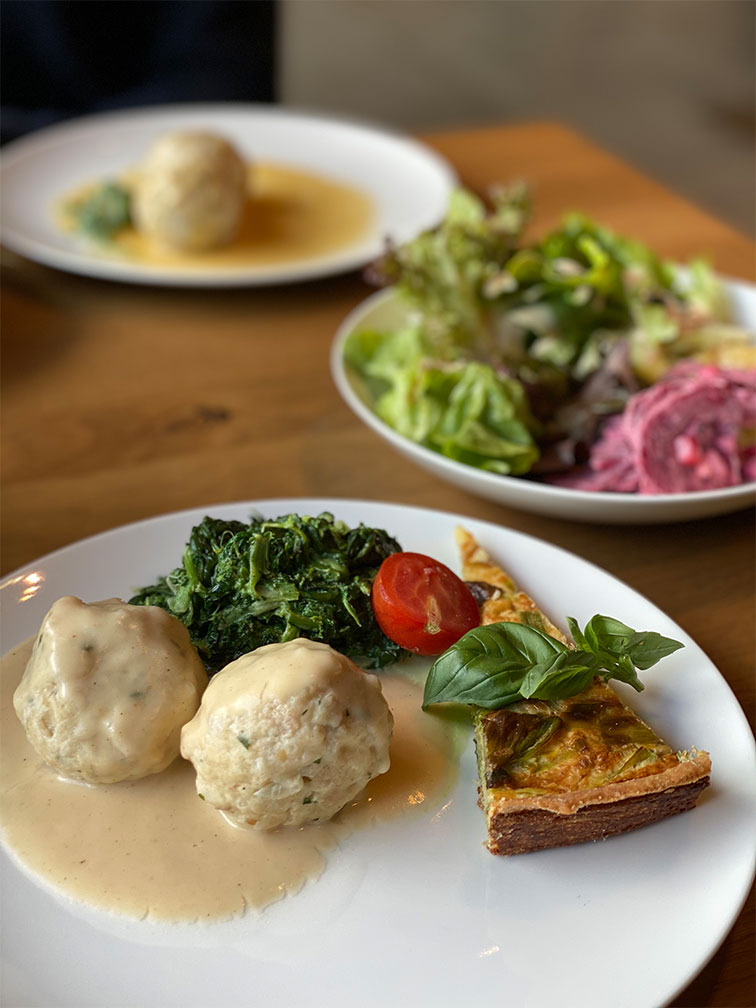 6-course premium dinner
We have to admit, that although we weren't that hungry after a plentiful breakfast, we couldn't resist to take the lunch offer complemented with a fresh brewed coffee.
Just make sure you still keep your appetite for the evening too, since you definitely don't want to miss out on the delicious 6 course menu. This is again something which stands out even in the high class hotel sector within Austria.
From 3 different menus – including a vegetarian one – you can put together each course as you like.
We really loved the special vegetarian creations from the chef. This was truly one of the best vegetarien food experiences we have ever had in a mountain spa resort, and we strongly assume the same would have been true for the non-vegetarien options.
You can really see, feel and taste that there is so much effort and love in everything you see and they put on the table. The staff was super friendly and courteous, which makes you feel like home the second you arrive. You can feel everywhere that this hotel is owned by a local family, who love what they do.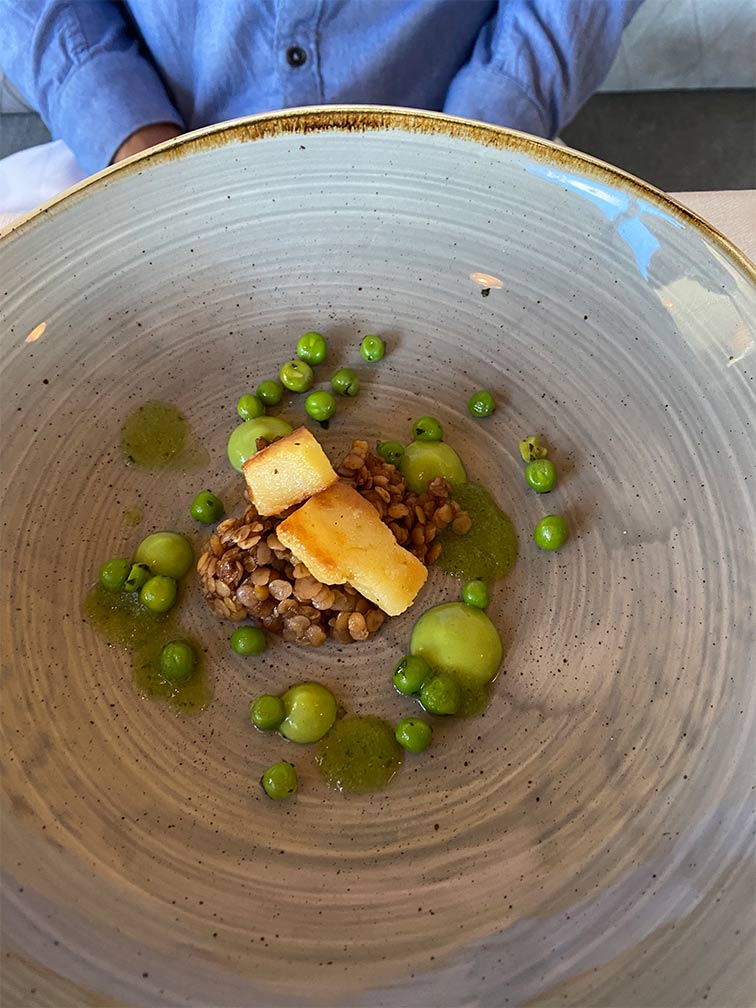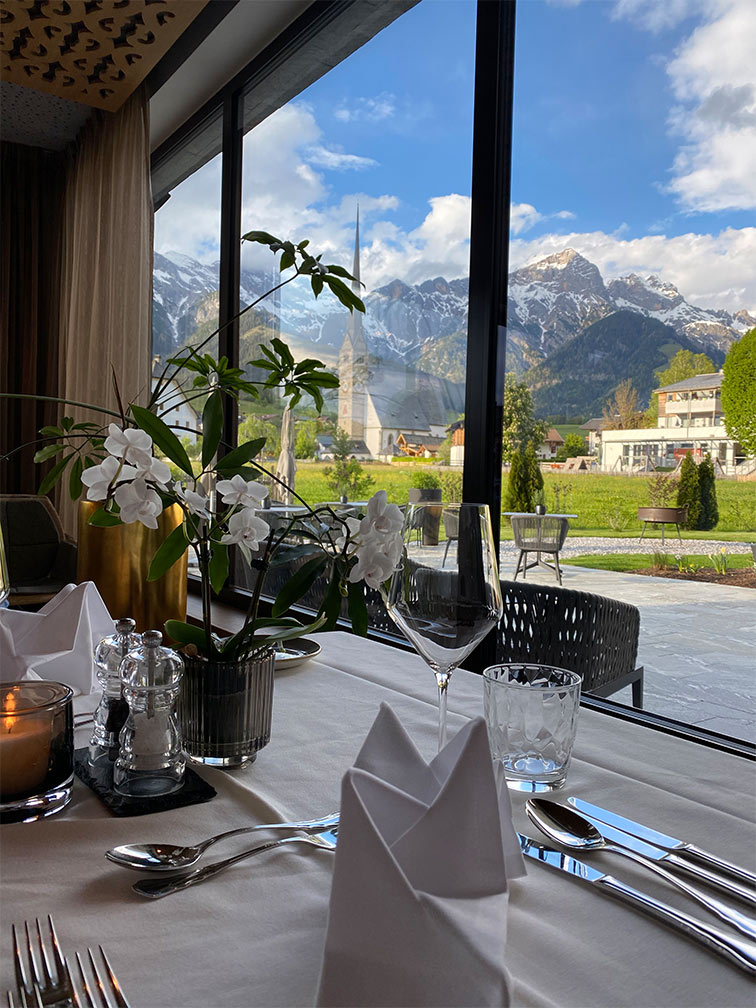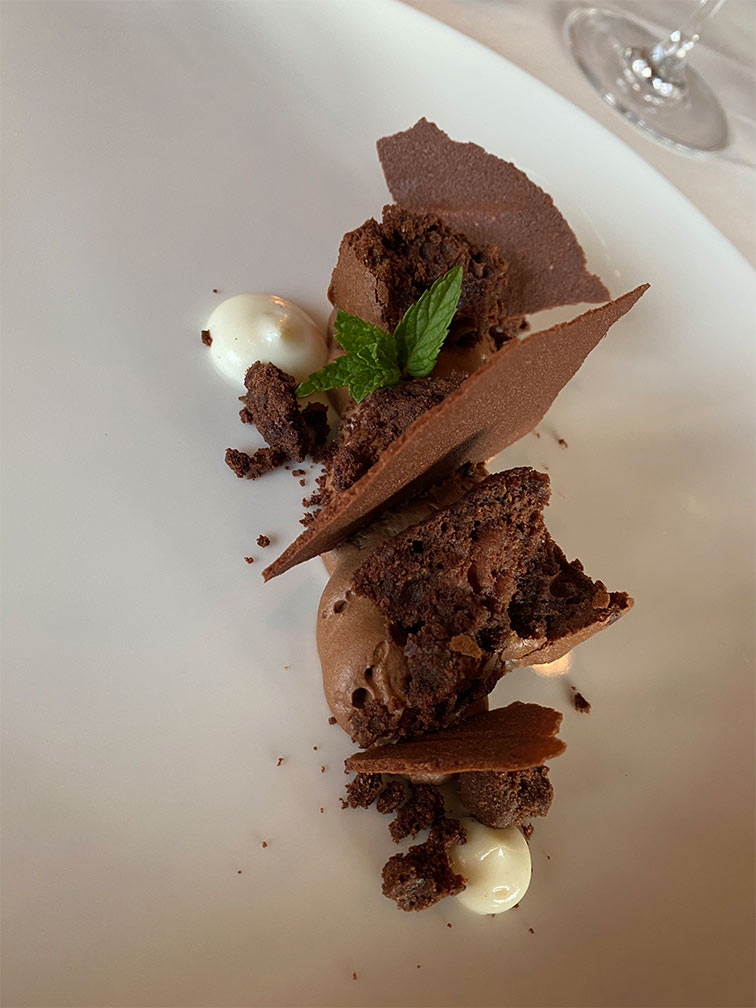 Activities in the hotel
If you feel like you need to move your body a bit more than just from the chill out beds to the jacuzzi and further to the sauna, you have a lot of options to choose from.
Inside the hotel area, there is a really nice gym where you can burn the additional calories right after breakfast. Furthermore, you can choose from different indoor activities like Yoga or Qi Gong which are included for all hotel guests.
For the smaller guests there is a huge fun and adventure park inside the hotel, which is honestly just awesome – even for parents.
Activities around the hotel
Outside the hotel, you have so many amazing activities which make it even a little hard to decide what to do first. What's also great is that the hotel provides you with the Hochkönig Card, allowing you to use the cable car to the Hochkönig Mountain for free. But more than that you can also use public transport in the area, the summer toboggan run and some other offers for free.
We used this great service to visit the mountain of Hochkönig on our last day. During winter season this is really an amazing skiing region which is also directly connected with the region of Dienten and Mühlbach. But it is worth it to visit the mountain also in summer. There is a beautiful lake on the top called Prinzensee and a lot of hiking trails with really nice mountain huts to enjoy a coffee or lunch.
For the more adventurous kind of people there is a high ropes park, a downhill biking trek and some cool slides, making the hike down the mountain a lot faster and more fun.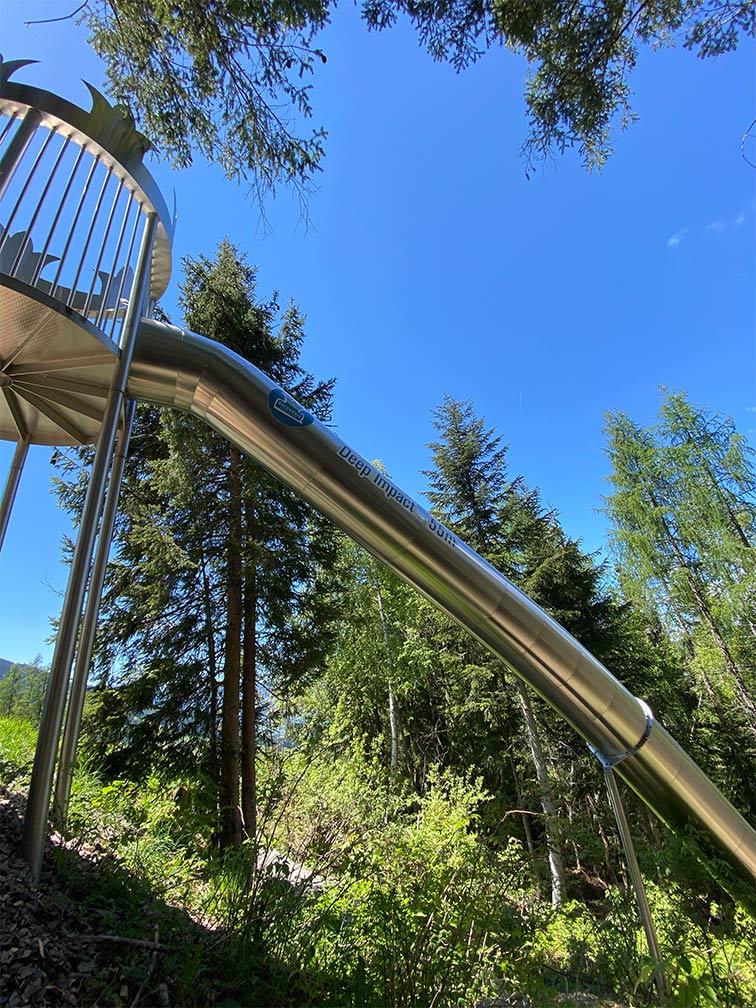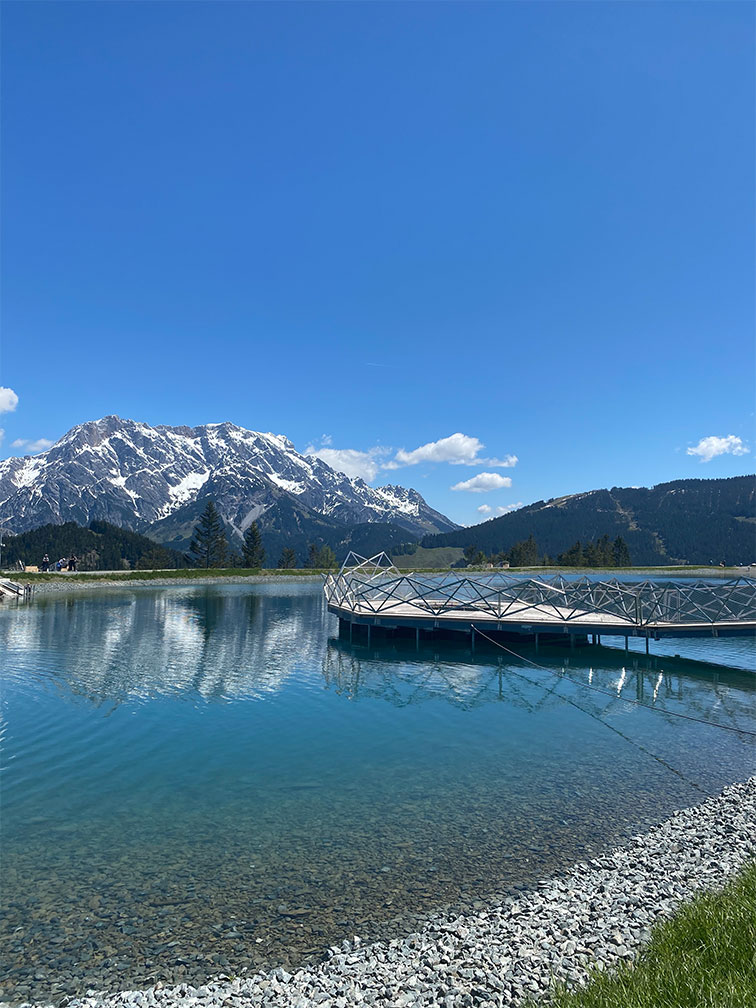 We had a truly amazing stay at Hotel die Hochkönigin and the valley of Maria Alm. For the price you pay you get really a super huge package here, making this really an irresistible offer, especially in the non-skiing season from spring to autumn. We are already looking forward to come back here again.
Invitation from Die Höchkonigin