Diving with Splash Belize in Placencia | Collaboration
Belize is the place where every diving dream comes true. It heritages the second biggest barrier reef in the world and is home to a flourishing variety of underwater life. Nowhere else we have found a better diving or snorkeling spot yet.
Placencia is one of the diving El Dorado's, located south of Belize City. We had two amazing days with Splash Belize, which we always have a place in our memory. Splash Belize is the biggest diving center in the area and has already been in place when Placencia was still a small harbor 20 years ago.
Day 1 – Diving and Snorkeling Trip to Silk Cayes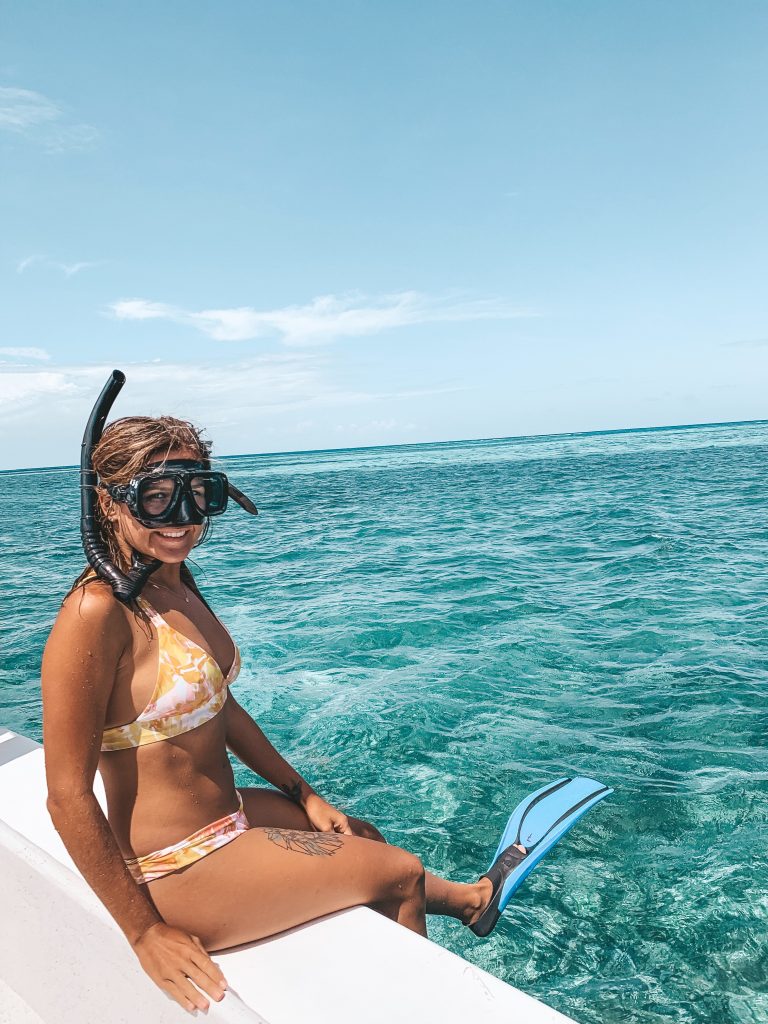 Silk Cayes consist of three tiny islands, which are located around an hour away from the main island. By tiny we mean that you easily walk around the island about 15 seconds. It feels like you are Robinson Crusoe in the middle of the ocean. The island is surrounded by an amazing barrier reef and is definitely one of the best snorkeling spots we have been so far in our life.
On the beach as well as in the water you can find huge, almost unreal looking shells, just casually laying around. It's like being stranded in paradise.
All the boats stay at the island for lunch. During this time it gets pretty crowded. If you join any of the snorkeling tours, you explore the colorful reef around the island and afterwards find yourself almost alone on the beach.
The diving tour takes you the very end of the reef, where you dive along the North Wall. It's an incredible formation covered in beautiful corals and home to a ton of colorful fish, turtles and reef and nurse sharks. Aside the wall there is a dark blue, deep abyss, which gives it even more breathtaking touch.
The second dive took us to the White Hole. A coral area, which is known for its many reef and nurse sharks. As lion fish hunting became very popular here, the sharks follow the divers insanely close, as they are waiting for you to serve them lunch and dinner. Two nurse sharks followed us, rubbing our belly and even let us say hello and stroke their backs shortly.
Day 2 – Trying to spot some whale sharks in the open water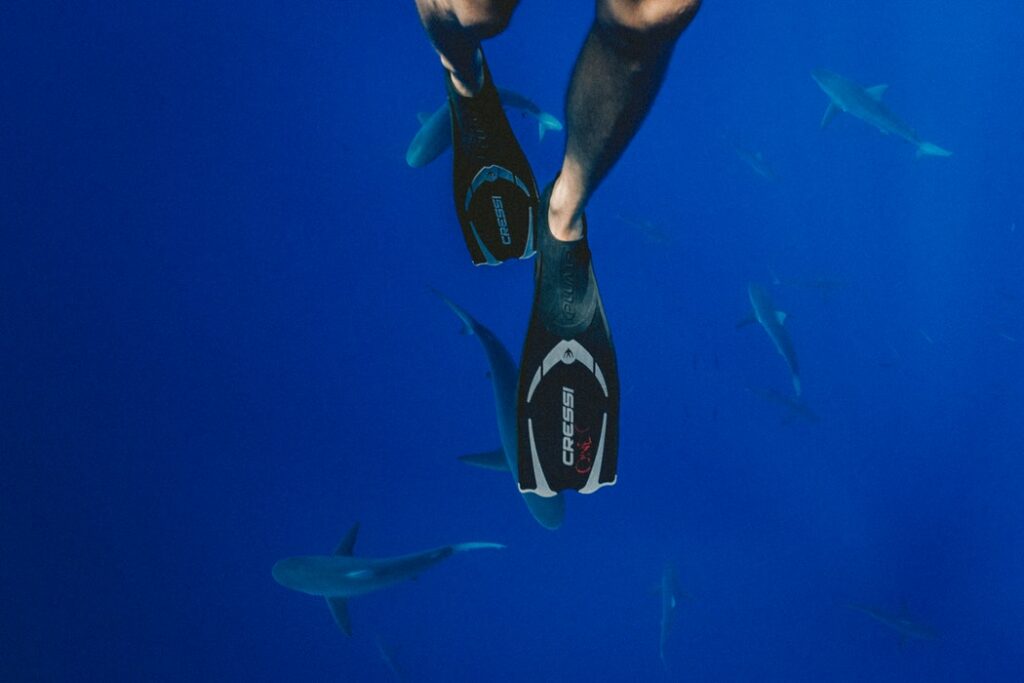 We decided to take our chances to take a tour to see whale sharks. These wonderful creates usually come close from April to June, especially after a full moon.
Splash takes you out in the dark blue open water, where your only point of reference is your guide. We went down to 30m depth until you are just surrounded by blue water. As the ground is not visible, it feels like floating in outer space. Every encounter feels mystical and unreal in this surrounding. Just keep an eye on your dive computer or gauge and keep your diving depth under check, as it's easy to lose track.
We swam with big snappers, since those fish are the ones whale sharks are attracted too. Unfortunately we didn't get to spot a whale shark, but a massive turtle did us the honors and joined us floating around in the deep.
We did this particular dive end of May 2019. Just one year before, sightings were almost guaranteed. Some schools even gave you back the money, if you didn't at least see one of the creatures. But tourism in this area increased a lot and sightings are much less reported. Reasons are unknown, could be that the whale sharks got too afraid of humans. So no guys, no need to be afraid of sharks at all – most are more afraid of you. And for sure there are much tastier dishes, than a human in a neoprene suit.
Wild animal sightings are always hard to predict, hence it is important to keep expectations under check and include this perspective. Nonetheless, it is an outstanding experience of being there and get to see what it is like to be in the open water.
Why we recommend you to choose Splash Belize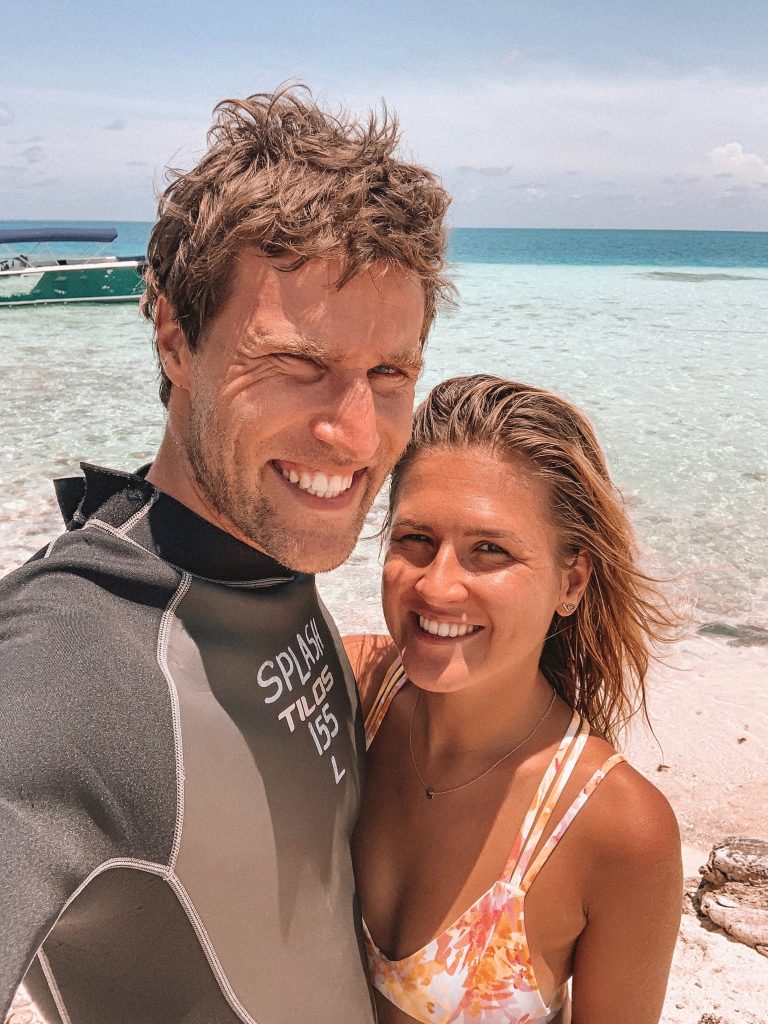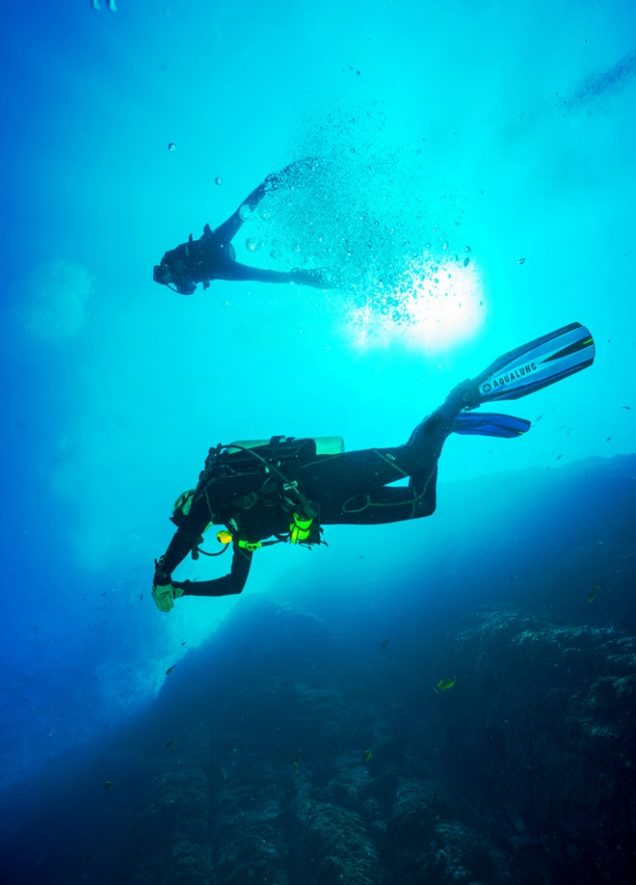 We have never before seen such an incredible service at a diving school like at Splash Belize. When you get there, every diver gets appointed his own dive master, which helps to gather the perfect gear for your needs. At the boat they do set up all the gear for you, rinse your masks and help to get into the water with ease. Especially helpful if you have back issues like Cory does. After diving, you get water, juice and and fresh watermelon. You enjoy a nice lunch on the boat; a vegetarian or vegan option is also available.
Splash Belize does have highly experienced, fun and energetic dive masters. You do feel incredible safe and the guides take marine protection very serious, which allows this wonderful diving experience to stay as beautiful as ever. We met a guy who has been diving here since over 20 years and he confirmed that the reef hasn't changed a bit.
Regarding prices: don't make the mistake and expect Belize to be as cheap as any other country in Latin America. It is the complete opposite. The uniqueness of the underwater world and the economic issues (and oh boy, there are many) have created sky-rocking prices in every aspect of the country. Nonetheless, if you are keen on seeing one of the most beautiful places to dive in the world, it is totally worth it.