Spending a wonderful weekend at Tuffbad in Carinthia, Austria – moments full of happiness, amazing views of snow covered mountains and true relaxation
Located in between scenic mountains, only reachable after an adventures drive through the still rural valley of Lesachtal, where time seems to pass a bit slower.
It was shortly after Christmas when we arrived at Tuffbad. Usually only mountains and skiing areas have decent amounts of snow during this time any more – climate change has hit Austria too.
But here in Lesachtal, as soon as you take the crossing from the main valley road (which is already a small and pretty turning road), it seems like somewhere there is a secret entrance gate. And once you pass it, you find yourself driving in a landscape surrounded by untouched nature and tons of snow. And when you think, you have no idea where this magical scenery will bring you to, you finally see it. A resort build in the most magical winter wonderland we have ever seen. Tuffbad.
We have to admit we were wondering a bit how the superior 4 star Almwellness resort Tuffbad has become so popular and well known, even though it is pretty far away from cities and skiing hot spots. Seeing this scenery already gave us a first glance of reasons and after having spent three days here, we could fill many pages of these reasons. So here goes our comprehended summary about Tuffbad:
Regionality meets a top-notch Spa area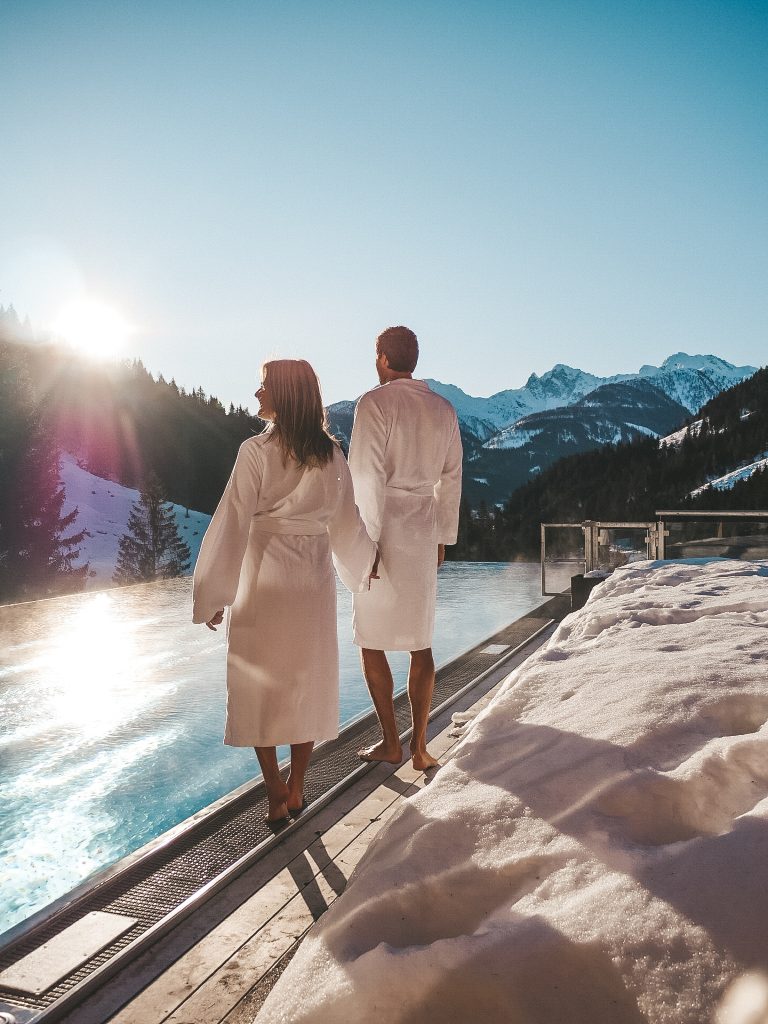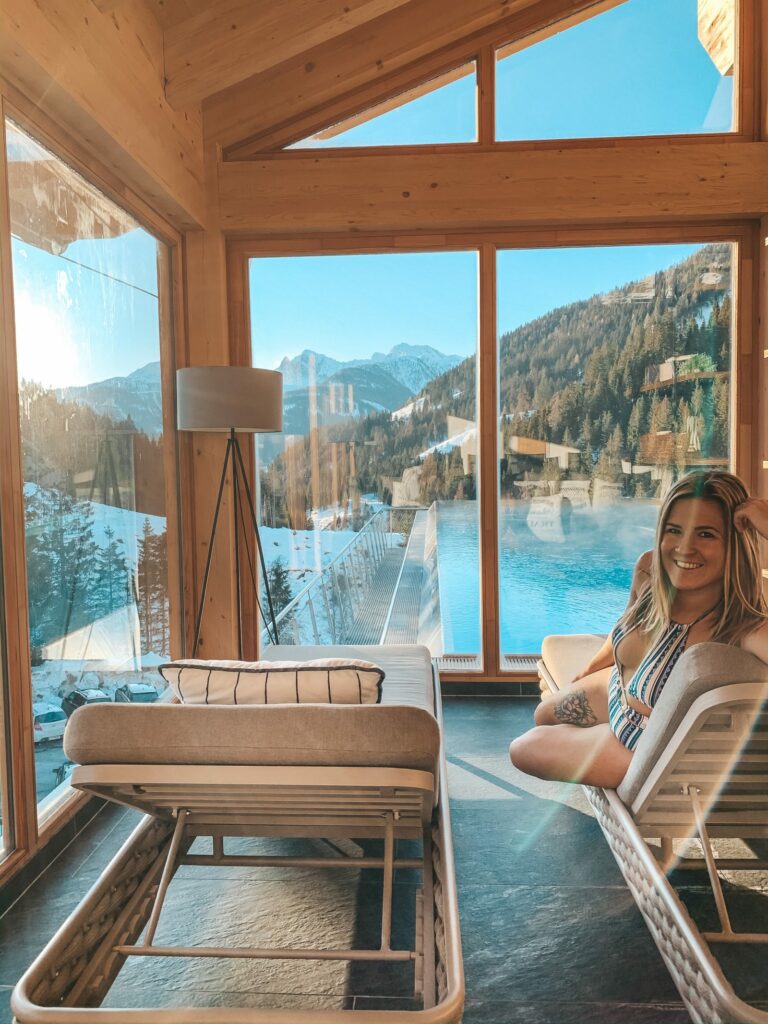 Whether it's the entrance hall, the luxury charlets or the spa area. The combination between modern luxury and regionality of Almwellness Resort Tuffbad is found everywhere.
The spa area encompasses around 2000 m² and is separated in two areas: On the first floor, you will find the luxurious infinity pool and a beautiful wintergarden with sunbeds. It's truly a special place to get a sunbath with such a stunning view. The pool is warm and offers spectacular views throughout the valley. Just next door, with a view of the Lienzer Dolomites, you can find the newly build Dolomites Sauna. The flower of life, a spiritual sign known for 1000 of years, which stands for harmony and order, is the beautiful centrepiece of the room.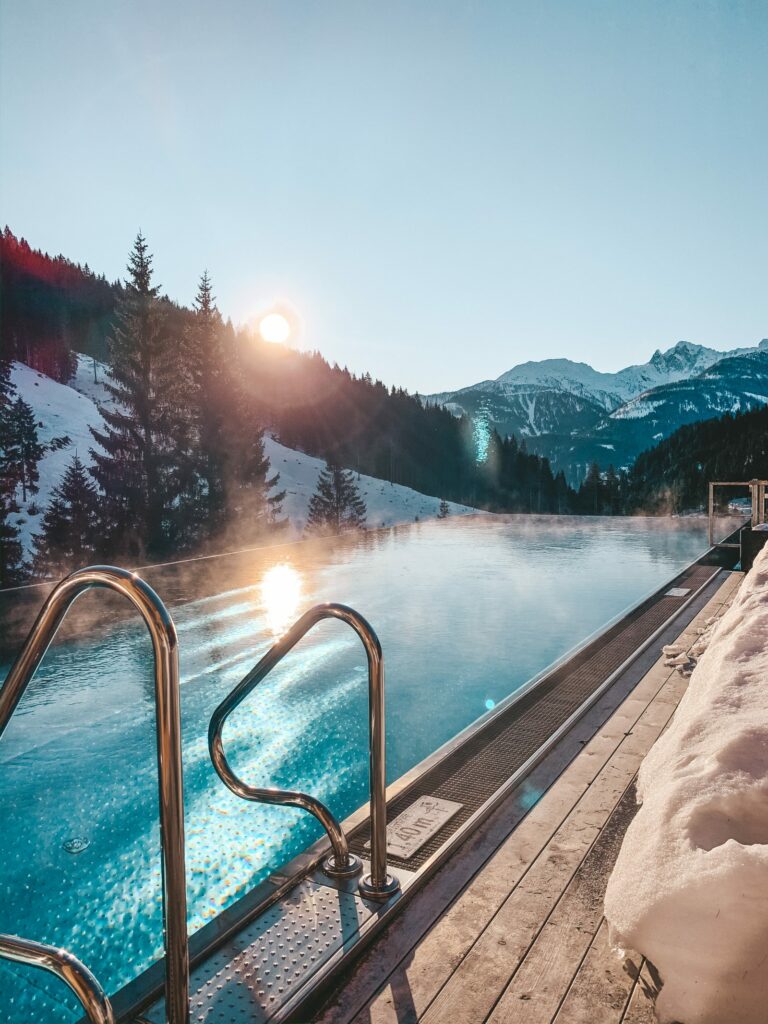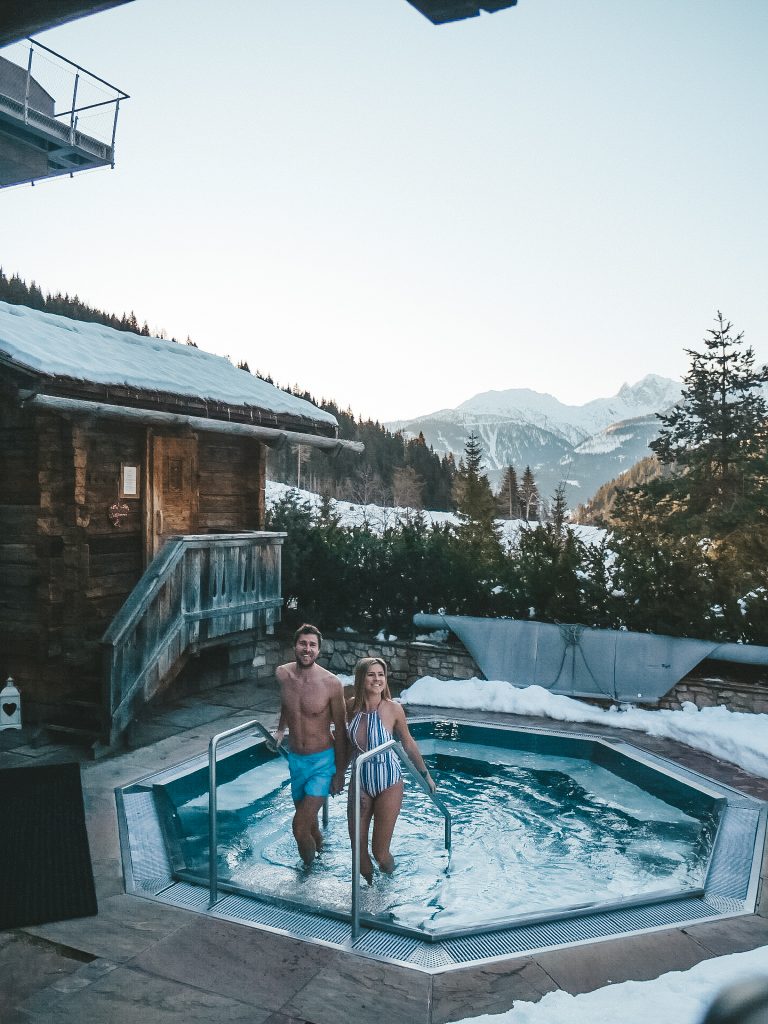 One floor beneath this you can find the second spa area with 10 different saunas and steam rooms, as well as an indoor pool and heated outdoor whirlpool.
Especially the saunas at Almwellness Resort Tuffbad are truly one of a kind. We have been to many spa hotels already, but haven't seen anything like this before.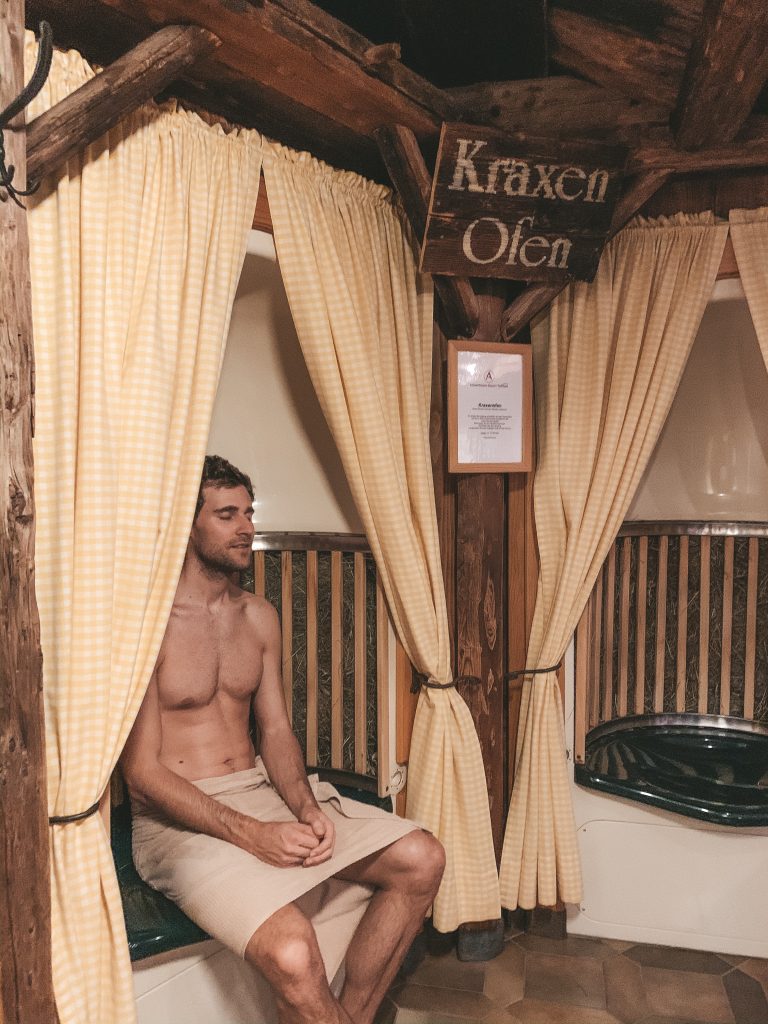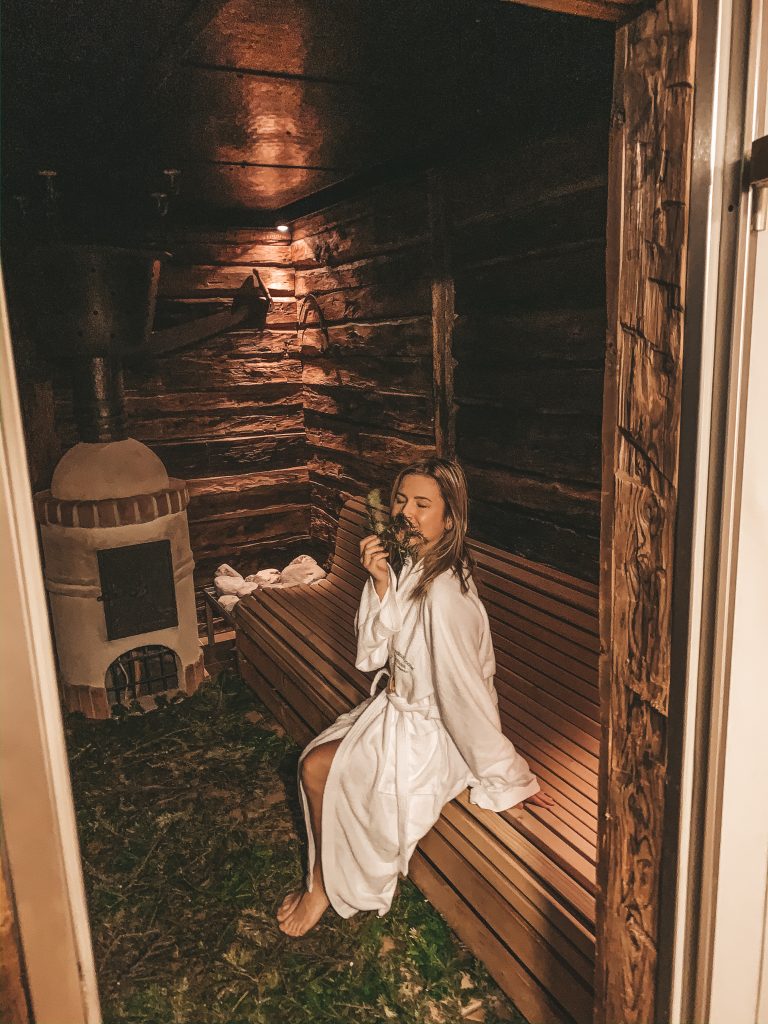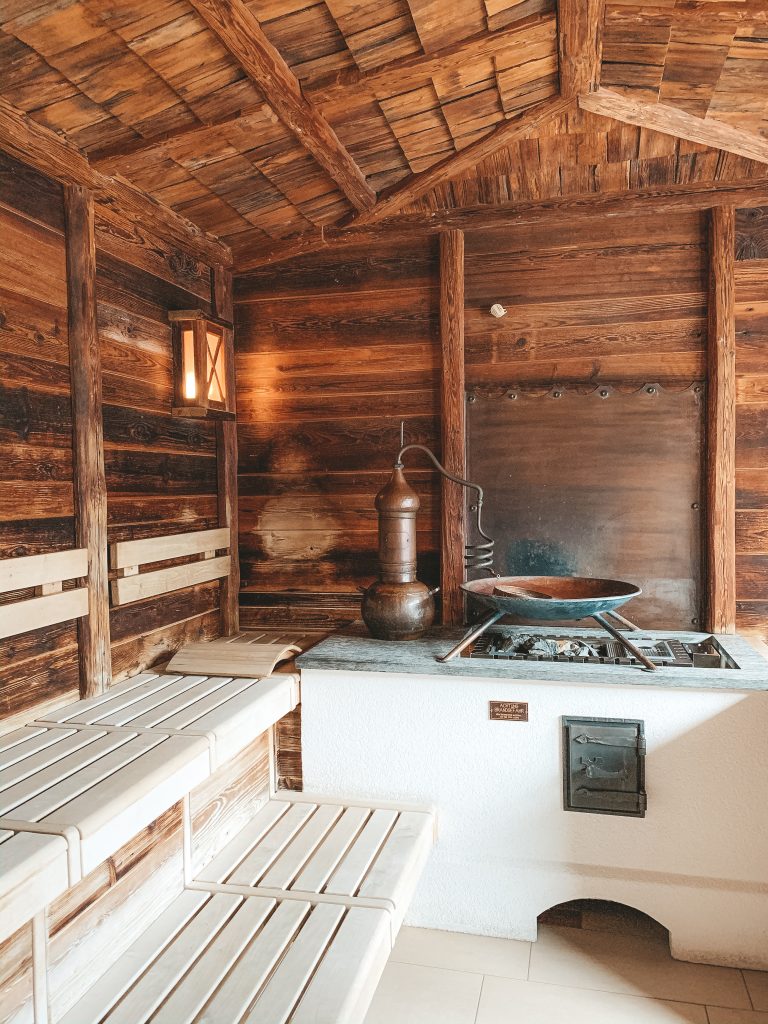 Tuffbad for example has a 55° C warm "Brechelbad", which is equipped with branches of fir on the floor, creating a deeply relaxing smell and atmosphere. There is a hay bath, blowing steam through regional hay.
At the "Brotbad" you will find a real bread cooking oven which was used a long time in history for curing rheumatic pain and releasing bad thoughts. It´s only 35°C and occasionally blows bread enzymes in the air. All the saunas and steam rooms made of natural materials such as wood and stone. It creates a truly special atmosphere that will releases stress immediately and transforms it to a feeling of well being and harmony.
Awesome activities in a magical surrounding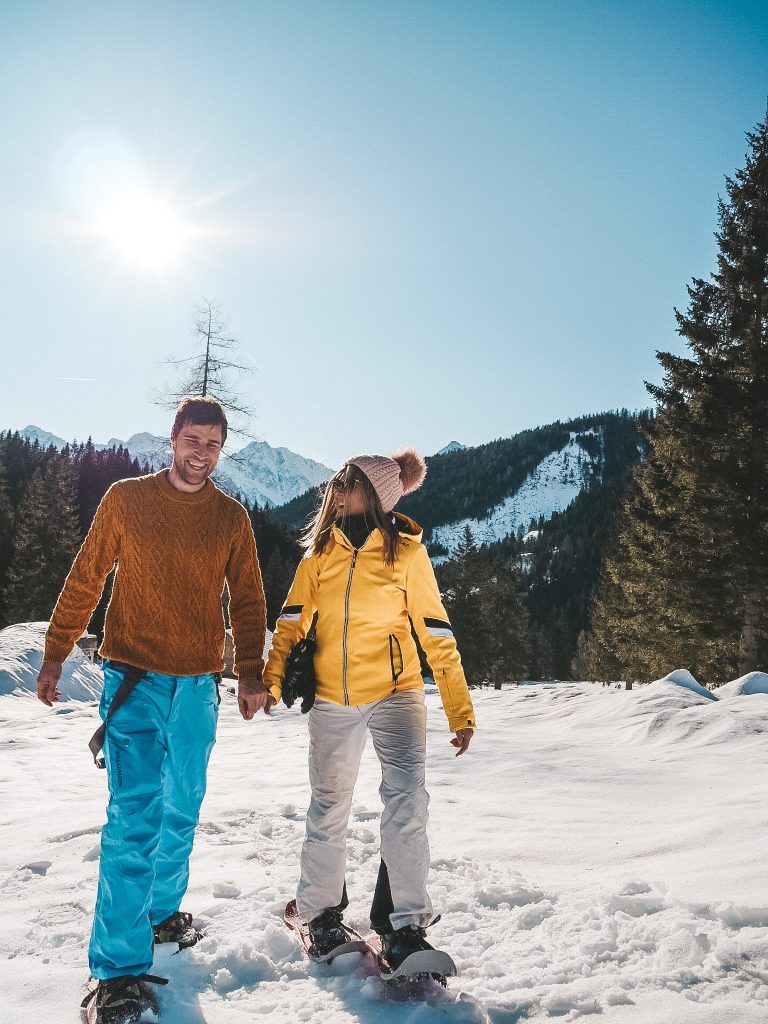 As already mentioned, we were blown away by the incredible winter wonderland that even seems kind of magical to us. The fact that there are many stories and fairy tales about this region fit our impression just perfectly. There was even a small book in our room with lots of interesting and funny fairy tales.
Even though it's hard to leave the spa area, we decided to discover the area around the resort the second day. It felt almost like a crime not spending time out there. Cory was super excited since for the first time she tried snow shoe hiking. As soon as we managed to mount the shoes, she ran off the path to bullet proof them in the deep snow. We made a short hike around the resort and enjoyed the warm sun while embracing the whole scenery. It feels like time can stand still here for a moment.
Additionally to snow shoes, you can also borrow a sledge to take a ride from the house owned toboggan runway – everything is included during your stay.
Since sledging is one of our favourite winter activities, we had to give it a go. We went up the perfectly prepared toboggan runway, which is a forest street during summer. It was a pretty cool combination going for a beautiful walk uphill and then having fun by sledging down.
If you feel like doing even more winter sports, you will find lots of great opportunities for cross country skiing as well as alpine ski tours. In summer, you can even rent e-bikes and go for the more straining mountain hikes, which are too dangerous in winter. Moreover, there is a daily course program you can attend for free which includes things like yoga and pilates.
Ancient luxury for a deep relaxing sleep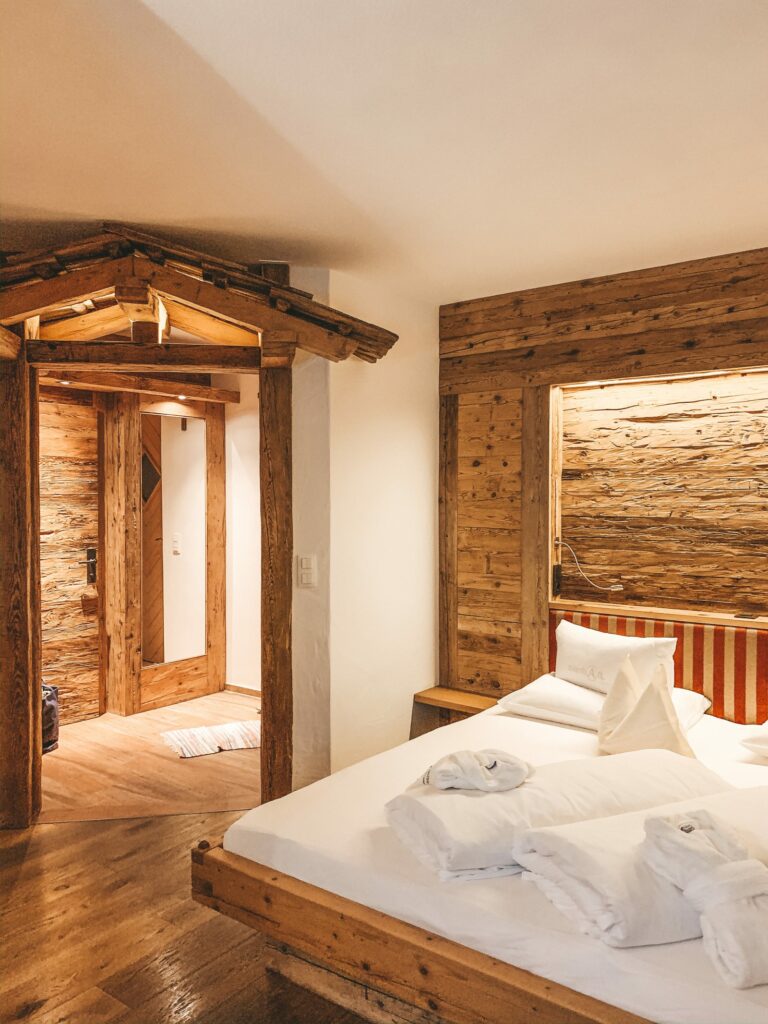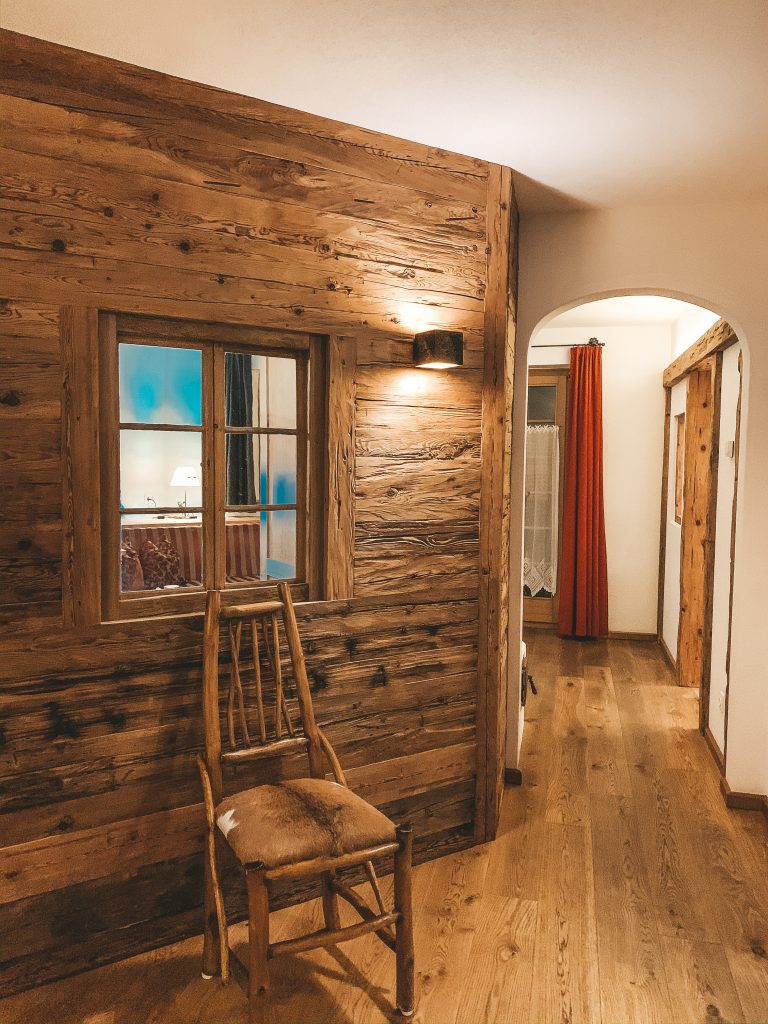 It is interesting that the charlets of Almwellness Resort Tuffbad are built in the same way that houses in the region historically looked like. Of course, combined with luxury amendments. We are certain that the combination of natural materials like wood and stone leads to this incredible great feeling of relaxation and well-being.
In a world where everything goes on faster and faster, Tuffbad takes you back to the roots, where life was a lot simpler and more connected to nature. The charlets and also hotel rooms are equipped with wonderful details and are very spacious. We had a wonderful stay there and loved to wake up while seeing the first sunrays shining at the surrounding mountains.
Culinary highlights with regional natural products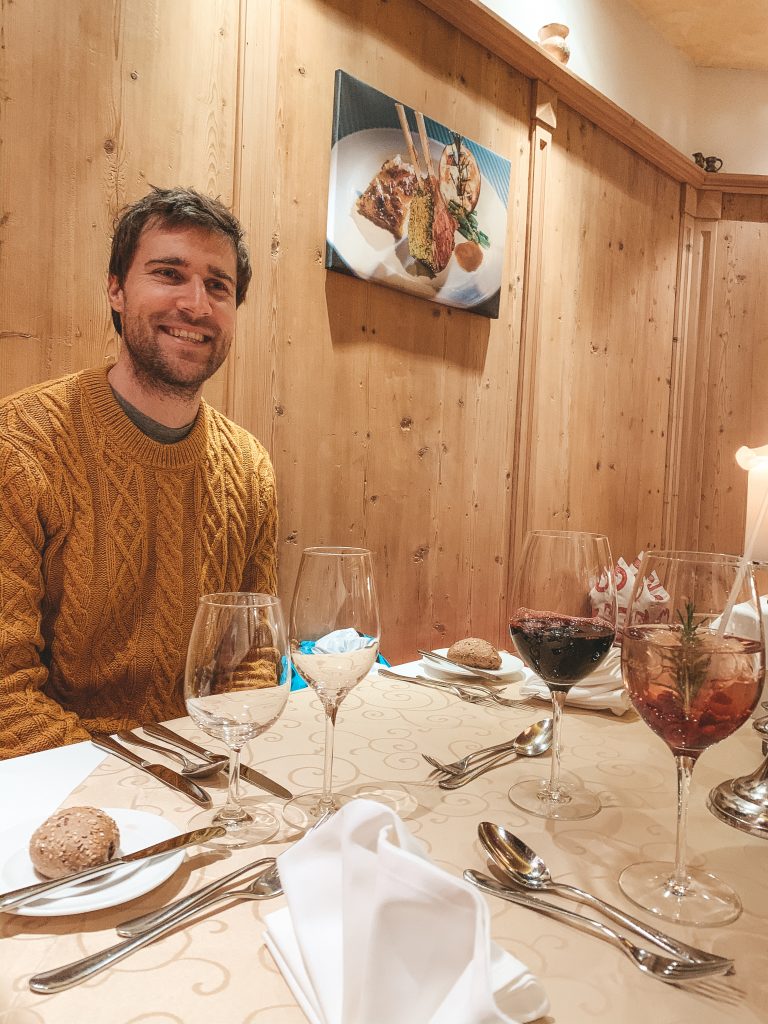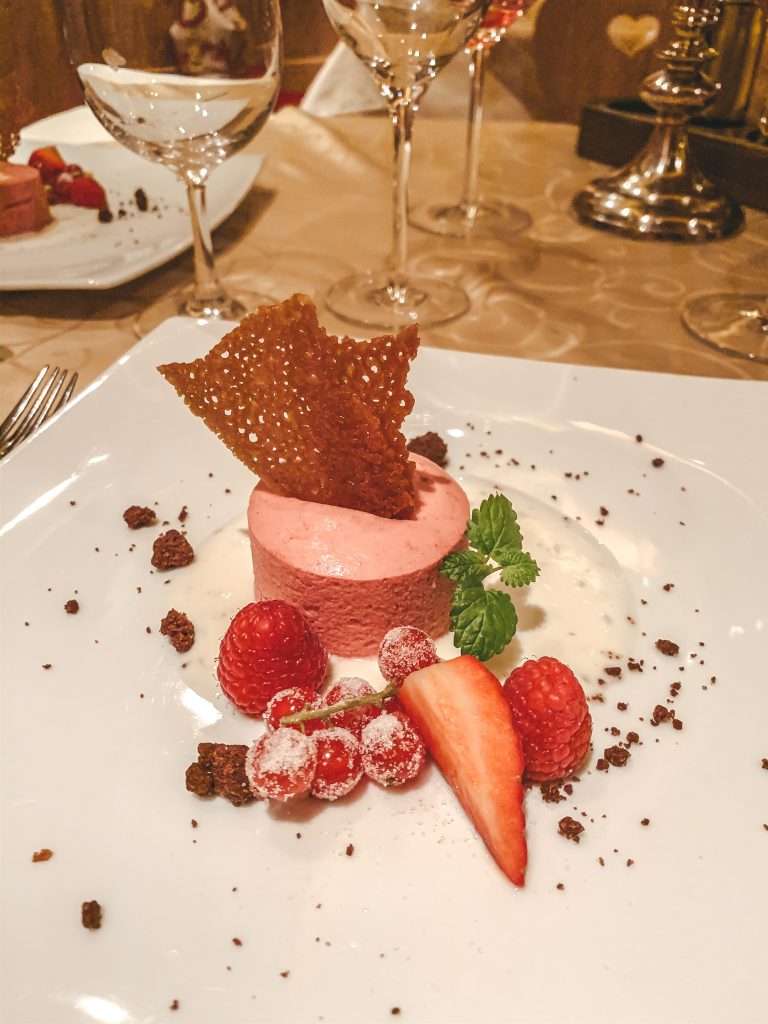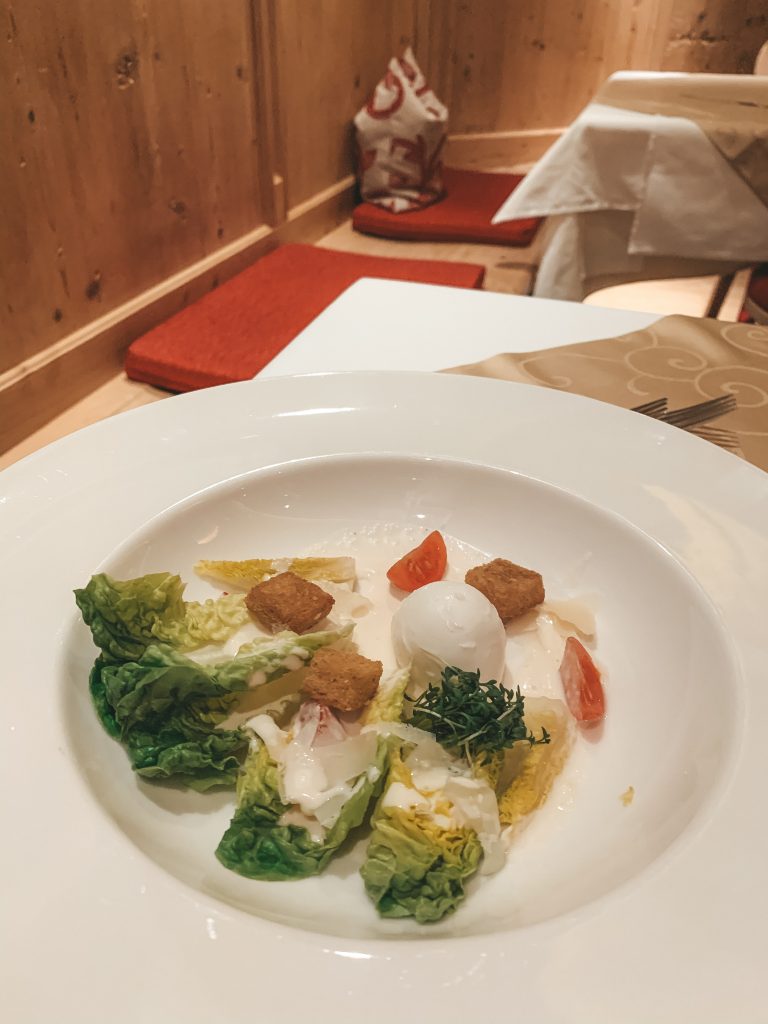 Honestly, being a natural wellness resort in the mountains and not using regional products would almost be a crime. The way the Wellness Resort Tuffbad manages its food supply truly exceeded our expectations. So many of the regional suppliers even have a personal relation to resort, managed by Eva Maria and Egon Oberluggauer.
Most of the products come from the regional farmers and whenever possible fresh from the field or grain mill. The region is one of the most natural and environmentally friendly valleys within Europe; hence keeping also its products to the highest standards is a top priority. The resort also supports and fosters the so called "slow food travel", which enables visitors to see, learn and experience how natural products are made since a long time ago in Lesachtal.
This mindset is all over the region. Us being much attached to preserving nature and its treasures like they are, really loved that part a lot. But it doesn´t mean that you have to resign on anything. The breakfast was just amazing with an incredible variety of things even for us – eating mostly vegan. But knowing things are handmade from regional farmers, we also tried the regional butter, cheese and eggs.
Even though you might still be overwhelmed from the breakfast, there is an afternoon snack from 1pm to 4:30pm. It´s again a buffet with two different soups, a huge variety of salads and desserts to choose from.
The dinner is a delicious 5 course menu. You can choose between meat, fish and vegetarian options, but can also combine various courses as you please. We always opted for the vegetarian menu.
The most amazing hotel team, making you feel at home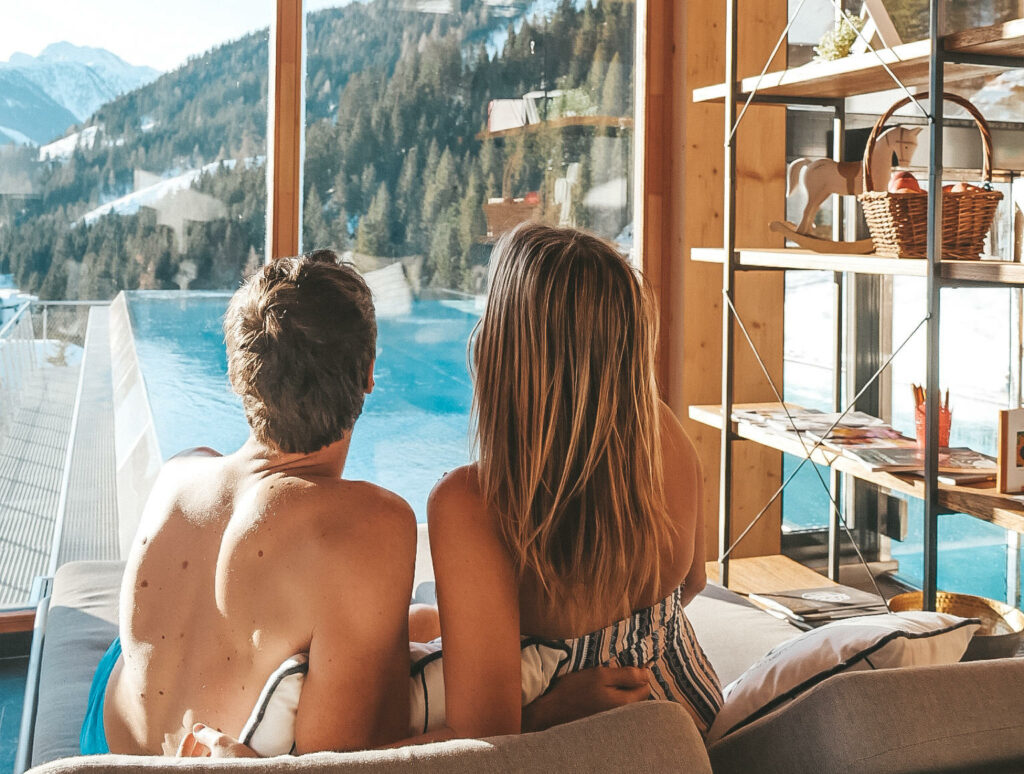 One of the things that touched us the most was the incredible warm and friendly hotel stuff. Especially the owners Eva-Maria and Egon have such a great spirit that Tuffbad soon will feel like your second home.
We could feel in every corner that the wellbeing of their guests is their top priority. Whether it was Eva-Maria personally vaporizing special herbs for relaxation and stress release, or Egon kindly asking for feedback, or the fact that all guests could choose a Christmas present under the Christmas tree. Everything felt like being right at home.
It's truly a magical place with an incredible amount of warmth and happiness. We would love to come back soon. 🙂
Paid collaboration with Tuffbad Almwellness Resort